Will you be part of just a handful of trail runners to take part in the exclusive inaugural Kafue Wild?
This 21km / 10km race has been opened for the first time after informal trials in 2021 and 2022 with just 250 places available to the public. You will be running with (and for) wildlife rangers… who are super-fit so you'll have to keep pace!
Come and support an incredible conservation cause and participate in one of Zambia's most unusual and picturesque marathons. Entries with T-shirts close on 31 July 2023.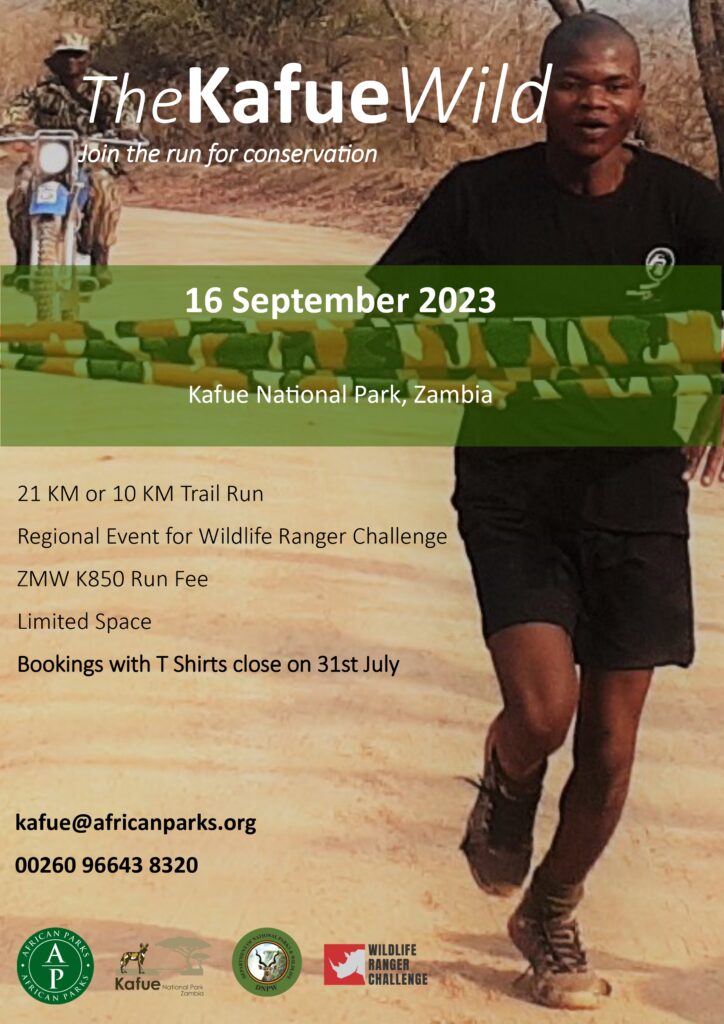 The Organisers
The Kafue Wild is co-ordinated by Greater Kafue Landscape Ltd, a joint project of the African Parks Network and the Zambian Department of National Parks and Wildlife.
This is a regional event for The Tusk Wildlife Ranger Challenge.
Race Details
Date Saturday 16 September 2023
Time 6:30am to 11:30am (three-hour cut-off)
Distance 21km or 10km
Start Hook Bridge, Kafue National Park
Race fee K850 (excludes park fees)
Directions Hook Bridge is about 280km (five-hour drive) from Lusaka. Take the M9 from Lusaka and pass through Mumwba. You should reach the Nalusanga Gate in about 3.5 hours and Hook Bridge within four to five hours. There are no tarred roads in the park although main roads are in good condition in the dry season. A 4×4 with good clearance is recommended.
About Kafue
Proclaimed in 1950, it is Zambia's oldest national park.
Covers 22 440km² in Western Zambia.
Makes up a substantial portion of the world's largest trans-boundary wildlife zone, the Kavango-Zambezi Trans-frontier Conservation Area (KAZA TFCA).
The Kafue River is an essential water source for the region.
The park is home to 21 species of antelope and 515 of birds.
A mix of woodland, grasslands and aquatic habitats that support diverse species including big cats.
Park Fees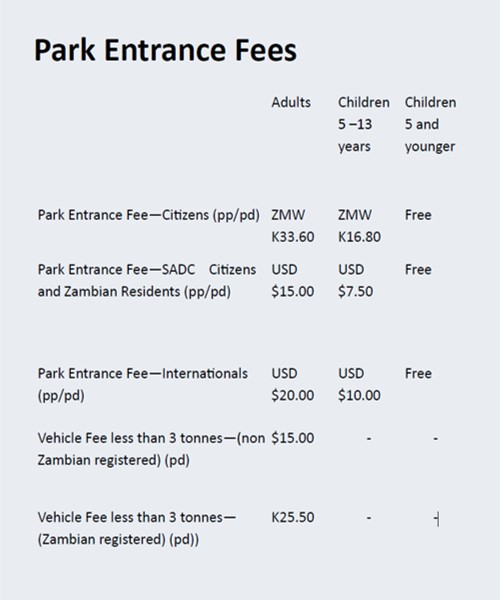 How to Enter
Please email [email protected] and request a booking form. Fill it out and send it back with POP (proof of payment) and you will receive a booking confirmation. You can also enter by clicking on this link.
Please note bookings for entries with T-shirts close on 31 July 2023. Please note that your race fee does not cover park fees or accommodation.
Where to Stay
There are a number of options in and around the park – please made arrangements directly with the camp or lodge, not with the race organisers.
NB Check the distance of your accommodation from Hook Bridge. Ideally, you want to be as close as possible to cut down on driving in the park at night on untarred roads. Aim for no more than an hour away, if possible.
Here are some of our favourites – not all are within an hour's drive of Hook Bridge so please factor that in. Some may be fairly remote:
Other options that are generally relatively close include:
Kafwala Rapids
Mapunga
Mawimbi
Mwamfushi Lodge
Pinion Lodge
Roy's Camp
Saba Safaris
Zanga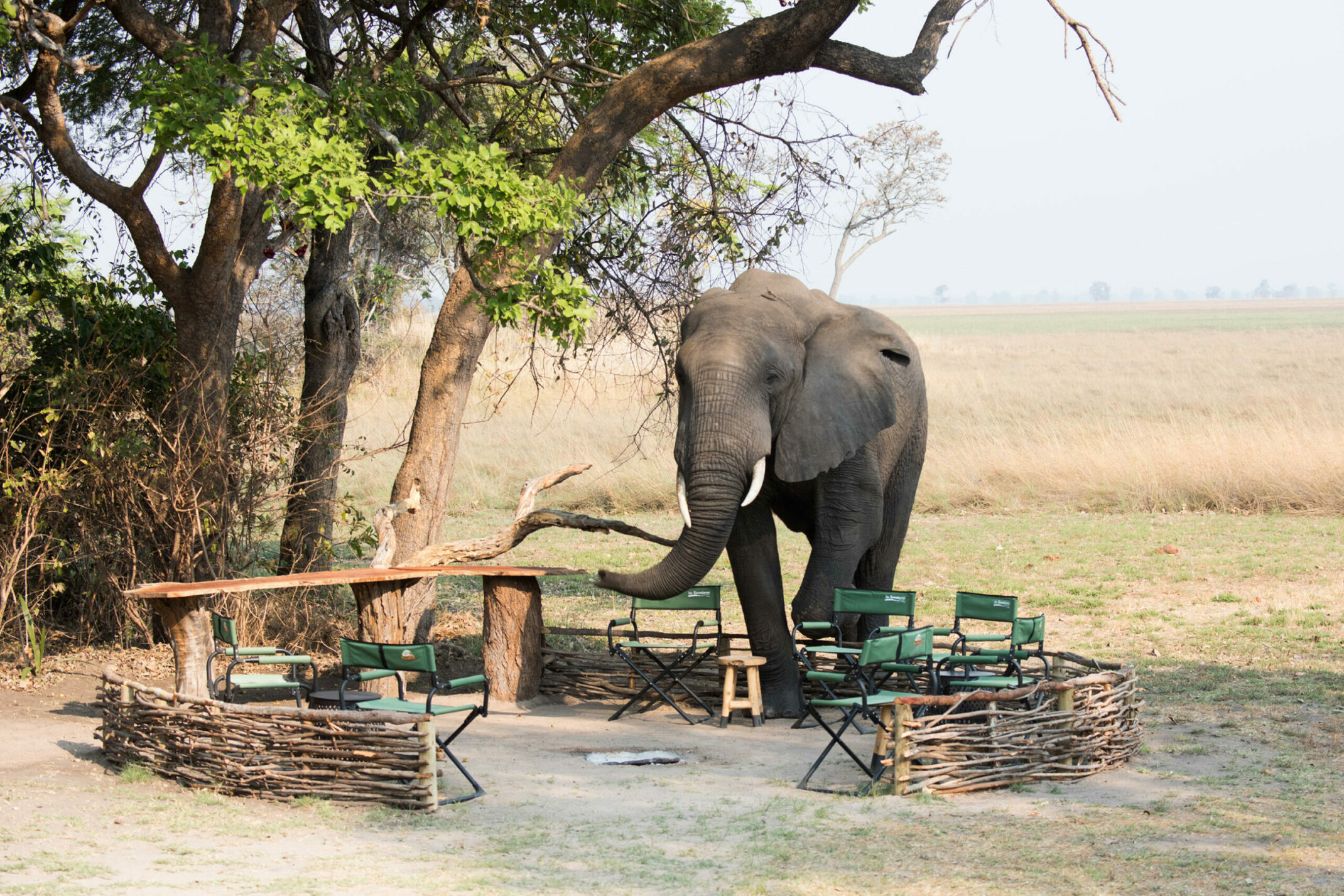 FAQs
What does the K850 run fee include?
This run fee is a donation to Greater Kafue Landscape Ltd, which manages the park in partnership with DNPW. It also covers the run entrance as well as a race pack.
Is there a difference in price if depending on the distance I run?
No, the run fee is the same for each distance.
Is it safe to run in a national park?
This event has been run for two years with over 100 runners in each. The route will be cleared prior to the runners setting off and there will be aerial support. It will also be cleared and checked by vehicles and patrolled by motorbikes. Rangers will be stationed at check points along the route and armed rangers will be running alongside you. There will be medical services ready to respond to any runner in difficulty. The number of runners has been so that the event and all participants can be managed safely.
Where does the race start and is there accommodation?
The race starts from Hook Bridge, and there is a lot of accommodation nearby that can be booked directly with the establishments.
What about tsetse flies?
The route will have had tsetse fly targets put up in advance and will be regularly sprayed to reduce the number of flies on the route. These targets are very effective and work well to significantly reduce the population. We will also have repellents at the check points. Avoid wearing blue and black clothing as tsetse flies are attracted to these colours.
Do I need to travel the day before?
Yes, the race will be starting early (at 6:30am) to beat the hot sun and so it is advisable to stay at a lodge nearby the night before.
How will I get to the race start?
Driving at night is not allowed in the park but this rule will be waived on the morning of the race to allow all runners to get to the starting point on time. Please be extra vigilant for wildlife on the roads and leave your lodge with plenty of time to spare.
PHOTOS African Parks Network and Chisa Busanga Camp