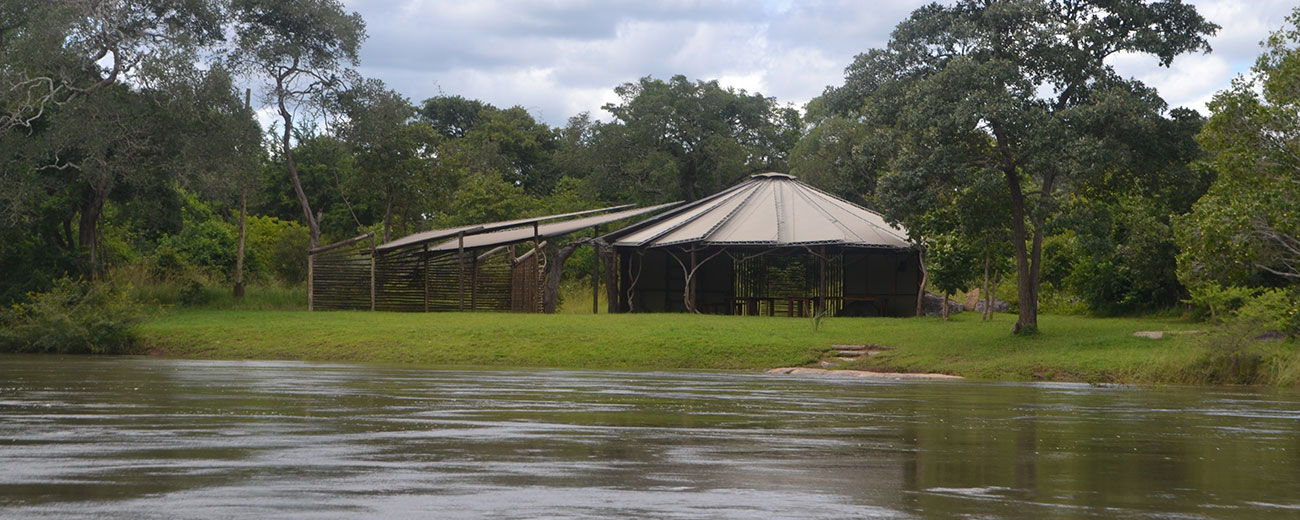 The Heart of the Kafue.
We, Andy and Libby Wilson, chose to build our Bush Camp in the Wild Zone of the park because it is a relatively undiscovered area that needs to be brought to the attention of the discerning safari-goer. This special zone allows limited development so visitors can enjoy the pristine and unspoiled bush in relative isolation.
Kasabushi Camp is situated on a stunning and interesting stretch of the Kafue River with a beautiful view of the palm-covered islands opposite. The camp has been built to maximise guest's enjoyment of the view and river from before sunrise to after sunset.
The 'Round House' is based on an old English design but the roof 'sails' add a dramatic, contemporary edge.  The two chalets have been hand-built and crafted on decks overlooking the Kafue River. Each is spaced far enough apart so guests have peace and privacy to relax and make the most of their home in the bush.  The Bush Camp is small and intimate so the service revolves around its guests.  Furnishings are hand-made using local wood and the beds are heavenly. As well as the beautiful bedding we offer a choice of pillows so guests can sleep well, creature comforts make all the difference in the bush! Our Bush Camp has been built with a lot of love, care and a skilled attention to detail. A natural, granite plunge pool with waterfall and infinity view of the river is the perfect place to cool off in the heat of the day.
Our bush environment is the perfect place to get right away from it all and back in tune with nature.
Having decided that the Central Kafue was where we wanted to build our camp we discovered our dream location in 2010. Andy found the exact spot using Google Earth! It's been a long and eventful journey but our Bush Camp is now open and being enjoyed by our guests.
Andy is a born and bred Rhodesian, a bushman through and through and Lib, born in the UK, is the home-maker. Between us, we have created a camp that we are proud to call our home in the bush and look forward to sharing it with guests looking for a camp with a heart.
ASSOCIATIONS
KPOA (Kafue Park Operators Association)
FACILITIES
Child Friendly
Malaria Area
Plunge Pool
ACTIVITIES
Child Friendly
Malaria Area
Plunge Pool
Please Contact us for our rates
EXCLUDES
Alcoholic Beverages
Park Entry Fees