Border Crossing into Zambia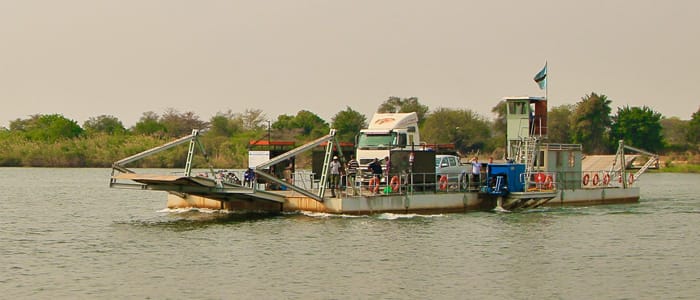 The information below can be seen as a guide for crossing into Zambia if you are doing a self-drive trip with your own vehicle. If you hire a vehicle you will need additional information which you should receive from your car hire company. Be aware that the information below may be subject to change. Be sure to verify before you begin your trip.
Documents required if you own your vehicle:
1) Valid Passport
2) Driver's license
3) A certified copy of your vehicle's registration papers (and trailer if you are taking one)
4) Proof that your vehicle is insured
5) If your vehicle is financed by the bank get a letter of authority from the bank with your travel dates on it.
6) If you are not the owner of the vehicle bring a letter of authority from the owner, signed by both parties with their respective ID numbers, stating that you are able to take the vehicle across the border.
7) Police clearance is still a grey area. SA is wanting to stop the issuing of police clearance certificates. The Zambia Tourism team that travelled to Zambia recently was never asked for one, but had one with them.
8) A valid yellow fever certificate for when you leave Zambia.
Below is a list of documents that you will need to complete at the border when entering Zambia (this changes from time to time, so, as above, use it as a basic guide only and verify before you set off). Tip: make sure you have Kwacha and US$ with you. You can exchange US$ at the border for Kwacha but you won't get a favourable exchange rate.
You will need to complete the following:
1) CIP form ( Customs Importation Permit for visitors with vehicles)
a. This form is valid for 30 days but can be extended once in Zambia at a customs office in major cities such as Lusaka or Ndola.
b. Your visa will also only be valid for 30 days so you will need to extend that first before you can extend the CIP form as your CIP extension will be based on what your visa says.
2) Certificate of Motor insurance. Depending on vehicle it can cost +/- K400 – K600
3) Pay the district council. Cost +/- K30
4) Road Transport and Safety Agency. +/- US$ 20
Vehicle requirements for border crossing:
1) ZA sticker if your vehicle is from South Africa
2) Red reflector tape on your rear bumper ( can be small squares on each side )
3) White reflector tape on the front bumper ( can be small squares on each side )
4) 2 x warning triangles
5) Fire extinguisher
6) White and red T-signs for trailers. White displayed on the front right corner (if you are facing forward) and red on the rear right hand side of the trailer. This is the side the traffic will pass you.
*Disclaimer: The above information is based on reports from travellers who have recently crossed Zambian borders. It is NOT taken from official Immigration Department information or documentation. It is a rough guideline and may be subject to change.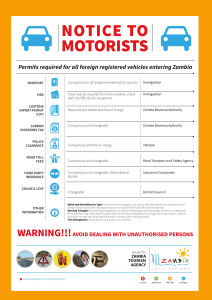 Click here to download and print the Border Crossing Notice