VEHICLES & ACCESSORIES FOR SELF-DRIVING IN ZAMBIA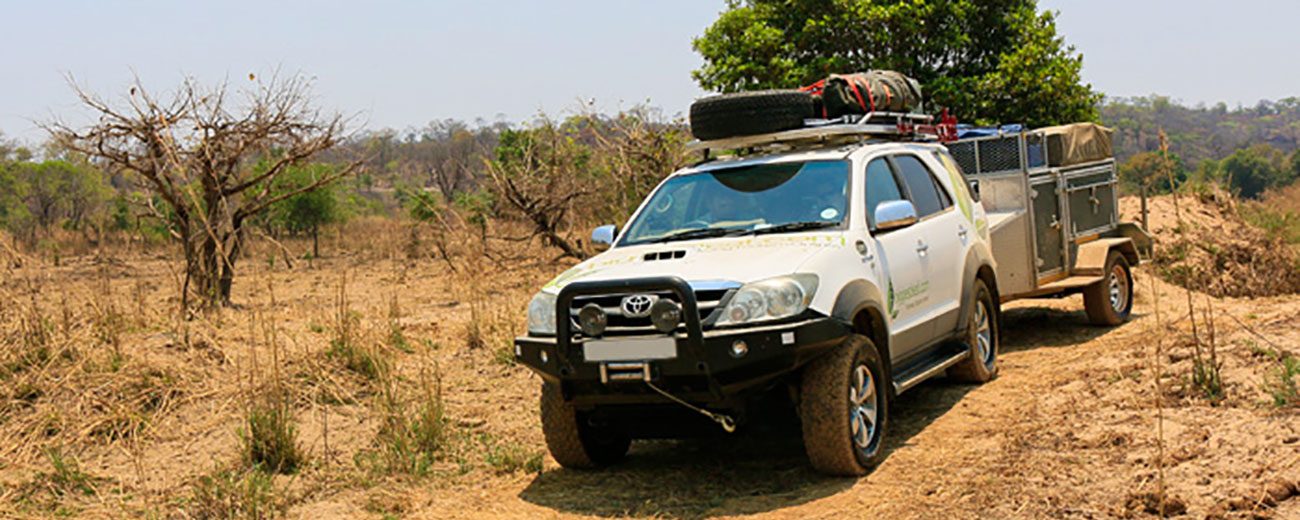 This information was provided by the Zambia Tourism team members who travelled around Zambia for four weeks with a trailer. The team drove on major national roads (mostly tarred with potholes in certain sections across the country), minor or more remote gravel and dirt roads, tracks through national parks and mountain escarpments. On some of these roads it was rare to see another car for hours on end, let alone other tourists.  Below is a list of some of the equipment that the team would suggest taking, and some other useful advice:
THINGS TO TAKE
Two spare tyres for both your vehicle and trailer
Spare fuses
Spare basic filters (oil, fuel and air). It might be worth putting in an extra inline fuel filter if you use a diesel engine to avoid dirty fuel blocking your main filter.
Tyre repair kit
Globes for lights
Extra front spotlights to increase visibility when driving at night (although you should avoid driving at night as animals roam freely).
Minimum 100l / 26gal of fuel and ideally extra jerry cans so you can carry around 140l / 36gal. Tip: put in fuel whenever you can even if you are just topping up. Don't pass a petrol station without stopping.
Basic tool set
High-lift jack, industrial bottle jack or air jack
Cable ties
Ratchet traps
Front bash plate protector (suggested upgrade from the standard version)
Upgraded front bumper (gives better clearance and safer in case of an accident)
Air compressor – see below
Tyre gauge
Dual batteries
Inverter to 220V can be very useful
Solar panel to help keep batteries charged while you are stationary. Zambia can get extremely hot and fridges work a lot harder making battery life a lot shorter. If you find power points at campsites it's a bonus.
Fuel/diesel cleaner
Hard copy/digital map for planning en route and GPS (such as Tracks4Africa)
Camp light
OTHER ADVICE FOR SELF-DRIVERS
Toyota is the most common vehicle brand found in Zambia and your best chance of finding spare tyres or parts.
Suspension takes a real beating, so make sure the shocks, springs or coils are in order. If you have the budget, upgrade your suspension and shocks.
An air compressor is a must! Don't expect to be able to pump your tyres at most fuel stations. You also need to adjust the tyres regularly due to the different road conditions. An air compressor is also great for cleaning dust from inside your car and air filter.