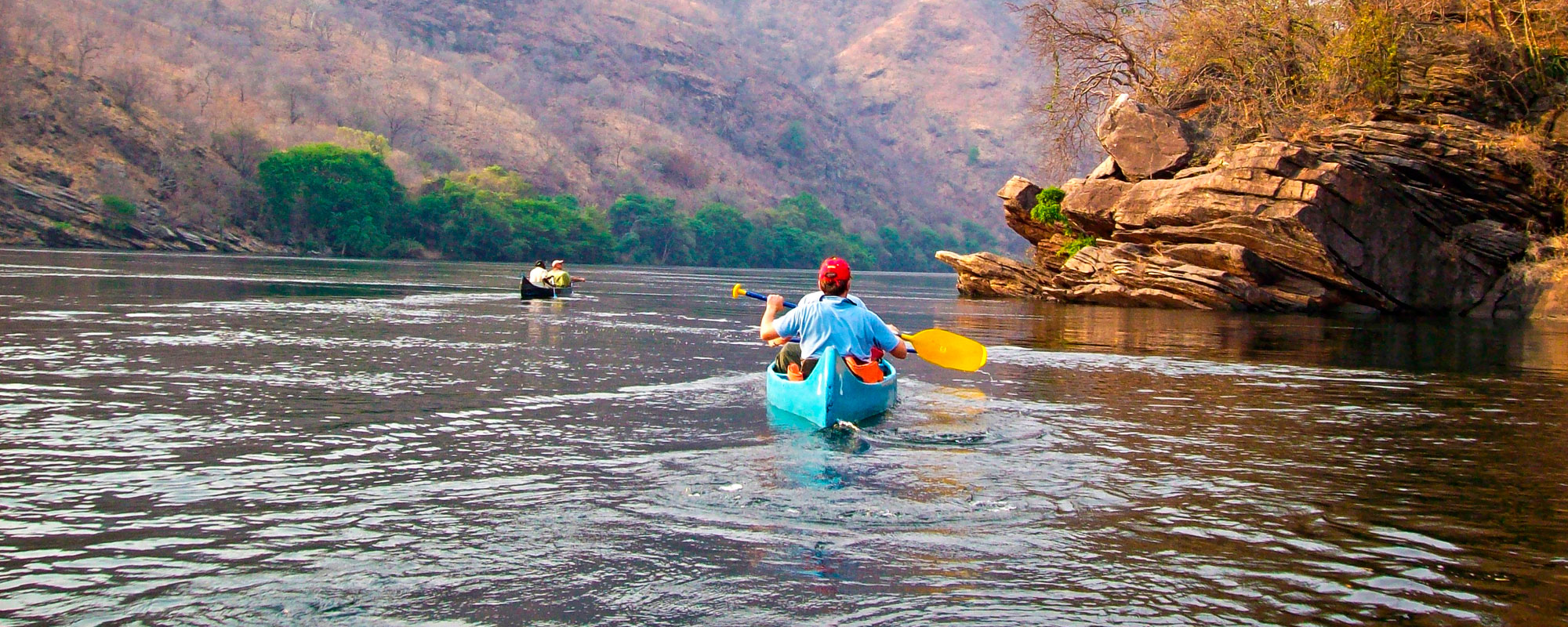 CANOEING SAFARIS
Upper Zambezi River
A canoe or kayak safari on the Upper Zambezi is a wonderfully relaxing way to enjoy the astonishingly beautiful scenery that lines the river before it takes its plunge over the Victoria Falls.
This area is dotted with many islands of varying size that are home to many birds and small animals.
This is the route Dr David Livingstone took on his way in search of the rising clouds of mist. It was along these banks that he wrote about, 'scenes so lovely must have been gazed upon by angels in their flight'.
Lower Zambezi River
A Lower Zambezi canoeing safari has got to be the ultimate in relaxed excitement, as you paddle through the section of the Zambezi flanked by national parks on both sides (Lower Zambezi on the Zambian side and Mana Pools on the Zimbabwean).
Sit back in your comfortable two-person canoe and let the river take you along its current. Your armed river guide will take you down remote channels between the islands in this magnificently diverse and abundant river, where your opportunities to get close to game are very high. Hippos are always in sight while elephant, zebra, puku, impala, buffalo, kudu, waterbuck, baboons and crocodiles can often be seen browsing on the banks from the laid back comfort of your kayak.
Several operators run three-to-five day trips, overnighting at quaint and comfortable bush camps on the banks of the river, with great food and proper beds.
Some operators offer 'participatory' canoeing trips of any duration. All gear is carried in the canoes and camps are erected on islands in the river along the way. Everyone gets involved in setting up camp and cooking. These trips are more affordable and more rustic but the thrill of the wilderness is that much more intense.
If you want the best of both worlds, many lodges in South Luangwa offer canoeing as a morning or afternoon activity in between game drives. The kayaks are very stable and the river more predictable than the Luangwa River, which is far more mercurial and not ideal for water activities.
OPERATORS OFFERING THIS ACTIVITY