FISHING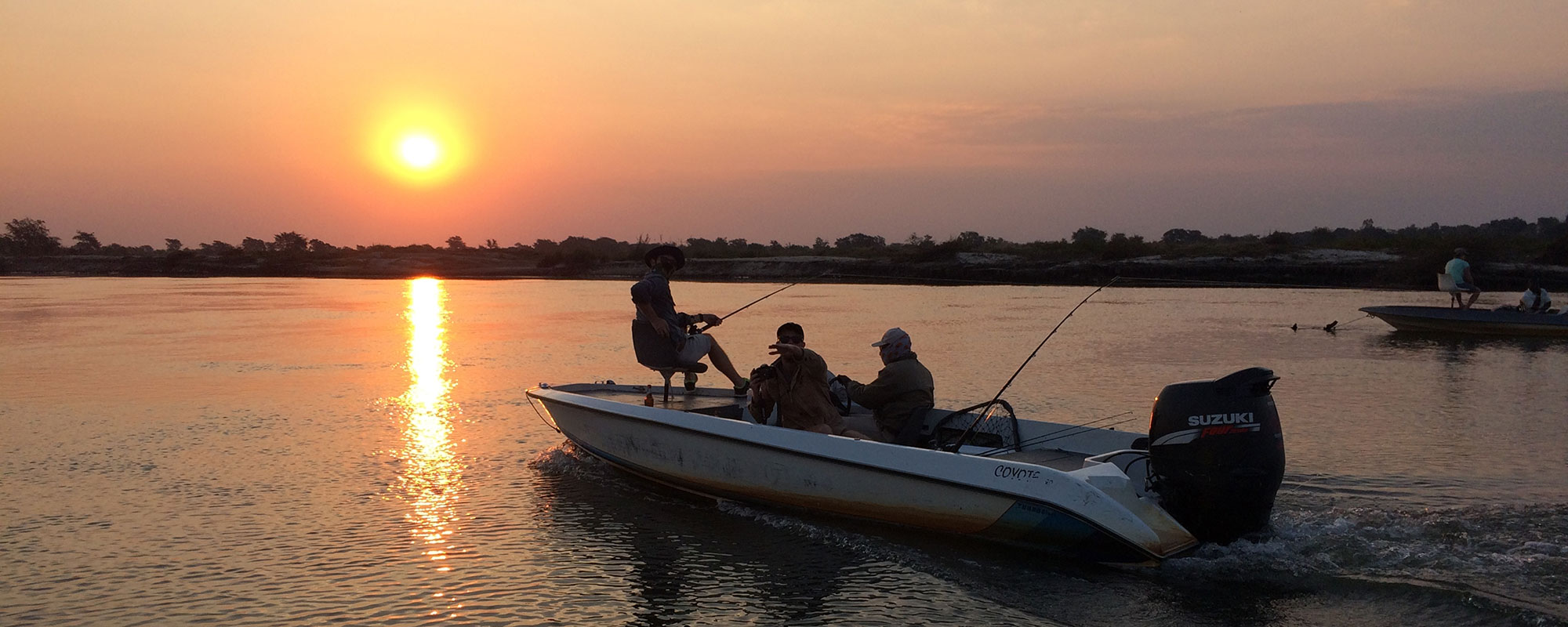 Many rivers and lakes in Zambia carry relatively good stocks of fish, giving very reasonable sport. Really avid anglers must be prepared to travel long distances over rough roads, carrying their own camping equipment and finally making camp beside the river they intend to fish (in season and with the correct permits, of course) but this is half the fun, isn't it?
There has been a successful drive for more formal fishing camps, and particularly around the lodges in the national parks, where good fishing is to be had on the rivers. If you don't want to camp, you can book accommodation that will take care of meals and logistics while you enjoy the water. The more established and specialist angling outfits will supply guides, bait, tackle and so on.
For parties who appreciate camping holidays in the bush, some delightful trips can be planned, particularly in August and September when there is little chance of rain and the nights are warm enough to make camping pleasant.
Most of the rivers are either heavily wooded right down to the water or are swamp-edged, so the addition of a boat and outboard motor to the camp equipment is a sound policy. On the other hand, canoes and paddlers can be hired, and the latter are usually good guides to the best fishing grounds. You can sometimes also hire camp attendants who will take care of heavier work like setting up tents for you.
Visiting anglers must remember that hippopotamus and crocodile are found in nearly all Zambian waters. Wading in rivers can be a very dangerous pastime and hippos, especially with calves, should be given a wide berth at all times. They are highly territorial, very fast and can be extremely aggressive when threatened. Crocs can stay submerged for at least an hour – you may not even know they're there. An insecticide spray against tsetse fly and a malarial prophylactic are highly recommended.
Keep in mind:
Fishing is seasonal from March to November. December, January and February are off limits so breeding can occur without interruption and stocks can be replenished. The season opens on 1 March and closes on 30 November.
Tiger fishing is generally considered at its best outside the rainy season so generally between May and October or November, depending on when the summer rains arrive.
Water levels can change dramatically over the year, affecting currents, and fish change their behaviour to suit different conditions.
Angling is on a strict catch-and-release basis only. Fisheries Regulations are in force to protect Zambia's fish stocks.
If it is your first time, consider joining a fishing lodge or camp rather than doing a DIY trip where you have to concern yourself with regulations, tackle, permits, licences and so forth. Let someone else take care of the paperwork while you take care of your line.
Read more
See our news article on proper catch-and-release techniques here
OPERATORS OFFERING THIS ACTIVITY