FISHING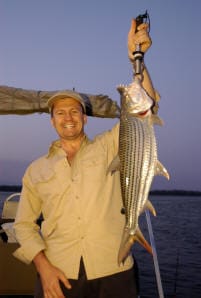 Most rivers and lakes in Zambia carry good stocks of fish, giving very reasonable sport. Anglers must be prepared to travel long distances over rough roads, carrying his own camp equipment and finally making his camp beside the river he intends to fish, but this is half the fun isn't it?
There are very few hotels off the main roads, and fewer still in fishing areas, though the Tourist Board is conducting a successful drive for more hotels and rest houses, particularly the lodges in the National Parks, where good fishing is to be had on the rivers.
For parties who appreciate camping holidays in the bush, some delightful trips can be planned, particularly in August and September, when there is little fear of rain and the nights are warm enough to make camping pleasant.
Most of the rivers are either heavily wooded right down to the water or are swamp-edged, so the addition of a boat and outboard motor to the camp equipment is a sound policy. On the other hand, canoes and paddlers can be hired, and the latter are usually good guides to the best fishing grounds. Youths are also very helpful as camp attendants, and little trouble is normally experienced in hiring one or two to take care of the heavy work of the camp.
The visiting fisherman must remember that the hippopotamus and crocodile are found in nearly all Zambian waters. Wading in rivers can be a dangerous pastime, and hippos, especially with calves, should be given a wide berth. An insecticide spray against tsetse fly and a malarial prophylactic are recommended.
Zambia is known for the excellent annual fishing competition on Lake Tanganyika.
OPERATORS OFFERING THIS ACTIVITY