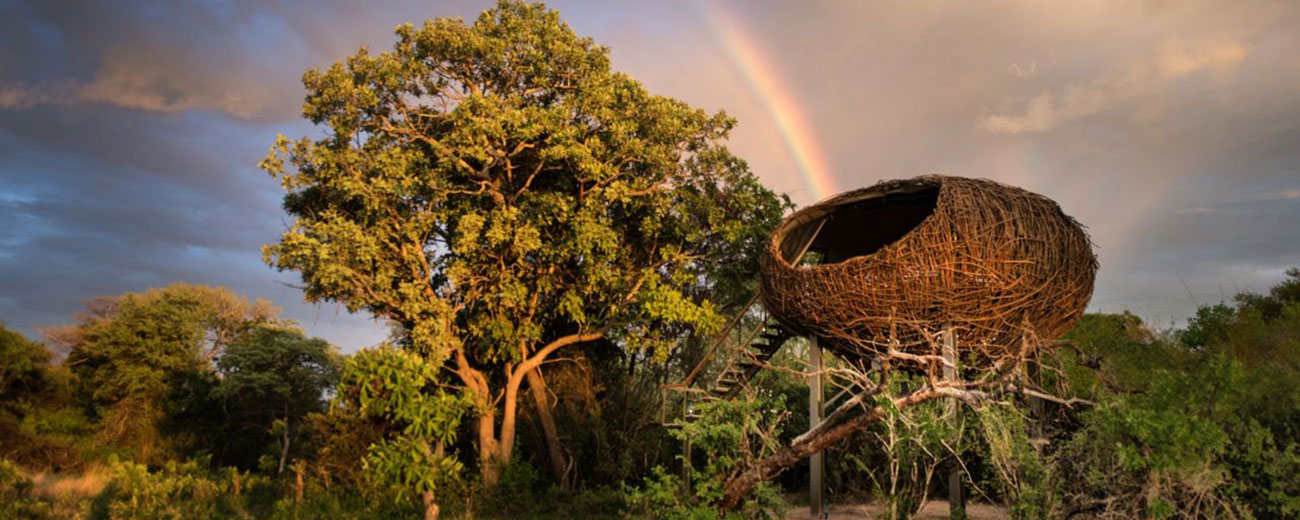 No rooms or tents: Chisa is made up of four luxury Nests, each designed to look and feel like a real weaver-bird nest… with many creature comforts, of course.
With Chisa Busanga Camp our goal was to push architecture and creativity as far as they could go in order to mimic and the natural surroundings. 'Chisa' is the Nyanja word for 'Bird's Nest' and each Chisa room was inspired by the weaver nests that decorate the area. The four Nests are built four metres off the ground where they are treated to expansive views yet still sit within the dappled shade from surrounding trees.
All tents overlook the vast Busanga Plains and are elevated to a height of 4 meters which provides expansive views. One tented nest has an electrically operated lift and is conveniently located near the main building for guests with mobility restrictions.
All tented nests are luxury en-suite with single vanities and separate toilet cubicles. Showers are open plan to the bedroom but have shower curtains for privacy. Filter coffee, a variety of tea, and cookies are provided. Hot water is delivered early morning by flask and can be delivered at any time of the day on request.
FACILITIES
Laundry
Room Service
Infinity Pool
Restaurant
Electric Boat
Electric Game Vehicles
ACTIVITIES
E-Cruiser Game Drives
E-Boat Safaris
Walking Safaris
Bush Breakfast
Sunset and Lunch Cruise
Fishing
Birding
Eco Walk
Ila Community Farm,
Green Safaris was born from a desire to preserve the most pristine areas of African nature, as well as to empower vulnerable African communities and wildlife. We handpicked the destinations where we operate our premier camps with the greatest care. Every place has a special story to tell and is part of an important ecosystem.
The Busanga Plains, secreted away in the northern part of the Kafue National Park in Zambia, is one of the most untouched wilderness areas in Africa. Within its quietness, this wetland ecosystem bristles with diverse life that makes for a special safari experience. Sitting on a small tree-lined island, Chisa uses only solar power to run. Even the game drives and mountain bikes run on sunshine power since Green Safaris is the first operator to run Silent Safaris in Zambia. Silent Safaris enable safari-goers to explore sensitive ecosystems gently via electric, solar-powered Land Cruisers, with the immense added benefit of being able to sneak up on wildlife without the intrusive roar of fuel engines.
With conservation and community in our hearts, we dedicate resources towards developing and supporting various related initiatives. We encourage you to join us on this journey by being actively involved in these projects during your stay.