KASANKA NATIONAL PARK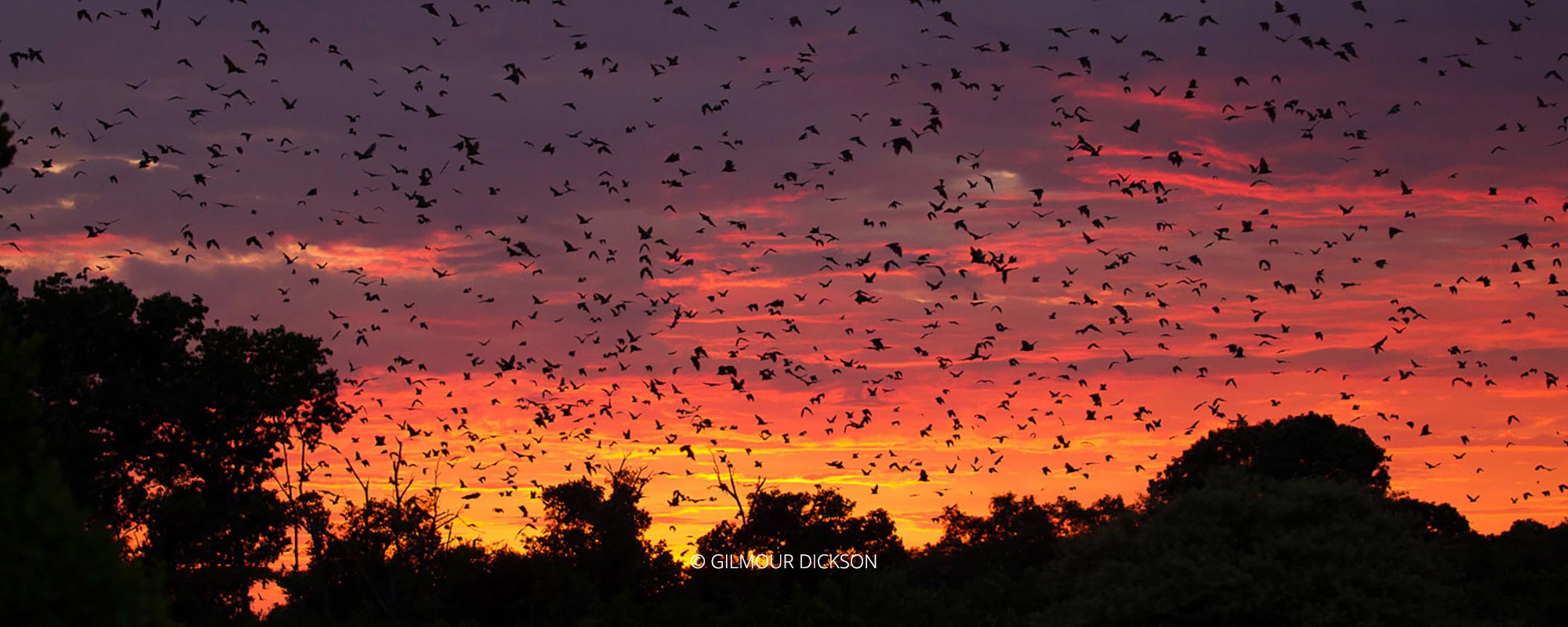 This peaceful sanctuary, situated on the southwestern edge of the Lake Bangweulu basin, is one of Zambia's smallest national parks. It's 450 km2 / 280mi², however, are so well endowed with rivers, lakes, wetlands, forests, lagoons, meadows and dambos that it supports a uniquely wide range of animals and abundant birds and fish.
Do not expect to see large herds of animals round every corner but it is one of the most picturesque parks in Zambia with superb birdlife. It is also famous for an astonishing bat migration with literally millions of fruit bats arriving from October every year. At around 10 million, it is considered the globe's biggest mammal migration. They leave for foraging at sunset, arriving back at their roosts just before sunrise – an amazing sight!
Kasanka was once in danger of becoming a defunct national park due to rampant poaching. David Lloyd, a Briton who had lived in Zambia for many years, visited the park in 1985 and heard the crack of gunshots. He concluded that if there was still poaching there must still be animals there and set out to save the park from total depletion. He teamed up with a local farmer, sought funding and, along with much of their own resources, applied for official permission to rehabilitate the area. They built tourist camps, roads and bridges and set up the Kasanka Trust to raise funds for this community-based project. Slowly it began to earn a little money from tourists to help cover costs. Three years later the National Parks and Wildlife Services Department was sufficiently impressed to sign an agreement with the Trust allowing full management of the park in conjunction with the department and to develop it for tourism in partnership with the local community.
Today, there are some of the rarest birds and animals in the country, found in the beautiful miombo woodlands, swamp forest, grasslands, floodplains and riverine forest, to be enjoyed on leisurely nature walks and game drives. There are ample opportunities for catching tigerfish, bream and barbel in the beautiful Luwombwa River. Boats are available for hire but you should bring your own tackle.
Recovering from depletion are hippo, sable antelope and Liechtenstein's hartebeest. Puku, once reduced to a few hundred, today exceed 1 500. There are fairly big herds of the swamp-dwelling sitatunga, reedbuck, waterbuck, Sharpe's grysbok and the rare blue monkey. Elephants also appear from time to time, and their numbers are recovering. Together with Kasanka's noted birdlife, the animals can be seen on guided walks through the grassy plains, mushitu forests, large tracts of miombo woodland, and alongside riverine forest and papyrus swamps. Over 330 bird species have been recorded, including such rarities as Pel's fishing owl, the Pygmy goose, Ross's loerie, the osprey and the wattled crane. If you're lucky you'll catch a glimpse of a rare shoebill stork.
Images credited and supplied by @Kasanka Trust Ltd.
KASANKA NEWS
Kasanka National Park is one of Zambia's smallest national parks, but one of its many hidden treasures. What this peaceful little park on the southwestern edge of the Lake Bangweulu basin lacks in size, it makes up for in diversity... [...]
BAT SEASON IN FULL SWING IN KASANKA NATIONAL PARK. Do you know that currently, the world's largest mammal migration is taking place here in Zambia, at Kasanka National Park?  Described as "one of Africa's greatest wildlife spectacles", millions of African [...]
The Great Wildebeest Migration? The biggest animal migration on earth? Nope. While many believe that the great Wildebeest migration in Africa is the largest mammal migration on earth, this is a common misconception. So, what could surpass the over 1.5 [...]