SAFARIS IN ZAMBIA
Zambia is a safari enthusiast's dream with around 40 percent of the country's land allocated to national parks or other types of conservation. Not only is there an array of some of the world's biggest and best game parks to choose from, such as the vast Kafue or famous South Luangwa, there are also many safari activities available too. Whether it's a canoeing safari along the game-rich shores of the Lower Zambezi or following in the footsteps of the pioneers into the Zambian interior on a walking safari through North Luangwa, you are sure to find something in the country's spectacular wildlife and scenery to thrill and amaze you.
BIRDING SAFARIS
Zambia is home to an amazing 858 recorded bird species. Lochinvar National Park alone is home to at least 428 and Luangwa Valley to 450. All park guides are experienced bird spotters, so don't forget to pack your binoculars and zoom lenses.
CANOEING SAFARIS
A kayaking trip down some of the quieter stretches and channels of the Upper Zambezi is among the more relaxing ways to enjoy the Zambian safari experience. Look out for carmine bee-eaters that burrow into the riverbanks.
GUIDED SAFARIS
A guided safari is often the easiest and most convenient way to get up close and personal with Zambia's incredible wildlife. While your experienced guide shares their knowledge and finds the best viewing opportunities, you can just sit back and enjoy the ride.
WALKING SAFARIS
If the pristine, undisturbed African bush is what you are after, then it doesn't get more exciting than a walking safari. Zambia is one of the few countries in the world to offer this unique and unforgettable experience, backed up by a ground crew so you don't have to carry everything with you.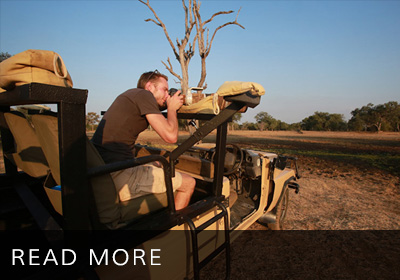 PHOTOGRAPHIC SAFARIS
If wildlife photography is your thing, then Zambia is the right place for you, offering an abundance of wildlife amid dynamic, rich colours. Some operators offer specialist photographic safaris and even 'in the field' wildlife photography workshops.