SHIWA NG'ANDU & KAPISHYA HOT SPRINGS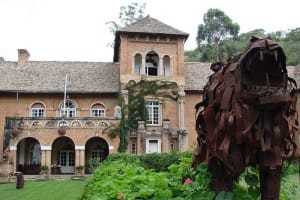 In 1911 a young British officer, Stewart Gore-Brown, was appointed to the Anglo-Belgian Boundary Commission to determine the border between Northern Rhodesia and the Belgian Congo. He developed a great fondness for the surrounding countryside and determined that when his work was finished he would return and settle in this part of Africa. He was back in 1914 and set off on foot from Ndola on the Copperbelt with 30 carriers looking for a piece of land to buy.
"We suddenly came upon what I thought was the most beautiful lake I had ever seen. I was surrounded by hilly country, and along its shores were groves of rare trees, of [a] kind sacred to Africans. Friendly folk inhabited the one big village on the lakeshore and there were a dozen herds of different wild game. The surrounding land seemed to be reasonably fertile judging by the crops that were ripening there. I knew at once that I had found what I was looking for."
Legend has it that the local tribe, having arrived from the Congo onto the north-eastern plateau, came across a dead crocodile. They thought this an excellent omen and since the name for crocodile was Ng'andu, they called themselves Bena Ng'andu – 'The people of the Royal Crocodile' – and settled around the lake. It became known as Ishiba Ng'andu – 'The Lake of the Royal Crocodile.'
Gore-Brown purchased 10 000 acres of land near the lake for two shillings an acre and called it Shiwa Ng'andu. The First World War necessitated a return to England but six years later he returned as a retired lieutenant-colonel and set about building the estate with an army building manual, single-minded determination and an indomitable energy. Using local materials, recruiting and training builders, carpenters and blacksmiths, he built cottages for his workers, a school, a chapel, a hospital, a post office, a workshop complex and later an airstrip. Eventually, the elaborate manor house overlooking the lake was completed in 1932 and the appropriate furnishings, paintings, cutlery and crockery were shipped from England and transported on dirt tracks by ox wagon. His wife Lorna took an active interest in the local culture and environment, encouraging research and carrying out anthropological studies.
They experimented with various crops, essential oils, cattle and timber on the farm and at the same time, Gore Brown was very active in politics, contributing to the creation of an independent Zambia. He died at the age of 84 in 1967 and his elder daughter and her husband Major John Harvey took over management. They began Shiwa Safaris, which was for many years the only safari company taking visitors to the estate into North Luangwa National park. They also continued with the community development projects started by Gore-Brown. They were murdered during an apparent robbery in 1992. The farm as well as the safaris continue to operate. The estate maintains a central role in the development of local farming, providing the resources and expertise allowing farmers to diversify their output.
SIGHTSEEING
Kapishya
On the vast estate of Shiwa Ng'andu is Kapishya, an exquisite natural hot spring surrounded by lush tropical vegetation and tall raffia palms. The hot water bubbles out from the white sands of a crystal-clear pool and flows into the Manshya River. There is a campsite as well as a lodge with several chalets.
Chusa Falls
Downstream from where the Manshya runs past the hot springs are these falls, which are made up of a series of three steps. Rafting can be done here over the many rapids.
Nachipala Bareback Hill
This 3-hour walk to the summit gives a magnificent view of Ishiba Ng'andu. Dr David Livingstone took his bearings from here back in 1867.
Shiwa Lake
Boating, fishing, cruising, birdwatching and taking in the spectacular sunrise or sunset are all possible at the lake.
BEST TIME TO GO
Anytime of the year is good in this area. Rainy season is between November and March. A particularly pretty time of the year is late September, as the spring leaves arrive. A profusion of autumn colour prevails as the leaves of the ubiquitous brachystegia trees begin their life in a rich burgundy colour and gradually turn yellow then green as the season progresses.