BIRDING SAFARIS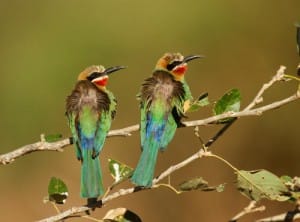 Zambia has some of the highest species concentrations on the continent and some of the most beautiful and wild birding destinations to get your ticks!
A fascinating way to spot the birds of the Zambezi area is on a canoeing safari. Drift down with the current with binoculars and checklist in hand and take it all in. Lots of excellent game sightings too. Choose from a tranquil upper Zambezi cruise just above the Victoria Falls or a wilder adventure paddle down the lower Zambezi with game parks on either side of the river.
One of Africa's most prized birding spots is Lochinvar National Park, a small 450km2 game park on the Kafue floodplains which has 428 known species – that's almost a different bird species for every square kilometre!
Try one of Zambia's legendary walking safaris in the main parks. All you take is your binoculars, and your guide will ensure your safety and comfort as you spot many of Zambia's unique species.
Most of the game lodges in Zambia have expert guides who are skilled bird spotters and who will be happy to take you on walks or drives through the bush.
Go to Bird Habitats for detailed info on the different birds you'll find in Zambia's varied vegetation and geographical areas, and here is Zambia's Birdlife Checklist.
OPERATORS OFFERING THIS ACTIVITY