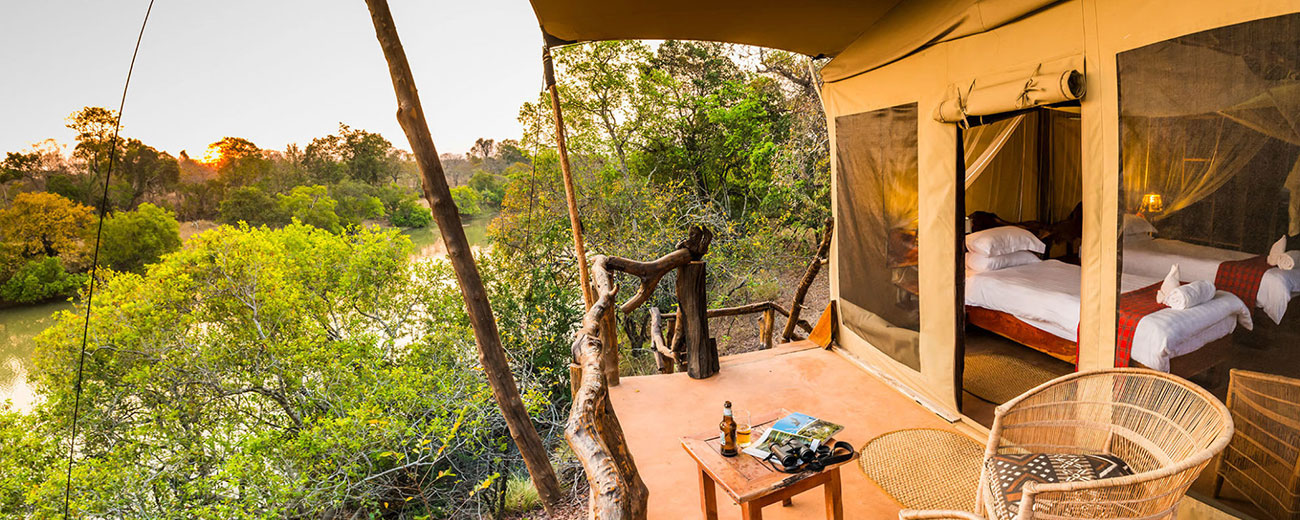 Guests will stay in one of four luxury safari tents (2 twin and 2 double) raised on 3m high platforms. Each tent overlooks the beautiful Shishamba lagoon but also has a private view of the plains behind the camp offering unique opportunities to spot game. Each safari tent has an en-suite bathroom and veranda presenting a unique view from the tree canopy. Guests can come together at the Boma underneath a large Fig Tree, from which the camp is named. Here they can savour the serenity of the lagoon as well as delicious food and wine. From the Boma, guests can also view a variety of animal life coming down for a drink on the other side of the lagoon.
Along the end of the lagoon is a white sandy beach just a few meters from the Boma. Guests can relax on a luxurious hammock whilst they take in the surrounding sites and sounds with a cool refreshing drink. Fig Tree Bush Camp has a commitment to the environment in which it's set. Mukambi Safaris is a big advocate of responsible tourism and therefore aims to use materials which are environmentally friendly without compromising on comfort and aesthetics for our guests. The camp is powered by solar energy providing guests with green electricity 24 hours a day.
Please note: * All inclusive, peak season rates are $495pppn and include all meals, accommodation, drinks and activities.  * Operational months also extends throughout November and December
FACILITIES
Boma
Hammock
Inter Camp Transfers
Safari Packages
ACTIVITIES
Game Drives
Walking Safari (on request)
CHILD POLICY
Child rates are limited to 1 child per room
Children activities are charged for separately
Children from the age of 10 years pay full adult rates
Fig Tree Bush Camp is situated on the banks of the Shishamba River and has been in operation since June 2015. The camp is an exciting short drive from its sister camp, Mukambi Safari Lodge. The camp has an elephantine Fig Tree, hence the name, as its centrepiece, hanging over the dining boma. Lagoons are formed seasonally along the Shishamba River, leaving sprawling, sandy beaches along its length. Fig Tree Bush Camp has one such beach of its own, allowing guests to unwind under the illustrious African stars after supper, around a hearty campfire, encompassed by the sounds of the bush.
The plains around Fig Tree Bush Camp boast a plethora of game, including puku, impala, zebra, hartebeest, sable, roan, elephant, lion, cheetah, leopard, serval and much more, all attracted into the camp to access the Shishamba River, which also has hippos and crocodiles. Above that, catch glimpses of the endless and colourful amounts of fantastic birdlife in the region. To add to the discovery and adventure of our guest's stay, they can join on game drives with our experienced guides who will make it their personal mission to track the elusive creatures for you to witness.
Fig Tree Bush Camp breaks the mould of traditional safari. Guests will enjoy all the intimate facets of a classic bush camp but with a fresh and exciting approach. This beautiful location in combination with originally raised tents and the wide variety of wildlife is a unique experience.
Please Contact us for our rates
INCLUDES
2 Safari Activities per Day
Accommodation
All Local beverages
All Meals
Beverages and Snacks