LUSAKA – CAPITOL OF ZAMBIA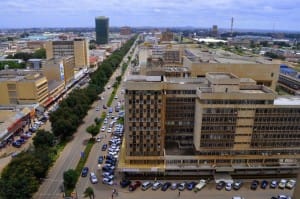 Lusaka has become something of a boom town of late. New buildings are going up everywhere and many chain stores and shopping malls are springing up all over the sprawling suburbs.
The road development isn't quite keeping up so peak hour traffic is finally becoming like other cities, but it has an optimistic air of a town on the rise. For many, this is the perfect example of what economic liberalisation has done for the country. And viewed from the villages, Lusaka is the glittering capital which still persuades rural Zambians to migrate to the city in search of jobs and dreams. Well over 60% of its 2 million inhabitants are unemployed, but there are surprisingly few beggars. Although petty theft occurs, most people try to make an honest living selling their wares or services, always with a friendly smile.
The markets are a hive of activity as the thousands of stalls are set up, upgraded and cleared away every day. A myriad of motor spares dealers, restaurants, hairdressers, fishmongers, fruitsellers and rows and rows of "salaula" – stalls of discarded clothing from the West sold to Africa by the bale. The capital covers an area of over 70km2 and is one of the fastest-growing cities in central Africa. It's population almost trebled in the immediate post-independence era and continues to grow daily. There has been no influx control and the city is bursting at the seams. Grossly inadequate municipal facilities are hard-pressed to cope with the ever-increasing demand. It is a sprawling, metropolis with many multi-storey buildings, high-walled suburbs and busy shanty towns. Development has brought together people of many nationalities, making it a bustling centre for economic, political and cultural activities. The city lies at the junction of the main highways to the north, east, south and west, and  at an altitude of 1300 metres above sea level. There are air links to most of the major tourist destinations in Zambia from Lusaka International Airport.
For maps of the city, try the Zambian National Tourist Board, the craft shop at the Pamodzi Hotel or the Map Centre, Mulungushi House, opposite the US embassy. There is a local magazine called the Lusaka Lowdown which is a mine of information on what's happening in town and full of useful adverts for local services and products. Famous faces from Lusaka include the eminent Dambisa Moyo, who is an international economist and the author of the New York Times Bestsellers Dead Aid: Why Aid is Not Working and How there is a Better Way for Africa, and How the West Was Lost: Fifty Years of Economic Folly and the Stark Choices Ahead."
GETTING AROUND
There are no scheduled bus services – the blue taxis range from 12 seater minibuses, to dilapidated cars, to good dial-up cabs, to chauffeur-driven vehicles for hire.
RESTUARANTS AND NIGHTLIFE
There are upmarket clubs and restaurants in the suburbs but many roadside shebeens offer a closer experience of how Zambians "get in the groove" and dance the night away to the sounds of rhumba, kwela, hip hob, or R&B
There are many good restaurants in Lusaka including coffee shops, take aways, night clubs, pubs as well as their phone numbers.