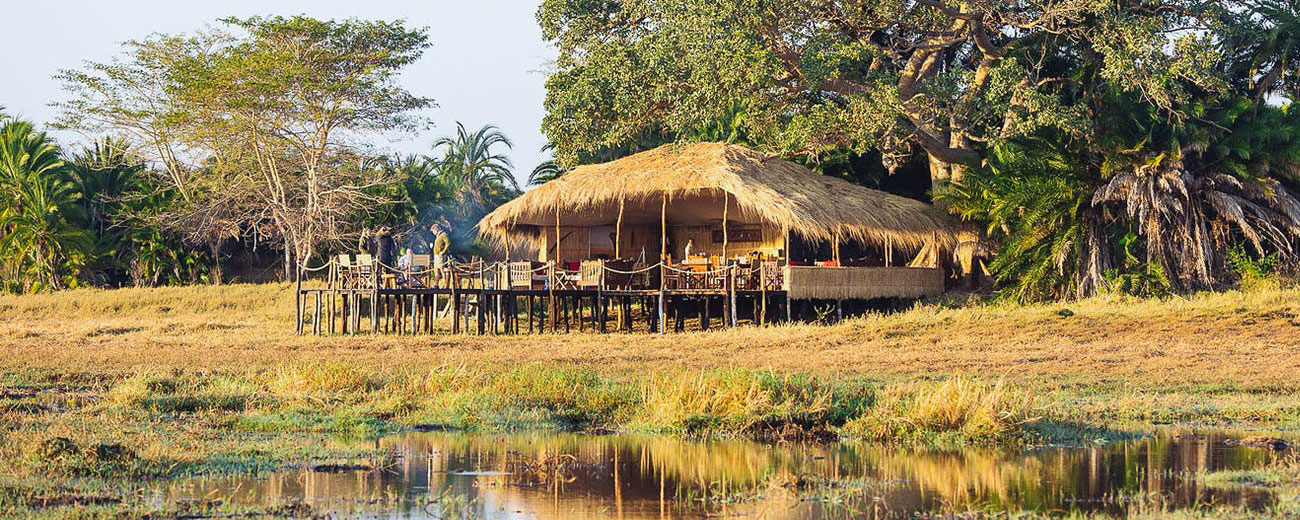 Busanga Plains Camp is a personal and intimate camp, set on a small palm tree island in the middle of the vast Busanga Plains. The most northerly and remote camp in the Kafue, it is open from mid-July until the 1st week in November due to annual flooding.
Four well-appointed luxury safari tents are nestled into the palm trees on the island and all face out onto the floodplain where Red Lechwe antelope can be seen from your tent.
ABOUT THE ACCOMMODATION
The Plains Camp consists of 4 fully furnished luxury safari tents, each with an en-suite bathroom. Each tent can sleep, 2 persons. The camp is located in the middle of the plains and from your tent you have a perfect view of the plains and the marsh.
There is also a plunge pool and a 6m high viewing deck that offers guests a 360 view of the plains. Mukmabi Plains Camps runs fully off solar and has a small generator for backup. The Camp was designed to be entirely eco-friendly with minimal impact on the surrounding environment.
Proper wastage and garbage disposal techniques have been put in place to ensure no harm comes to flora and fauna around the camp.
ABOUT THE COMPANY
Busanga Plains Camp is operated by Mukambi Safaris. Mukambi has been operating the Busanga Plains Camp since 2004 and has become very conversant with every inch of the Plains. The camps have previously been at three different locations before finally settling in its current location in the heart of the Busanga Plains.
During the green season, the Plains are flooded and inaccessible. However, during the dry season (roughly from July to October) this unique piece of nature can be visited. The journey from Lusaka to Mukambi Safari Lodge is an easy 4 hours where guests have the opportunity to break down the journey and get acquainted with the Mukambi way of life and atmosphere.
Guests are then transferred to Busanga Plains Camp, depending on their package, the following day through the Park and are welcomed by our friendly staff with a nice fruit cocktail to quench their thirst.