NORTH LUANGWA NATIONAL PARK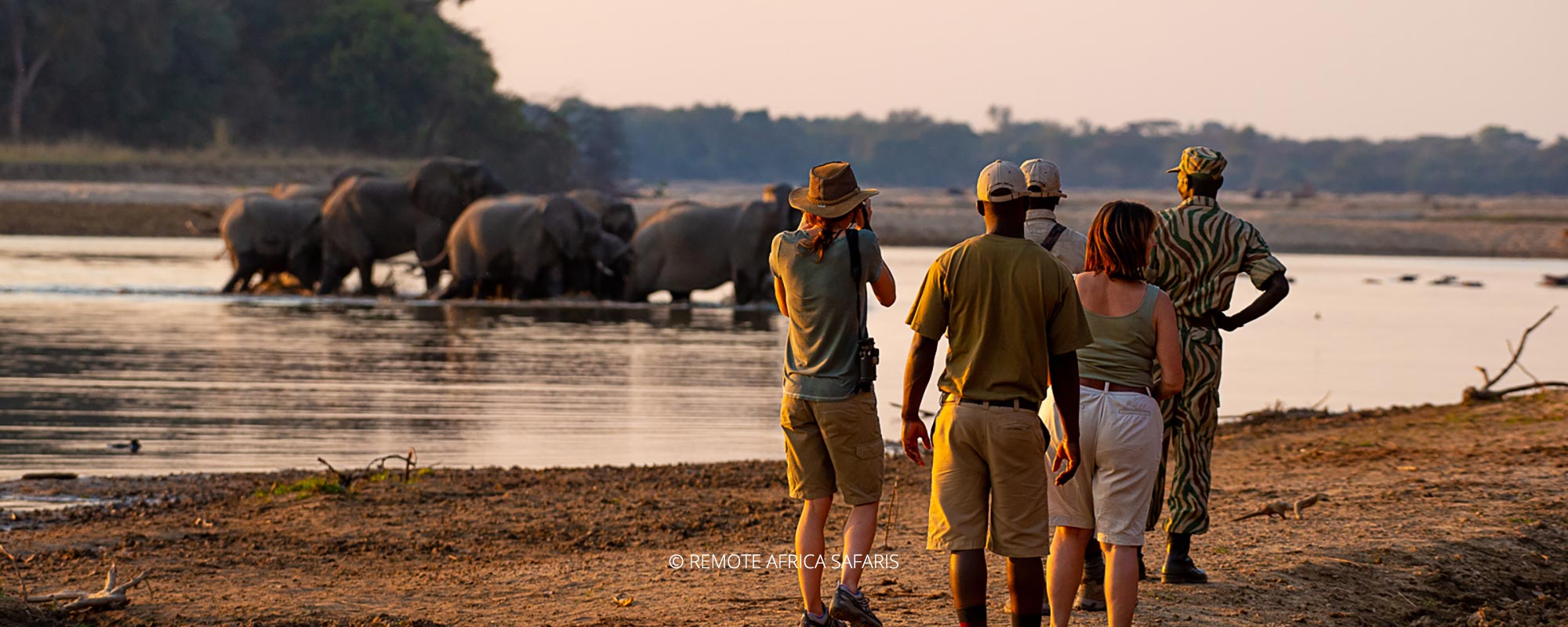 This remote tract of land, covering 4 636km² / 2 880mi², offers one of the finest wilderness experiences in Zambia, if not Africa itself. In addition to strong populations of buffalo, predators (including wild dog) and elephant, there is a stable herd of black rhino, making this a true Big Five destination. Like South Luangwa National Park, there are no giraffe.
The beauty of visiting this park is the truly remarkable opportunities to experience Africa as it was. It is wild and untouched and you are simply an unobtrusive witness to its natural beauty and drama. Although declared a wilderness area, it was not open to anyone other than Game Department rangers for more than 30 years. In 1984, John and Lorna Harvey sought permission to conduct walking safaris in the area and for many years were the only operators in this remote wilderness.
In 1989, two scientists, Mark and Delia Owens, famous for their book, Cry of the Kalahari, were granted permission to set up a research station. Through their influence and as a means of helping to curb poaching in the area, the authorities allowed entry to a few more safari operators who bring limited numbers into the park for guided walking safaris and game drives (no self-driving or private camping is permitted). Their efforts in North Luangwa are documented in their book, Survivors Song: The Eye of the Elephant.
There are very few roads and you are unlikely to see anyone else for the duration of your trip. Like the South Park, it lies on the western bank of the Luangwa River bordered on the other side by the dramatic Muchinga Escarpment which rises over 1 000m / 3 280ft from the valley floor. Its hazy outline can clearly be seen from the Luangwa River.
There are a number of tributaries running through the park and into the Luangwa that play an important ecological role in the area. The crystal-clear Mwaleshi River trickles down the escarpment in a series of small waterfalls. It recedes in the dry season, leaving many pools along the way, drawing the animals from the bush to its banks in search of water. No game drives are permitted in the Mwaleshi area and access is by organised walking safaris only.
The vegetation ranges from mopane woodland to riverine forest; open grasslands and acacia thicket. Trees include the beautiful sausage tree, vegetable ivory palms, red mahogany and leadwood.
LATEST NEWS
Nestled along the mighty Zambezi River, Lower Zambezi National Park is a true gem in Zambia's tourism crown. This pristine wilderness area offers a unique and unforgettable experience for nature enthusiasts, adventure seekers and wildlife lovers alike. From breath-taking landscapes [...]
Will you be part of just a handful of trail runners to take part in the exclusive inaugural Kafue Wild? This 21km / 10km race has been opened for the first time after informal trials in 2021 and 2022 with [...]
Conservation South Luangwa, which patrols a colossal 1.4 million hectares and relies solely on private donations and grants, had an immensely successful 2022 in terms of conserving wildlife, preserving habitats, deepening the team's skills and fostering even stronger bonds with [...]