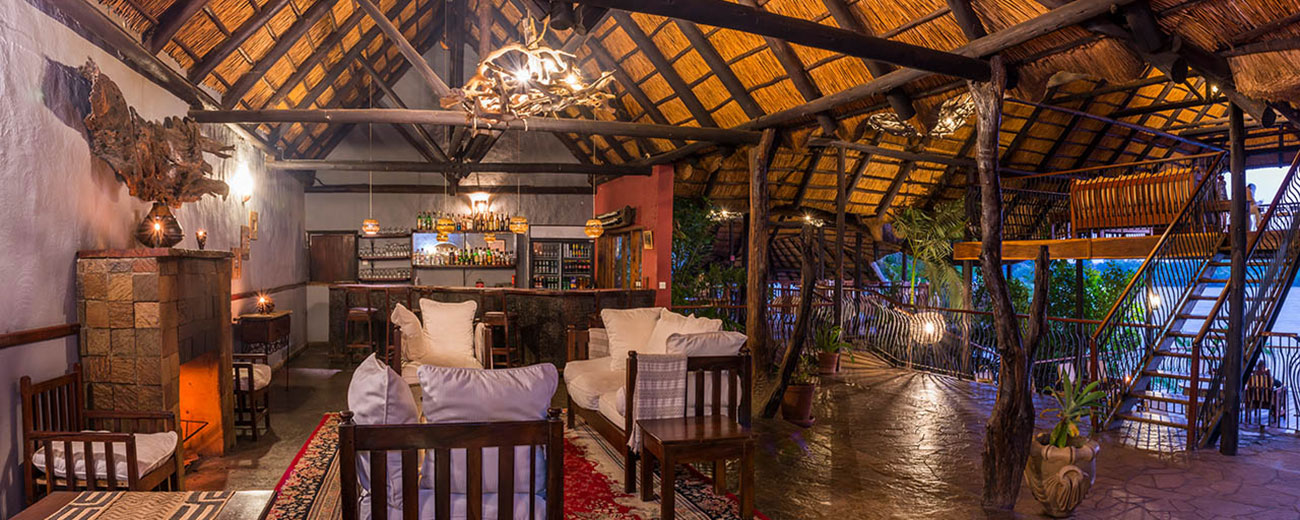 Welcome to Mukambi Safari Lodge, gateway to the Kafue National Park and the beautiful Kafue River. Surrounded by one of the largest unspoilt wilderness areas in the world, Mukambi Safari Lodge is right on the banks of the Kafue River. From the lodge, we will show you Kafue National Park. Vast untouched areas, unspoiled by mass tourism, makes this part of Africa the 'Real Africa', the Africa you have dreamt of, the Africa you have longed for and the Africa that is easily within your reach. The Kafue National Park has 22 480 km2 to explore, roughly the size of Switzerland.
An easy casual atmosphere with the flexibility of what a small lodge can offer makes the days varied and exciting. Game drives, boat and fishing trips along with walking safaris, where guests are likely to see elephant, lion, leopard, cheetah, puku, hippo and many other mammals. The park also hosts an incredible variety of birds. Knowing what comfort awaits you back at the lodge, makes this a truly great experience, with our luxurious Riverside Villa which has its own private viewing deck, our en-suite chalets or our luxury tented chalets, each of them with a private deck overlooking the Kafue River and with a freestanding ball and claw bathtub on each deck.
Mukambi is also proud of our own Mukambi Community School, and you enjoying time with us, helps improve the lives of families in the area through education. Guests can visit the Mukambi Community School while staying with us.
Our viewing decks overlooking the river and the swimming pool area let you settle down and relax and be looked after in the true tradition of the friendly people of Zambia. Come and enjoy Zambia at Mukambi Safari Lodge.
Please note:  * All inclusive, peak season rates are $480pppn and include all meals, accommodation, drinks and activities.  * Operational months also extends throughout November and December
FACILITIES
Bar
Child Friendly
In-Room Massages
Infinity Pool
Outdoor Pool
Restaurant
Transfers
ACTIVITIES
Boat Trips
Walking Safari (on request)
Game Drives
Fishing
Educational & Recreational Tours
Birding Safaris
Mukambi Safaris is a Zambian based company that operates three camps in Kafue National Park, Mukambi Safari Lodge on the Kafue River, which is open throughout the year, a comfortable 4-hour drive from Lusaka, Fig Tree Bush Camp on the Shishamba River Lagoon and Mukambi Plains Camp on the spectacular Busanga Plains, a 150 km game drive from the main lodge to the bush camp all through Kafue National Park.
Mukambi is one of the key players in community development and conservation in the Kafue area. Over 95% of our staff comes from the communities surrounding Kafue National Park. In 2004 we started the Mukambi Community School since there was a need for quality education in the area. The results have been spectacular. We have a well equipped, good school where we employ a highly motivated staff of 5 teachers. Over 70 children go to school and all Mukambi staff and their family members have access to quality education. Mukambi guests can visit and get a tour of the school during their stay at Mukambi Safari Lodge.
When Edjan and Robyn van der Heide moved with their three daughters from Holland to Mukambi to run the lodge themselves in 2002 there was little game left in the area. Without tourism, there was little funding for conservation which was obvious in the relatively low animal population. Over the last 12 years, this has changed spectacularly. The area around Mukambi Safari Lodge is known as one of the most prolific game areas in Kafue National Park. Mukambi has been a key player in the Kafue Park Operator Association (KPOA) and Kafue Conservation. We invite everybody to come and see for themselves.
Please Contact us for our rates
EXCLUDES
All Activities
Park Entry Fees