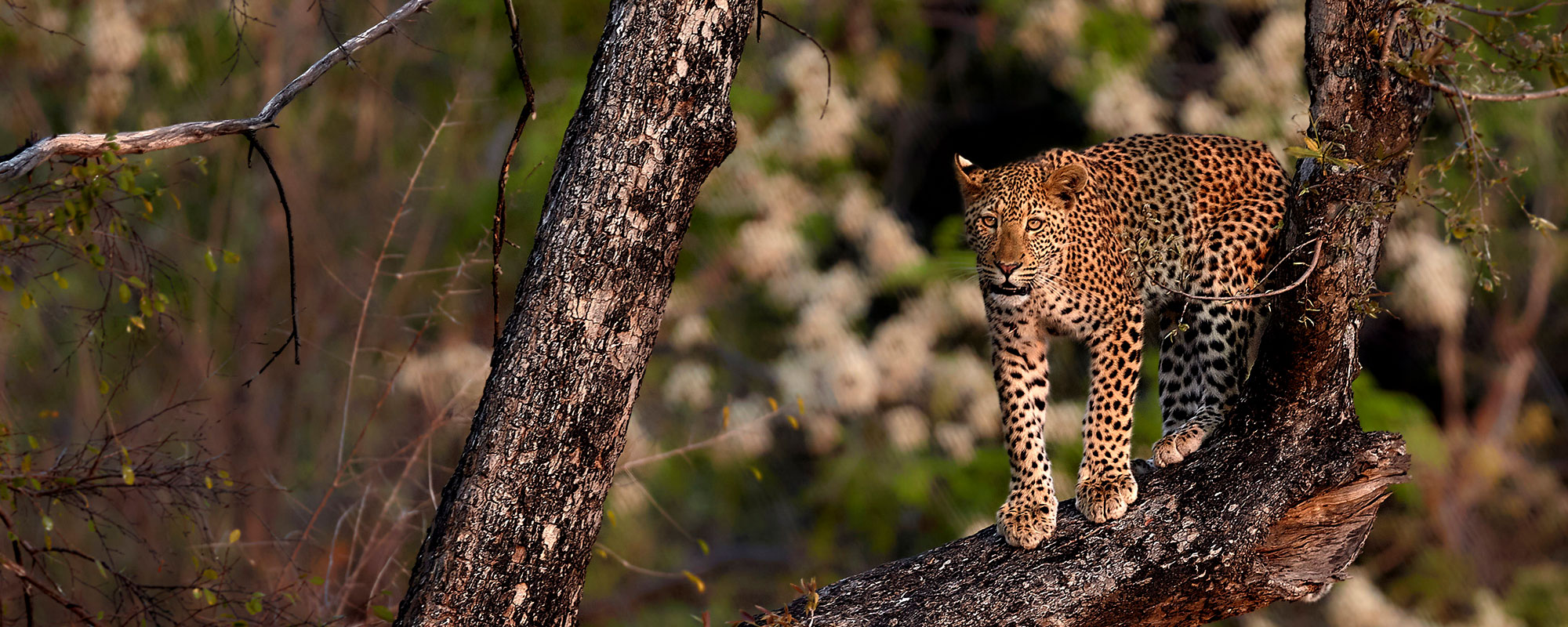 Konkamoya, which means 'follow the wind' in the local Nyanja language, is a place where the wonders of nature come together to enliven the senses and the soul.
A symphony of animals and birds carried by the wind through the bush and across the plains, combined with an intense kaleidoscope of colour from sunrise to sunset and into the night.
Your experience will be emotional and intense – leaving you with a wanderlust for more.
Our tents
Each of our four brand new luxury tents offers plenty of space to stretch out and relax. At the centre of this 67 square metre tent is your king-size bed, covered in the finest Egyptian cotton linen, a sanctuary from which you can gaze at the dazzling colours of sunrise or watch the playful afternoon frolic of impala and puku, completely unaware of your presence.
Your tent is completely screened from the smaller creatures of the African bush and also has 360° privacy screens that can be opened or closed at will – giving you the exact panoramic view that suits your mood. Even our indoor showers are designed to capture these views and make you feel at one with nature.
The comfortable living area inside the tent is designed so you can enjoy moments of quiet between activities, catch up on some reading or sit back and reflect on your adventure so far.
Lapa
The lapa is a key element of your Konkamoya safari experience. Designed to blend in perfectly with the natural elements surrounding it, this renovated modern space is where our chefs serve your meals and our bartenders create all manner of drinks to quench your thirst. The elevated dining, bar and lounge areas are airy and light, well furnished with furniture created by Andrea and his team from sustainable woods and using local artisans, and capture the views across the plains down to the lake.
The infinity pool with sun deck offers a place to cool off, soak up the rays and quietly observe the surroundings, and our raised fire pit is ideal for enjoying an after-dinner drink while sharing stories of the day's activities and preparing for the next.
FACILITIES
Swimming pool
Bar
Restaurant
Tea/Coffee making facilities
Lake view tents
Laundry
Wi-Fi
Safe
ACTIVITIES
Game Drives
Walking Safari
Birding
Village Tours
Konkamoya was established in 2010 after Andrea discovered this corner of paradise tucked away in Zambia's largest protected area, Kafue National Park. Konkamoya is the only international lodge on the shores of Lake Itezhi-Tezhi, offering travellers an exclusive view of unspoilt nature and the African wilderness in all its glory.
Overlooking the lake, Konkamoya is surrounded by open plains, breathtaking bushveld and endless horizons to explore, and your adventures within these will bring you close to many of Africa's most beloved creatures; herds of elephant wandering en-masse, the shy, elusive leopard stalking its prey, or a pride of lions passing on the secrets of the hunt to the next generation – whatever the day brings, it will be unique and extraordinary.
Small and exclusive, with just four luxury safari tents accommodating a maximum of 8 guests (a family tent can be arranged by prior arrangement, bringing the maximum number of guests in camp to 10). Completely rebuilt in 2019 to Andrea's exacting specifications, Konkamoya guarantees a very intimate, unrivalled connection with the vast wilderness around it.
Please contact us for more information about our rates
INCLUDES
Accommodation
2 Activities per night stay
3 meals per night stay
Beverages at meals
Tea/Coffee, Water/ Cordials
Laundry
Wi-Fi
Park entry fees
EXCLUDES
Extra bar
Selected International wines