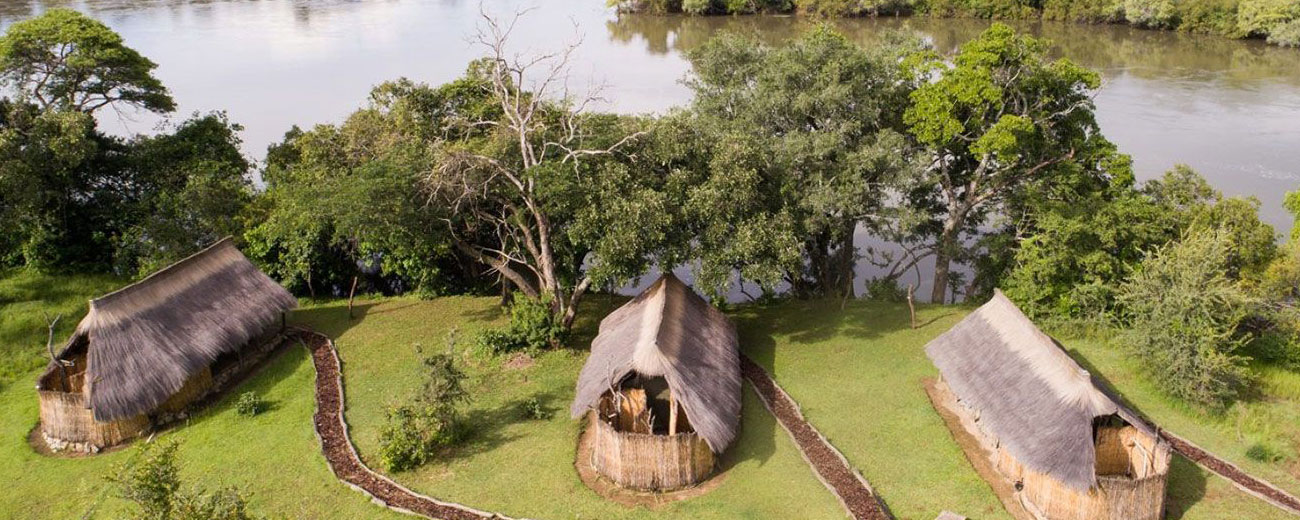 MAYUKUYUKU LUXURY BUSH CAMP
This small, intimate bush camp is situated opposite an island surrounded by rocky granite outcrops.  The camp is located in probably one of the prettiest spots in the Kafue National Park.  We have just 4 luxury permanent tents with 8 beds under thatch, each with its own en-suite rustic style bathrooms which are open to the stars.  Each has a hot shower, flushing toilet and wash hand basin.  The shaded verandah looks out over the river and has a hammock to relax in.  The tents are furnished with a double and single bed but other bed combinations can be organised.
Each morning you can be woken with tea or coffee in bed before your game drive or activity of your choice.  We then return for a full breakfast or we take breakfast with us for longer drives.  Lunch soon comes round but this is a lighter meal such as fish, salads and fresh fruits.   Afternoon tea and cake is available before your next activity which may be a sundowner game drive with a spotlight or a leisurely boat cruise.  We end the day around the campfire before and after candlelit three-course dinner.
Our comfortable lounge and dining area face downstream and enjoys spectacular sunsets in June.  When the river drops, the view becomes one of the sandy beaches and short green grass where many antelope, hippos and warthogs come to drink and graze.  Crocodiles also bask in the sun on the opposite bank.   We have a curio shop, games, novel swopping service and wildlife books available on request.  Our guides are highly trained, are excellent birders and good fishing tutors.
FACILITIES
Assorted Hot Beverages
Bar
Laundry Facilities
Malaria Area
Transfers
ACTIVITIES
Walking Safari (on request)
Night Drives
Game Drives
Fishing
Boat Safaris
Birdwatching
Kafue Camps & Safaris and Mayukuyuku Bush Camp were started in 2006 on virgin land with the vision of offering a small rustic style bush camp that stays open all year and that is intimate, very friendly and informal with the emphasis on wildlife viewing and relaxation.   It is "owner run" with 3 Zambian Directors, Patrick Moyo MD and head guide, Musonda Mbalazi Snr and Musonda Mbalazi Jnr and one British Director Pippa Turner.  Both Patrick Moyo and Pippa Turner have been in the Kafue for many years and have a wealth of experience in the safari industry and tourism.  Patrick previously worked for Zawa and Pippa as a flight attendant for British Airways
Please Contact us for our rates
INCLUDES
Laundry Services
Entrance Fees
Activities
Accommodation
EXCLUDES
Selected Beverages
Flights
Transfers