MOBILE SAFARIS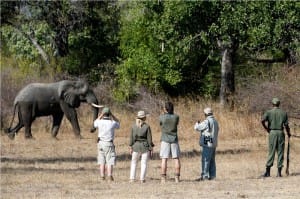 This is surely the finest way to experience the "real" Africa as it was hundreds of years ago when the first pioneers ventured into the interior. Wild, wild, wild, unspoilt, untouched wilderness. Zambia is one of the few countries left in Africa able to offer this unique experience.
Your safari operator will meet you at the nearest airstrip in an open game-drive vehicle and take you deep into the bush where you'll spend a night in a comfortable bush camp. The next morning, just as the sun emerges, you don your good walking shoes, a hat and binoculars and set off on an unmarked trail through the bush.
There is obviously no telling what you will see, but you can be sure it will alter your perception of nature as you witness the incredible symbiosis that occurs without the influence of man and civilization.
Birdlife
The birdlife is abundant, so have your checklist handy, and around every bush there is a story of life happening. Antelope grazing on the plains, perhaps a predator lurking for a meal. Elephants, giraffe, monkeys, baboons, may emerge as you watch unobtrusively, safe with your armed and knowledgeable guide. A sojourn at the river's edge will reveal many sights of wonder. Buffalo coming down to drink, maybe one, maybe a hundred.
The waterbirds wading in the shallows, the eerie cry of the fish eagle overhead before it swoops down to make its catch. Hippos are abundant in Zambia's waterways, with their inimitable deep base grunts as they emerge and submerge. In Luangwa there are more than 50 hippo's per kilometre of river! Often a herd of elephants can be seen playing in the water. Or a crocodile ready to attack a thirsty impala.
Walking on the wild side
The walk is slow and unstrenuous. Tea and lunch are served along the way as you make your way to the next camp which has been set up ahead of you. As you arrive, your safari hosts will pamper you with drinks, superb meals and bush showers before you flop into comfortable white linen beds in the safety of your tent, to listen to the cacophony of night sounds before you drift off to well-earned sleep.
Mobiles can be tailor-made to suit your time preferences.
OPERATORS OFFERING THIS ACTIVITY