Good news from the Zambian Carnivore Programme. The Big Pride, which once dominated the main game-viewing areas of South Luangwa National Park, is once again growing in numbers and slowly regaining its former strength.
The pride once consisted of at least 30 individual lions. By 2013, under the guidance and protection of the Nsolo coalition of three males, the pride was large enough to be named 'the big pride' as a catchall for guides, researchers and safari goers alike.
A series of coalition turnovers and the aging of the founding lionesses through the years saw the group splinter into three different, smaller prides. Few cubs were born and fewer were successfully raised to maturity. Now, it seems that a new iteration of the Big Pride is super-pride emerging: the group has been seen this season with no fewer than 12 thriving cubs, making 18 individuals in total!
The last time the group was this significant in size was a decade ago when the Nsolo boys were on the march. Let's hope the summer rains produce enough grazing for plentiful young herbivores so the cubs learn to hunt successfully and swell their family's numbers even more.
Where to Stay in South Luangwa
South Luangwa is packed with great options – here are some ideas to choose from:
·        Bilimungwe Bushcamp An intimate camp of four rooms built around a huge mahogany tree.
·        Chamilandu Bushcamp Just three suites with views of the Chindeni Hills.
·        Chikoko Trails Camp Walking safaris for just six guests – imagine watching the Big Pride from a distance on foot!
·        Chikunto Safari Lodge Probably the only lodge in Zambia with a counter-current saltwater swimming pool…
·        Chindeni Bushcamp Overlooks a permanent lagoon on the Luangwa River.
·        The Director's House A luxury private villa at Mfuwe Lodge ideal for larger families or groups.
·        Flatdogs Camp Classic tents for a true safari feeling.
·        Island Bush Camp A small camp with a great photographic hide.
·        Kafunta River Lodge A slightly larger lodge with a natural hot spring on the grounds.
·        Kaingo Camp Ideal for honeymooners or romantics as all chalets have outdoor tubs.
·        Kakuli Offering panoramic views from an elevated site above the Luangwa.
·        Kapamba Bushcamp On the Kapamba River, a shallow and tributary of the Luangwa.
·        Kulandila Camp Subtle throwbacks to original safaris with outdoor bathtubs.
·        Kuyenda Bushcamp Classic thatched 'rondavels' or huts.
·        Lion Camp Safari Lodge A seasonal camp only open between May and October for prime safari season.
·        Mfuwe Lodge Famous for breeding herds passing through the entry hall in November to eat marula fruit on the grounds.
·        Mwamba Camp Waterhole hides and sleepouts make for a rustic bush experience.
·        Nkwali Camp Located on private land overlooking the national park.
·        Shawa Luangwa Specialists in 'silent safaris' to not disturb the game.
·        Sungani Lodge Sleek and stylish lodge with a private Director's Tent (which has satellite TV).
·        Tafika Camp Try your hand at unique mountain-bike safaris!
·        Tena Tena Camp Near the productive Buca Buca lagoon.
·        Three Rivers Camp So named for its unbeatable location on the confluence of the Luangwa, Kapamba and Lusangazi Rivers.
·        Track and Trail River Camp An open-air gym and spa help combat all those high teas and sundowners!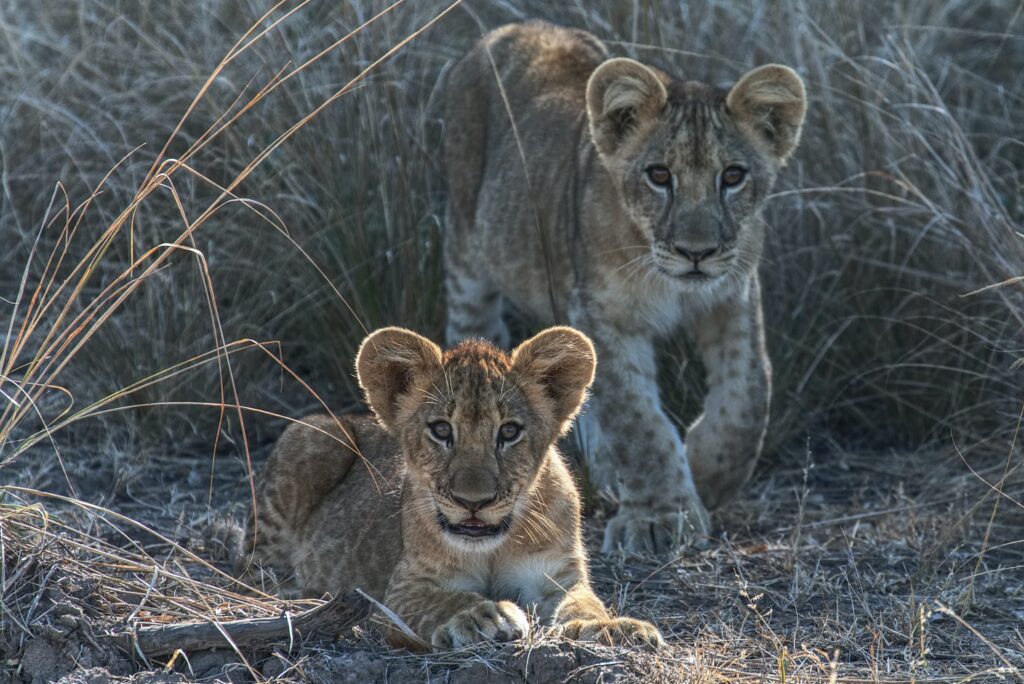 Photos main and bottom Ian McGrory | Unsplash | Lions of South Luangwa (not necessarily the Big Pride)
Photo middle Zambian Carnivore Programme