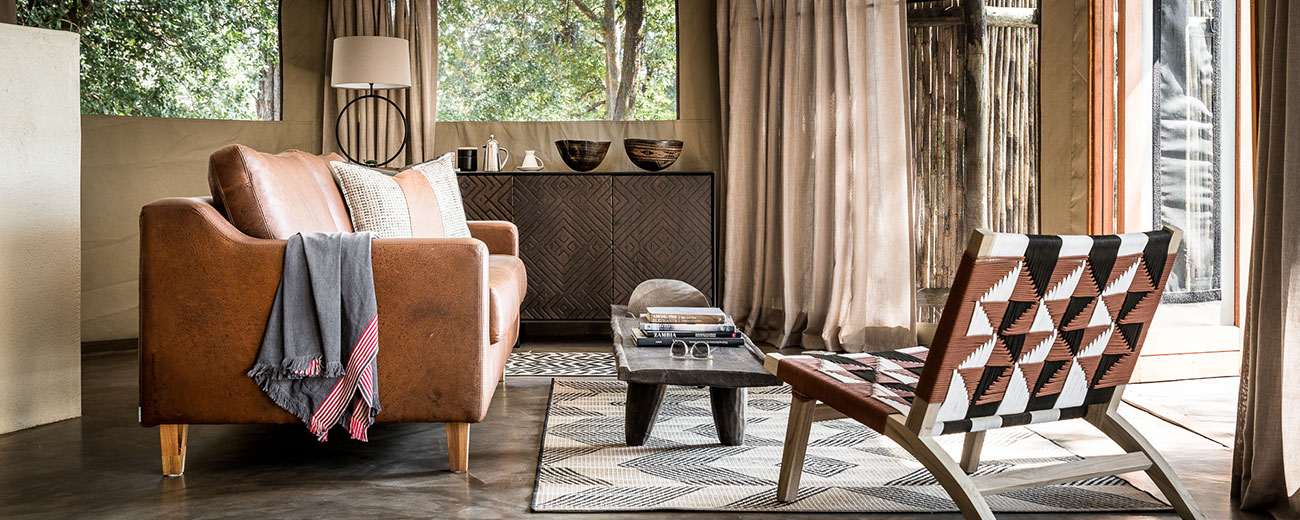 Sungani Lodge is set in the natural beauty of Zambia's South Luangwa National Park. It is situated on the edge of an enormous lagoon. Sheltered by magnificent indigenous trees, the lodge blends seamlessly into the landscape. Carefully curated interiors showcase our love of raw materials, classic lines, and longevity. The entire lodge is built on elevated decking, affording the ability to wander around during the day. The main area of the lodge has a variety of living spaces and a pool where your time is uninterrupted and the space is yours to do as you please. The considered library area provides a space to make use of the charging points. You can download your photos or curl up and read a book. Challenge someone to a game of chess at the antique chess table or just relax with your thoughts. There is a separate WC, gift shop and WiFi (in the common areas). We are wheelchair friendly with one caveat being that doorways are 80cm wide.
The custom designed tents are set atop polished concrete floors to create a cool environment and offer approximately 1150 square feet indoors to relax in. The design is simple and understated, furnished with elegance and natural textures. The interior focuses on comfort and warm colours, with a collection of unique pieces and details. The bathroom has a gorgeous slipper bath, fluffy towels, fresh soaps and salts.
The camp is limited to seven luxury guest tents comprised of 4 King rooms and 3 Doubles (Queen beds). One double is configured to accommodate 2 adults and 2 children. You can also experience the luxury of the Directors' Tent complete with WiFi, DSTV, Nespresso machine, outdoor sleeping and more.
FACILITIES
Gym
Complimentary daily laundry service
Air conditioning and ceiling fan
Private deck and plunge pool
Outdoor shower and toilet
ACTIVITIES
Game drives
Walking Safaris
Bush Meals
Day trips
Water Excursions
Photographic Hides
The adventure-based luxury destination in Zambia: Sungani Lodge and Kulandila Camp two family-owned and operated lifestyle safari lodges, set in the natural beauty of the far South of the South Luangwa National Park. Sungani Lodge is the most southerly camp in the park, just a little upstream is Kulandila Camp.
A passion for Africa and each family member's unique set of skills have wrought Sungani Lodge and Kulandila Camp. Transforming this area of the park from a state of neglect into something quite extraordinary. The journey kicked off early in 2019. By April the project was underway and many people from the local communities were employed again, or for the very first time. It is a joy to tell you that the majority of what you will find at both properties has been created and hand-built by the family and local people.
Sustainable tourism must be the goal to ensure that the wherewithal needed to conserve and protect is available to continue to improve the lives of all. The aim is to give guests new knowledge through experiences and in turn allow a deeper appreciation of what their contribution makes possible. Sungani aims to bring an experience that is unhurried, authentic, and deeply emotive.
Every visitor helps to contribute towards the Sungani promise as we embark on this journey to become custodian and keeper – enabling us to give back now and in the years to come.
Please Contact us for our rates
INCLUDES
Accommodation
Flights from Mfuwe airport to Sungani and return
Meals
Laundry
Drinks (excluding to-shelf beverages)
Professionally guided safari activities
VAT and service charge
EXCLUDES
Lusaka meet & greet – city transfers
Top-shelf beverages
Gratuities
Visas
Airport departure taxes
Flights (aside from Mfuwe airport to Sungani and return)
Park fees and levies