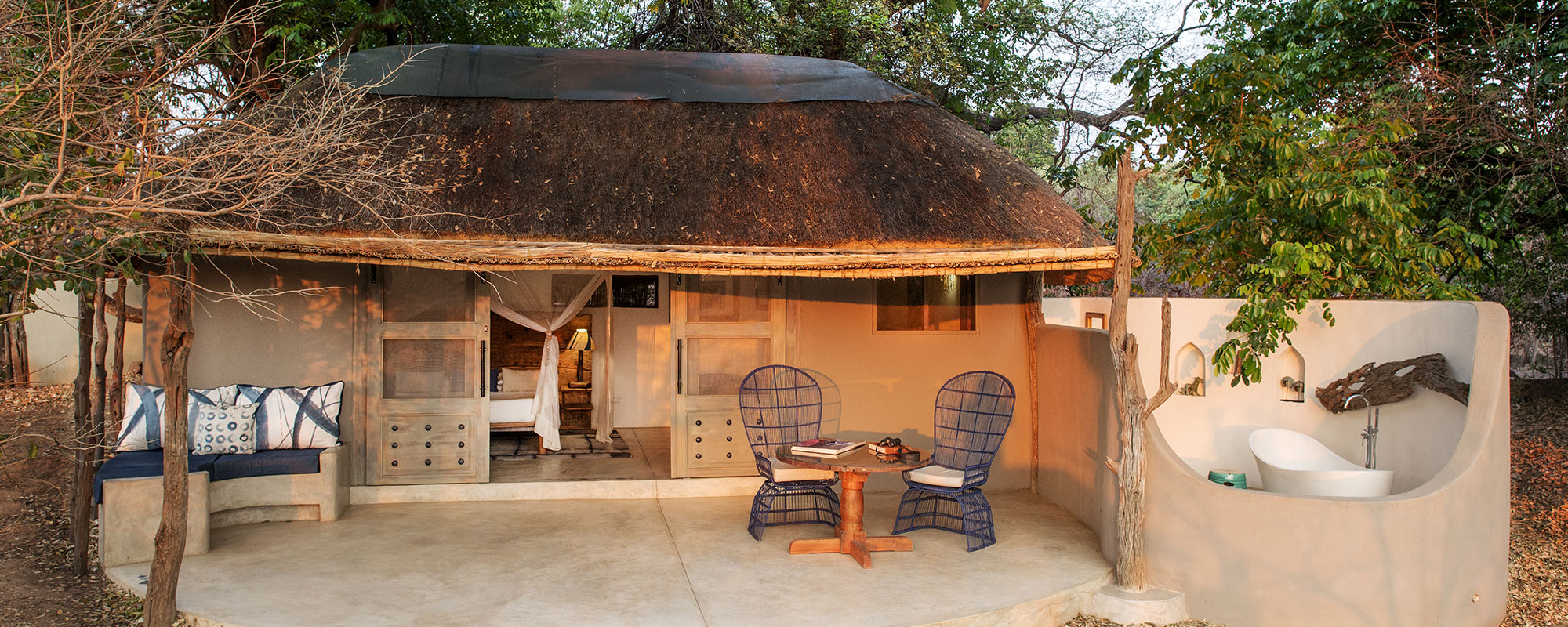 KAINGO – The camp of the Leopard
Located deep within the park in an area renowned for Leopard, Kaingo Camp offers just 6 traditional brick and thatch rooms nestled discretely along the banks of the Luangwa River.
Large, gauzed windows and skylights offer uninterrupted views and a real sense of being immersed in nature.  The spacious and beautifully styled rooms feature comfortable king size beds, solar powered charging points and fan, with the choice of indoor shower or indulgent outdoor bathtub.   When not out on activity, guests can enjoy the sights and sounds of the bush from their shaded veranda, day bed or private viewing deck perched high above river.
At the heart of this friendly and relaxed camp, guests can come together in our open sided lounge and dining area, sharing a drink over the thousand-year-old leadwood bar.
Our lower deck extends out over the Luangwa with large, comfy sofas for guests to curl up and enjoy the sights and sounds of the river and its wild residents.
Two of our world-famous hides are just a short drive from the camp.  The towering Elephant Hide, sited at an ancient elephant crossing point on the river, and the Hippo Hide. Built into the riverbank and offering a breath-taking, eye-level perspective of our resident hippo pod.
ABOUT THE COMPANY
Kaingo and Mwamba are the proud creation of the Shentons, a family of wildlife conservationists spanning three generations.
As one of the few remaining owner-run operations in Zambia, Derek Shenton and his wife Jules, have developed the camps and our exclusive network of wildlife hides to truly immerse our guests in nature.
Come and experience our warm hospitality and a genuine, authentic safari experience led by award-winning guides in an area widely considered as one of the most game rich locations in Africa.