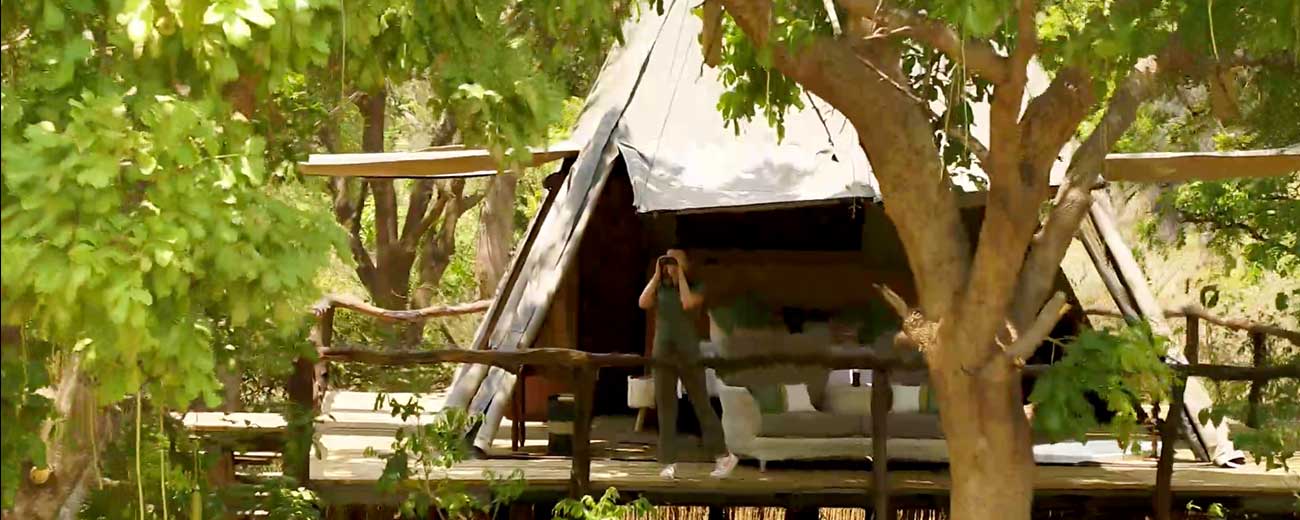 Shawa Luangwa Camp belongs to the Green Safaris Group of properties. A company driven it's passion to preserve the most pristine areas of African nature. Our aim is to share these untouched spaces with our guests, by offering unique experiences and intimate encounters in the most beautiful and remote locations.
ABOUT THE ACCOMMODATION
Shawa Luangwa Camp has 5 luxury tents all elevated off the ground with expansive views of the Luangwa River and the park beyond.
Bathrooms are en suite with showers enclosed with a shower curtain and toilets in separate cubicles. There are double vanities with brass and copper fittings.
The 5 tents include 3 luxury double tents that can be converted to twin beds. 2 of the connected tents, one with a king bed and the other with twin beds, can be used as a family tent or sold separately. They are separated by a 5m elevated walkway. Each tent has its own private deck.
The lodge has a stunning infinity pool overlooking the Luangwa River.
The open-air dining room overlooks the Luangwa River and breakfast, lunch, afternoon tea, and dinner is served daily. Modern international cuisine is served with the option of local dishes on request. These are set menus but all dietary requirements can be catered for.
Dining is by individual seating arrangement but guests are welcome to invite their guide or management to join them. They are also welcome to dine with other guests.
The bar, lounge and dining area overlook the Luangwa River and is located in a multi-levelled tented building well elevated off the ground maximizing views. A great variety of drinks are served including a superb wine list and cocktails.
ABOUT THE COMPANY
Shawa Luangwa Camp opening in 2021 is located in the heart of the Lupanda GMA, on the banks of the Luangwa River, it is ideally located to explore both the Park and the Nsefu sector.
Shawa Luangwa Camp derives its name from the partnership with Jacob Shawa, the legendary guide (Wanderlust top 8 best world professional guides in 2017) who was born and brought up within Zambia's South Luangwa valley. His experience, knowledge, and enthusiasm about the bush led him to identify and secure one of the most pristine sites in the Valley for a new camp to be developed, and to team up with Green Safaris.
Silent Safaris Green Safaris will operate both in the park (one minute across the river) and in the Nsefu sector (a short 15 minute drive from camp) using electric game drive vehicles, for silent safaris. After having developed and operated the very first eLandy in Zambia (operating at Ila Safari Lodge) already 7 years ago, the company has received 4 new eCruisers, in sync with the Green Safaris's sustainability drive and to add a completely new experience to safaris, in silence.