The Zambia Wildlife Authority (ZAWA) and Game Rangers International (GRI) would like to announce the successful translocation of two elephant orphans, Maramba and Kavalamanja, which were being kept at Lilayi Elephant Nursery, to Kafue Release Facility in Kafue National Park(KNP).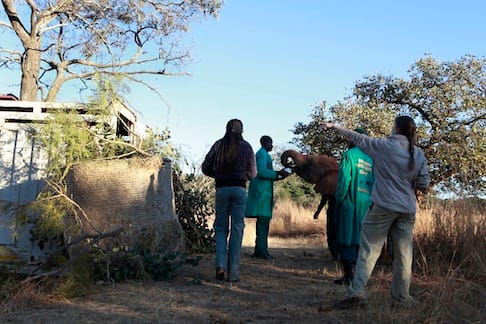 This is the first step on their journey to being released back into the wild in Kafue National Park since they were found abandoned and brought to Lilayi Elephant Orphanage two years ago.
This is also the first time that elephants are being moved from the nursery to the release facility which was established in 2008, for elephant maintenance, treatment and care.
Maramba, now aged four and Kavalamanja, aged three and half years were two years ago found wondering alone in Maramba Village in Livingstone and Luangwa District respectively. Kavalamanja's mother is said to have been killed by poachers. On Monday, June 9, 2014, Maramba and Kavalamanja were transported to KNP by an experienced team of elephant keepers, Ivan Katongomala and Foster Sitali based at the Nursery, under the supervision of Head of Veterinary at ZAWA, Dr. David Squarre and Dr Mutinta Haachilala, who is a private veterinarian.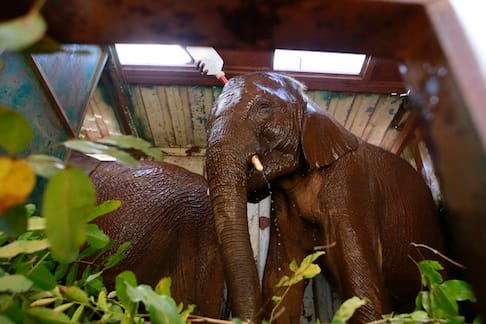 On arrival at the Kafue Release Facility, Maramba and Kavalamanja joined the other seven elephants that are being kept there. The facility was established in 2008 to care and treat elephants before they are finally released into the wild.
The ultimate release of the elephants depends on individual needs, behaviours and probably occurs between the ages of 10-12years.
ZAWA is grateful to GRI, the David Shepherd Wildlife Foundation, International Fund for Animal Welfare, ZANACO, who are the sponsors of Maramba, and Elephantopia, the sponsors of Kavalamanja.
Article by: ZAWA
Photos courtesy of GRI