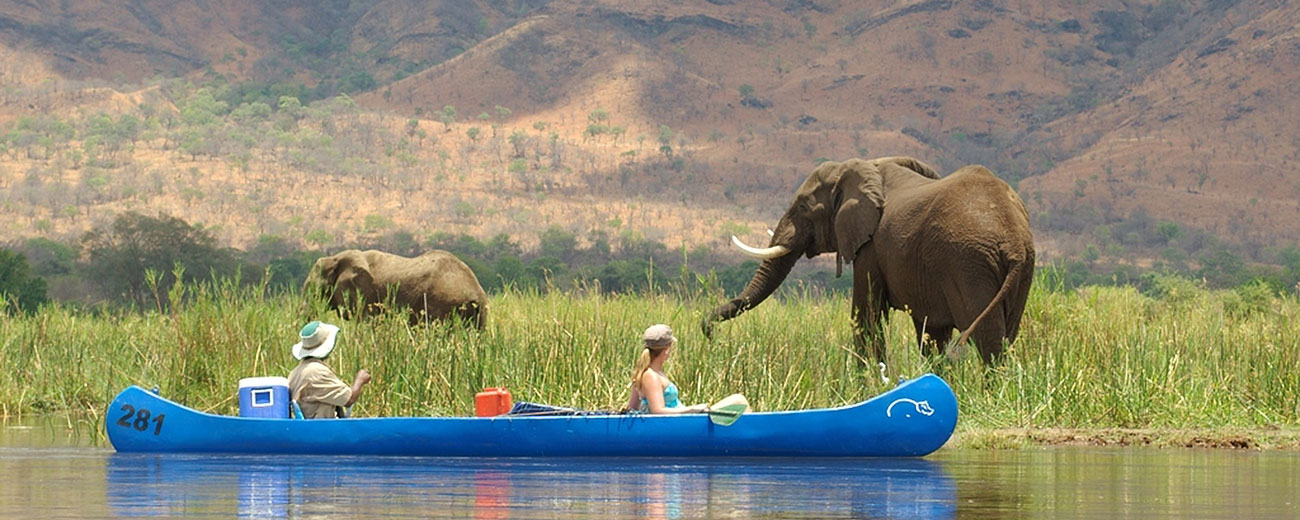 Safaris and Tours organized by us are always adventurous, we are specialised to provide fully catered, tailor made and private guided safaris. Authentic, exceptional, affordable, memorable and comfortable is a guarantee with Absolute Zambia Safaris. Your safari trip is personally designed by Absolute Zambia Safaris, who are physically based in Zambia and help you plan your trip according to and exceeding your requirements and expectations, this allows you an experience of that African safari you dream of.
Ultimately, we would like you to return from Zambia the Real Africa with the best safari experience ever. This has been our most common feedback from our already existing clients, after their return home.
ACTIVITIES
Village / Cultural Tours
Elephant Back Safaris
Elephant Interaction
Fishing Trips
Game Drive
Helicopter Flights
Microlight Flights
Mobile Safaris
Package Tours
Photographic Safaris
Royal Livingstone Express Train
Sunset River Cruises
Walking Safaris
Canoeing Safaris
White Water Rafting Trips
Wildlife Safaris
Chauffeur Driven Tours
Camping & Mobile Safaris
Birding Safari
Bat Migration
SERVICES
Book Accommodation
Book Activities
Book Flights & Transfers
Book Safaris & Tours
Build Custom Itinerarys
Car Hire
Charter Flight Booking
Organize Group Travel
Travel Advice
Absolute Zambia Safaris, is a private owned Travel and Safari company, based in Zambia. After travelling extensively around our beautiful Country Zambia, we were motivated to start this company. And through the experience of visiting other African countries, we developed a passion for Africa in general and want to share this experience and love of Zambia and Africa at large with other travellers.
Our concentration is focused on Tailor Made and Private Guided Safaris for Zambia and the rest of Southern Africa; Malawi, Botswana, Namibia, South Africa & Zimbabwe. We are your representative during the design and organization of your custom-made safaris trip for Zambia and beyond, we operate independently, which helps us achieve our goal to design a safari that meets your requirements and suits your budget. We will not steer you to a specific area, instead we give what you need exceptionally.
We work for travellers with different tastes, preferences, and budgets. Safaris designed by Absolute Zambia Safaris vary from Exclusive fly-in safaris, Honeymoon Safaris, Family Safaris, Photographic Safaris, Canoeing Safari, Private-Guided Safari, Self – Drive and Camping Safaris. Whatever your preferences and budget, Absolute Zambia Safaris is committed to designing your ideal holiday for Zambia and Beyond
WHAT MAKES US UNIQUE?
Planning a holiday anywhere, can be time consuming, complicated and even stressful, considering there are many options to choose from, Such as which areas to visit in Zambia, to what specific lodge or hotel to stay in, to what activities to do, or to which transport providers to use, but Absolute Zambia Safaris is here to make that process and work easier for you.
We are here to provide a seamless and professional service 100% tailor made for you. Being a company located right here in Zambia, makes it a smooth planning and organising process, as we are able to suggest what place is best, give current destination news, updates and of course expertise knowledge beforehand, to help you be well informed.
We have extensive personal knowledge of the destinations in Zambia, properties in Zambia and services offered and we have long-standing relationships with camps, hotels and activity owners and managers in Zambia.
INCLUDES
Accommodation
Guided Game Viewing activities
Departure Taxes
Domestic Flights
Ground Transfers
Drinks
Meals
Laundry
Park Fees
Professional and Qualified Driver
EXCLUDES
International Flights
Medical Insurance