Ever thought of spending a night in a national park, surrounded by wild animals and scary but often funny sounds? Have you ever imagined how wild animals like elephants feed and play around? These were some of my many amazing experiences with Game Rangers International! Three months of so many fun activities and so much learning too! The conservation camp at Treetops School Camp in the Kafue National Park with schools from Kasempa, a visit to Lilayi Elephant Nursery, the Radio conservation programme on which I featured, participating in the Global March for Elephants and Rhinos and just working with Sarah Davies, the Fundraising and Public Relations Manager, provided me with great activities and experiences too numerous to mention.

Game Rangers International is a non-profit organization that was established in 2008 to work alongside Zambia Wildlife Authority in the Kafue National Park supporting wildlife protection, community outreach and environmental education.
I had no idea such an organization existed in Zambia up until 2013 when I went for the Green Expo that was held at the Lusaka Museum where GRI were also exhibiting. I was so interested in their projects such that I read all their brochures I got from their stand and even went further to research more on how I could join them. I wished I had known about it earlier, but as they say: better late than never!
Being an Environmental Education student from the University of Zambia, it was my dream to be attached to Game Rangers International for my internship from the moment I learnt of the organisation and its projects. Although I never imagined myself participating in all the projects except the Muzovu Awareness Project (education project), I was given the chance to be part of all of the projects in every possible way.
I read and summarised a report about illegal hunting and the bush meat trade by Dr. Peter Lindsey which broadened my perspective on a topic I had barely paid attention to before joining GRI. I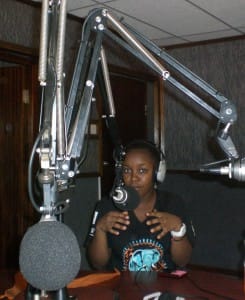 wrote reports and articles on the outdoor activities I participated in and, with Sarah's help, enhanced my writing skills which saw one of my articles being published by an online media platform, Open Zambia. I learnt how to interact with different kinds of people, children inclusive. I learnt some of the best ways through which environmental and conservation awareness can be created and the different ways funds can be raised for conservation purposes.
It has been an experience well worth the time and I have learnt much more than I anticipated. Now that I am leaving, it feels like it is too soon. It does not feel like three months at all. How I wish I could stay longer but I know the skills I have gained from GRI will help me a great deal to work with others to increase conservation awareness and make Zambia a better place.
However, Game Rangers International cannot do it alone. We as students cannot do it alone. We need to work together, especially in projects like Community Outreach and Muzovu Awareness Project. This is why, when I return, I will introduce GRI to the University of Zambia environmental clubs like UMODZI NETWORK and UNZAEESA in my capacity as a student to ensure that together we foster conservation and environmental awareness.
I thank GRI for the time and opportunity and the help they gave me through my term as an intern.  It was a lifetime experience and I surely would love to be part of this great organisation again.
This post was written for Game Rangers International by Gloria Bweupe, an Environmental Education Undergraduate at the University of Zambia
For more information about Game Rangers International, visit there website here: www.gamerangersinternational.org