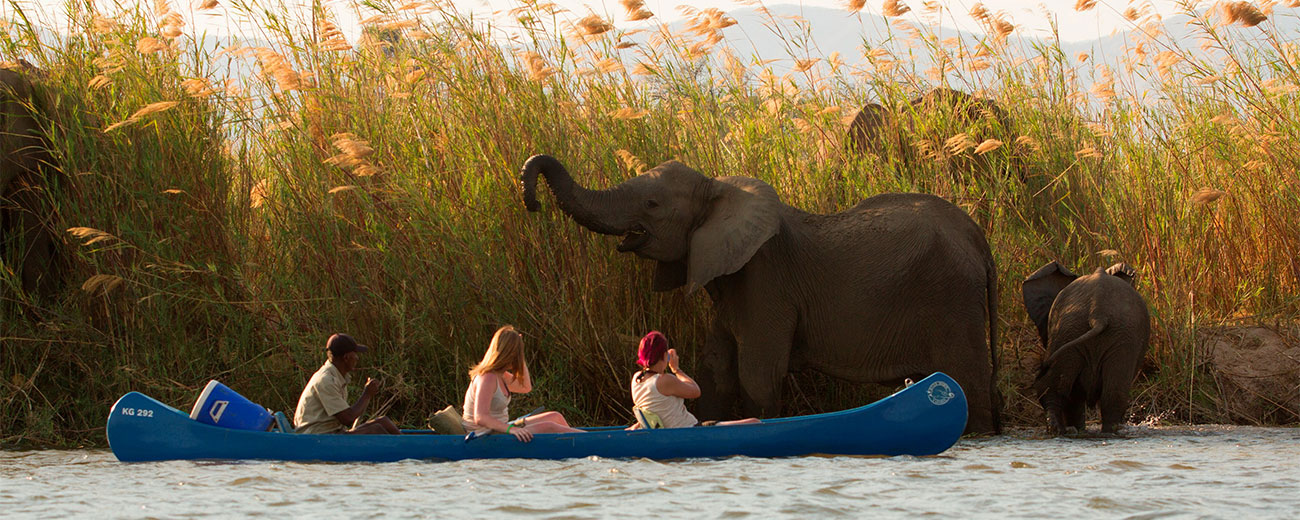 RIVER HORSE SAFARIS – ZAMBEZI RIVER ADVENTURES
Primarily operates canoeing safaris along the Lower Zambezi River downriver of Lake Kariba.
Safari types:
Participatory Canoeing Safaris. These entail camping wild on islands and carrying all equipment and provisions in canoes.
Participatory Canoeing is as above but includes walks and game drives for a broader experience.
Luxury Canoeing. These safaris are between pre-set fly camps with fixed amenities for extra comfort. They also include walks and game drives.
Canoeing plus visits to Zambian villages. These safaris include cultural activities and, if desired, opportunities to aid local people in some small way in their difficult lives.
Safaris specifically designed to suit school groups or families can also be arranged.
ACTIVITIES
Wildlife Safaris
Walking Safaris
Safaris and Tours
Photographic Safaris
Mobile Safaris
Fishing Trips
Canoeing Safaris
River Horse Safaris / Zambezi River Adventures have been operating on the Lower Zambezi since 1994 in Zambia, and prior to that in Zimbabwe. Today we canoe on both sides of the Zambezi, enjoying the best of what the various areas have to offer in this diverse region.
The Lower Zambezi can be defined as the section of the river between Kariba and Feira on the Mozambique border. It covers 245km of this magnificent river, with landscapes varying from deep gorges to large open floodplains where game and bird life abound.
All guides are professionally qualified and have a long history of canoeing with River Horse on the Lower Zambezi.  Their qualifications and history form the key to their knowledge of the river system and its environs, and in particular, to our excellent record of safety.
River Horse Safaris is a family run operation. It kicked off in the early 90?s when there were very few organized activities for visitors on the Zambian side of the river. There was little to no canoeing on that side in those early days, and many channels and backwaters were unexplored. Today lodges have been established along the way, the area has become more accessible, and it is easier to operate there, with access by boat, road or air.
WHY RIVER HORSE SAFARIS?
River Horse Safaris also incorporates cultural and other land-based activities in some of our selected canoeing safaris for a more diverse experience.
Canoeing safaris are also unique in that you are in control of your own canoe from the word go, in particular, the participatory canoeing allows the canoeist an opportunity to wander through what is undoubtedly some of the best game areas in the Zambezi Valley. You are able to enjoy either the Lower Zambezi National Park on the North Bank or Mana Pools National Park in Zimbabwe without having to stay at top end lodges while experiencing the ever-changing scenery from your canoe.
Canoeing can be a lot of fun though occasionally wind may increase the level of hardship when it comes to paddling. Depending on groups sizes, age's and capabilities, guides are careful to pick and choose what sections/stretches of river are the most suitable to meet the requirements of individual groups with safety always our no.1 priority.
A canoeing safari is a great way to meet other people as everyone interdependent on each other as part of a self-contained team where participatory safaris are concerned.
Our aim is to allow our visitors to experience the thrill of approaching wildlife from unobtrusive canoes thus providing a memorable and exhilarating experience which will never be forgotten.
INCLUDES
Drinks
Qualified Driver
Meals
Accommodation
EXCLUDES
Medical Insurance
International Flights
Domestic Flights
Departure Taxes
Park Fees