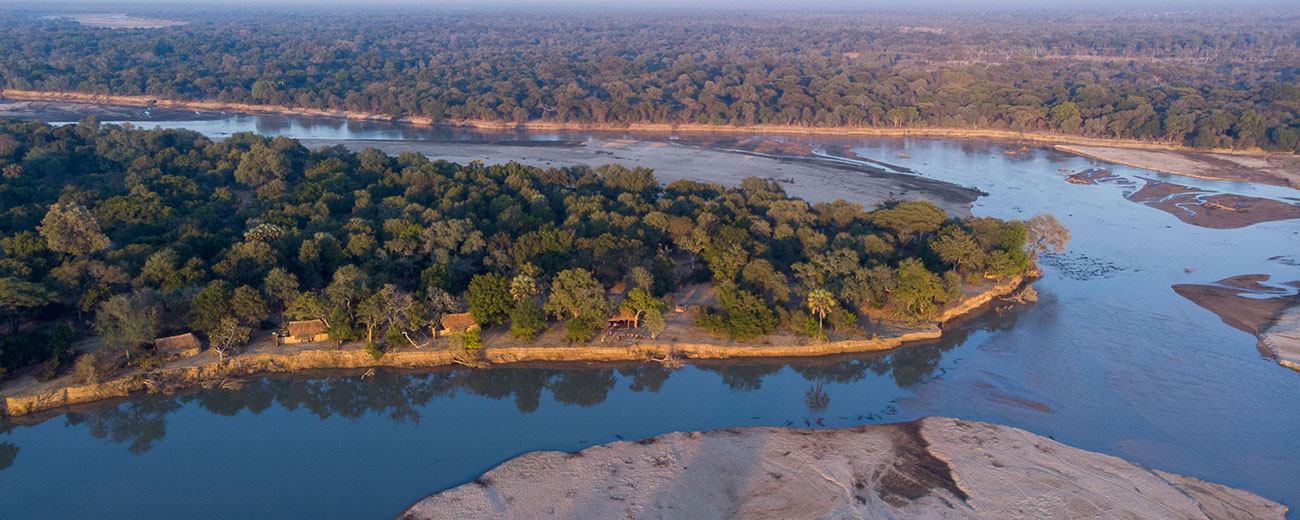 Remote Africa Safaris was established in 1995 by John and Carol Coppinger and Bryan Jackson. This family-run company has an experienced team operating camps in the South and North Luangwa Valley, as well as the Bangweulu Wetlands.
With its own Cessna 210 aircraft, convenient flight transfers are offered between North and South Luangwa, Lower Zambezi, Bangweulu Wetlands and areas further afield. Remote Africa Safaris prides itself on having a close-knit, long-standing team, which contributes to the cohesive and friendly atmosphere in all the camps with impressive attention to detail.
Takwela Camp opened in July 2019 in the North Luangwa. The North Luangwa National Park is a far-flung and well-managed park that enjoys significant support from Frankfurt Zoological Society and a highly motivated complement of staff from Zambia's Department of National Parks and Wildlife and North Luangwa Conservation Project.
Situated on Remote Africa's private land at the confluence of the Luangwa and Mwaleshi Rivers, Takwela has stunning views across a resident hippo pod to pristine bush on all sides.
Takwela offers a rare wilderness experience and the opportunity to visit a beautiful and unexplored area of the North Luangwa. Whilst the floodplain is not as extensive as in the mid-Luangwa, it is still prime wildlife country and will produce excellent viewing as wildlife become more accustomed to the new camp. Guests often sharing the entire park with just a handful of other people who are never or rarely seen.
Takwela accommodates a maximum of eight guests in four en-suite chalets, with two double beds in three and one king bed in the last chalet. In keeping with the Remote Africa ethos, the camp is solar-powered and built, primarily, from local natural materials and constructed with local skills.
Takwela is just a 30-minute scenic flight from our Mwanya (Lukuzi) airstrip in South Luangwa, flying over the dramatic riverine landscape to Mwaleshi airstrip and then a 45-minute game drive and short canoe crossing into camp. From Mwaleshi Camp, it's a beautiful 10km morning walk down the Mwaleshi river which is a great option for a camp-to-camp activity for strong walkers.
FACILITIES
Child friendly for 12+ ages
USB charging in rooms
Communal charging area
Portable/rechargeable fans
Flush toilets and running water
ACTIVITIES
Walking safaris
Game drives
Birding
Photographic safaris
Remote Africa Safaris operates camps in South and North Luangwa National Parks. Tafika Camp and the intimate walking operation: Chikoko Trails, which comprises Chikoko Tree Camp and Big Lagoon Camp (previously known as Crocodile River Camp) are in the South Park. In the secluded and magical North Luangwa, Mwaleshi Camp hugs a scenic bend on the Mwaleshi River and Takwela Camp, newly built in 2019 at the stunning Mwaleshi and Luangwa confluence. Remote Africa has signed a management agreement with African Parks to take over management of Shoebill Island Camp in the Bangweulu wetlands from 2021 which adds a new and beautiful Zambian destination to the Remote Africa Safaris portfolio.
All camps are situated in private and remote locations which allow for an exclusive safari experience. They are locally handcrafted from natural materials allowing for a rustic, yet luxurious, bush experience. Remote Africa Safaris prides itself on its warm, accommodating staff members, experienced and knowledgeable guides, excellent food and small personalised camps.
Remote Africa Safaris is conscientious about its surrounding wildlife and the local community. Remote Africa Safaris is actively involved, through their own initiative, The Tafika Fund, in sustainably uplifting the surrounding community and Mwanya area. The Tafika Fund was set up by John and Carol Coppinger in 1998 and has been managed by Carol ever since. Through donations from generous guests and tour operators (as well as substantial financial funding from Remote Africa itself), The Tafika Fund has managed to successfully implement and maintain a number of long-term initiatives over the years.
The company charges a bed night levy which is donated to both the Conservation South Luangwa (CSL) and North Luangwa Conservation Project (NLCP) and the Remote Africa guiding team often help the Zambian Carnivore Program (ZCP) with carnivore information and tracking.
Please Contact us for our rates
INCLUDES
All meals
Bar and house wines
Laundry services
Government taxes
Game viewing activities
Accommodation
Park fees and community levies
EXCLUDES
Private activities / vehicle / guide
Camp exclusivity
Premium beverages