WHAT TO DO IN NORTH LUANGWA NATIONAL PARK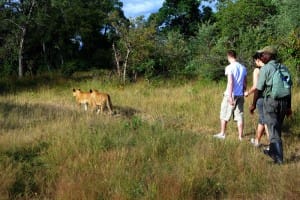 North Luangwa National Park is part of the same rift valley as the South Luangwa National Park. They share the same landscape, vegetation and soil types. While the ecosystems of the two parks are virtually identical, the North Luangwa Park is better for spotting Cookson's wildebeest as well as eland which are seldom spotted in the South. The Park is one of the most remote in the whole of Africa with limited access and few accommodation options.
The park covers roughly 4636 square kilometres and is not open to the public as there are no permanent lodges available. Visitors to the Park must be granted access via the few safari operators conducting safaris there. Entry into the Park was restricted to only the Game Department for more than 30 years. In 1984, Major John Harvey and his wife were granted permission to conduct walking safaris and were for some time, the only operators in the Park. In 1989 two scientists set up a research station in the Park to help curb the poaching in the area. Shortly afterwards, a few more safari operators were allowed to bring limited visitors to the area.
SAFARI OPERATORS
There are limited safari operators in the park, giving visitors a unique opportunity to experience wilderness areas with very few people. Here are some of the safaris you can expect to choose from when visiting the North Luangwa National Park:
Multi- day safari tour – some tour operators can provide safari tours which will let you explore the North Luangwa National Park along with other highlights in the country or neighbouring countries.
Walking Safaris – these walks were introduced to the Park early on when there were limited tour operators in business. It is still one of the best ways to see the Park.
LODGES & CAMPS
To stay in the North Luangwa National Park you will need to pre-book via one of several operators. There are no fixed lodges open to the public. Below are some of the activities you can expect to enjoy during your visit to the Park:
Day and night drives – early morning and late afternoon are perfect game viewing opportunities. Some morning drives include breakfasts or snacks and late afternoon drives may include snacks and sun downers.
Walking trips – short walks will allow you take note and explore the smaller living creatures of the park as well as a great opportunity to take in all its sights and sounds. As there are so few roads in the park, most of the wildlife viewing is done on foot.
Day trip to Mwaleshi Falls – there is an opportunity to visit these majestic falls as many visitors see this as a highlight of their trip.
Village Experience – explore the local villages and see the way the locals live their lives.