My Life With Leopards, Graham Cooke's Story by Fransje van Riel, Penguin Books.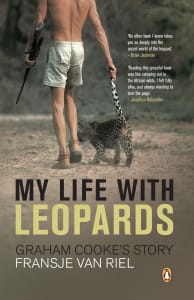 When two six-week-old leopard cubs, born in captivity in Zimbabwe, arrive at the Londolozi private game reserve in South Africa, 22-year-old game ranger Graham Cooke is assigned to take care of them. Based in an unfenced tented camp in the Londolozi bush, where lions, hyenas and other leopards abound, Graham's first task is to gain the cubs' trust before he begins to guide them towards release in the wild where they can assume their role as Africa's most efficient predators.
After weeks of infinite patience and gentleness in his interactions with them, Graham is eventually accepted into the cubs' small family unit and, with a growing understanding of their behaviour, he finds ways of communicating with them. Slowly, he begins to introduce the young leopards to their new environment.
Tapping into their individual personalities, Graham finds himself particularly drawn to the reserved and aloof little female whose wariness contrasts sharply with her brother's easy-going nature. But, over time, both cubs come to recognise him as their protector and friend and he forms a unique bond with the young leopards which enables him to gain unparalleled insights into their development and behaviour. When, a year later, the cubs are relocated to the Zambian wilderness in preparation for their release into the South Luangwa Valley, Graham has to face the hardest task of all: to set free the young charges he has become devoted to so that they can return to a wild existence where he is unable to control their fate.
2014 is the 20th anniversary of the leopards release and to commemorate this event, Graham Cooke and Fransje van Riel have organised a very exclusive and unique safari… to return to the South Luangwa Valley to trace the footsteps of his last few weeks with the cubs.
The trip will enable guests to visit the actual island in Zambia where Graham last saw Poepface before she disappeared in the bush to live the rest of her life in the wild, as well as offer a more extensive exploration of the South Luangwa Valley.
Info: 8-night safari, 4 different camps, maximum of 6 guests, departure October 25th.
Fransje van Riel is the author of 3 non-fiction books and writes freelance articles on wildlife and conservation.
Article by: Fransje van Riel
Website: www.fransjevanriel.com