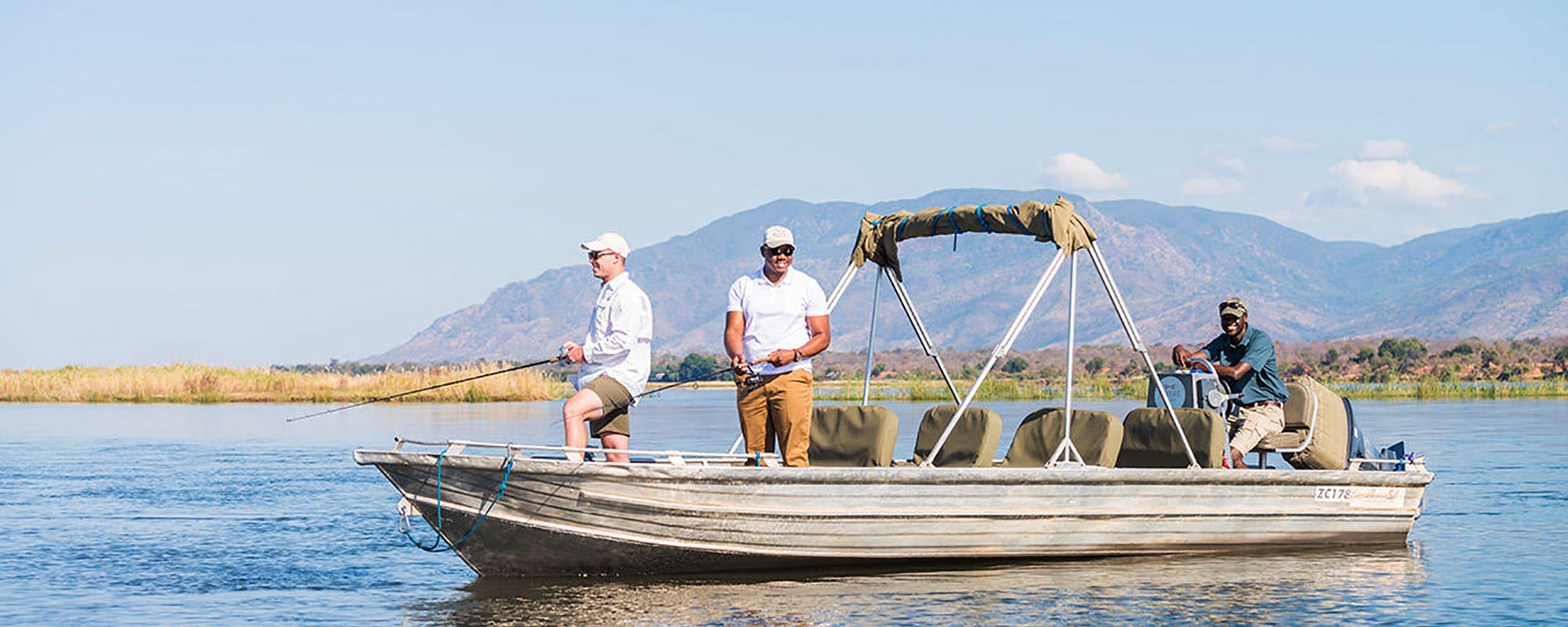 For keen anglers, fishing season can't come soon enough. The official fishing season opens on 1 March 2023 after closing on 1 December 2022 to allow stocks a chance to recover and for breeding to take place uninterrupted.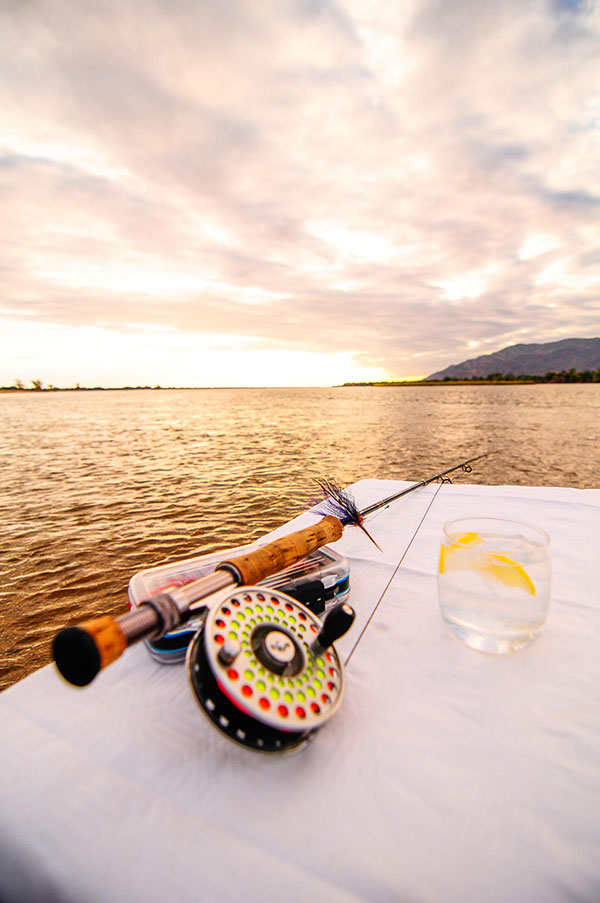 As a country of many significant lakes and rivers, Zambia offers some of the best freshwater fishing in Africa. The Zambezi alone supports at least 75 species of freshwater fish including three types of bream, catfish, barbel and the most sought-after but elusive of all: the tiger. With their powerful bodies and formidable teeth, tigers (Hydrocynus vittatus) offer a challenge to even the most experienced of anglers.
Remember that permits are required and that all fishing is on a strict catch-and-release basis. Going with a reputable fishing operator makes the most sense: they will sort out documentation, have the tackle, fuel up the boat (no standing on the shore amid hippos and crocodiles) and keep the beers ice cold. All you need  to do is listen to the fish eagles, watch your line and soak up time on the river (if things are slow, scan the tree line for roosting Pel's fishing owls, great gingery raptors that are a big thrill to see).
While the Zambezi is the most famous, Siavonga on Lake Kariba and Lake Itezhi-Tezhi also offer good opportunities.
For first-timers, don't underestimate the power of the Zambian sun. You may be out fairly early in the morning or late after when it's still coolish but the sun will reflect off the water so layer on eco-friendly, biodegradable sunscreen and wear a hat.
Boats don't generally have shade or roofs because these could impede casting the line. And don't ever be tempted to swim without permission from your skipper: you could disturb a submerged hippo and crocs will always swim faster than you ever can!
Catch-and-release guidelines from KaingU:
The experts at KaingU suggest the following to give the fish a sporting chance of surviving your hook:
Never play a fish to complete exhaustion so that it can't swim away or is easier prey for predators.
It is important that you use tackle that's strong enough to handle the potential size and power of your target species. The use of light and ultralight tackle is discouraged for sport species.
Keep the fish in the water as much as possible. Unhook the fish without removing it from the water – barbless hooks make this easier.
Use knotless landing nets and nets made of a soft rubber mesh that is much less damaging to the skin and mucous membrane of the fish. Keeping these intact helps it survive.
Avoid handling the fish excessively. If you must handle it at all, wet your hands to avoid damaging its protective mucous coating (a protective secretion that keeps fish healthy and free from infection).
Minimise airtime. Even short exposure to the air can damage gill tissue. If you must remove a fish from the water, return it as quickly as possible. See the next point…
Take care when photographing fish. Be prepared: have a camera or phone ready to photograph your catch so that it can be returned to the water quickly. Don't suspend fish by the jaw or gills when photographing it. Hold the fish horizontally, supporting the body with both hands. Don't waste time with lots of different poses or filming a video – every second counts when the fish is literally gasping. Social media is not as important as a living fish!
Exercise restraint. Not all the fish you release will survive. The strict catch-and-release policy reduces but does not completely eliminate fish mortality. Overfishing a particular area will still deplete fish so give fishing spots time to recover before returning.
Angle responsibly. Considering the welfare of every fish that you catch will ultimately benefit the fish population and fishery as a whole. Even areas with 'plenty of fish' still have fewer fish today than they did mere decades ago.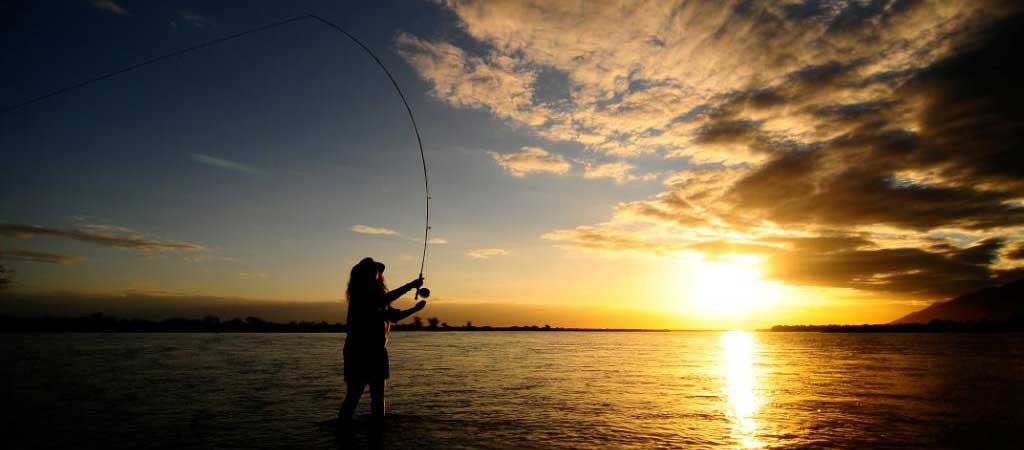 Sunset is the perfect to reel in your last line at Royal Zambezi Lodge.
Some camps that offer seasonal fishing:
Chula Island Camp on Katengahumba Island along the Zambezi in Lower Zambezi National Park (LZNP).
KaingU Safari Lodge in the Namwala Game Management Area (GMA) opposite Kafue National Park (KNP).
Kanyemba Lodge in the LZNP.
Kasabushi Camp in the central Kafue.
Kutali Camp in a winterthorn forest on the Zambezi in LZNP.
Lower Zambezi Lodge in the Chiawa GMA along the Zambezi River.
Mayukuyuku Bush Camp right on the Kafue River in KNP.
Musekese Camp on a tributary of the Kafue River in KNP.
Royal Zambezi Lodge on the Lower Zambezi in the Chiawa GMA.
Happy angling and please send us your fishing news here.