The Birds of Zambia app is an up-to-date identification guide to all recorded birds of the country created by Derek Solomon, Frank Willems and Rory McDougall. This app has many features that will enhance your birding experience:  
Universal app, designed to fit both iPhone and iPad as well as Android
Zoomable hi-res images, distribution maps and detailed text descriptions for all 780 bird species recorded in Zambia including seasonality and breeding graphics.
Photographs of each species, with multiple images for most.
Audible calls for nearly all species.
"Bird Compare" that allows you to compare two birds on the same screen.
A personal bird list that stores your bird sightings saved to the device.
View the Bird Index either alphabetically or taxonomically.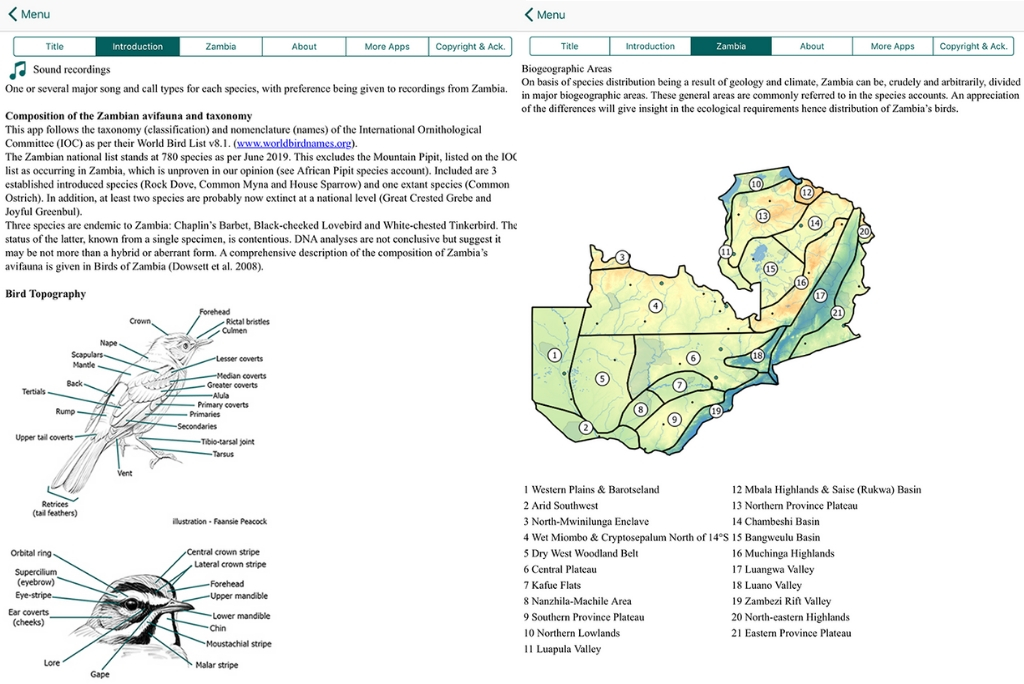 Birds of Zambia – introduction screenshots (iPad)
A review of Birds of Zambia, by Alastair Newton
From: The Wattled Crane Vol. 49 ISSN 03784533
The clear consensus is that the App is:
Easy to use — indeed, very similar to the Sasol App with which many of us are very familiar;
Highly informative while being very 'efficient' in terms of the amount of text, not least because of the detail in the very helpful maps and bar charts; and, 1 For a full list of contributors please go to 'Introduction' on the main menu and then click on 'Credits' on the top bar.
Well illustrated, many of the photos being of high quality.
On this latter point, I must admit to a personal preference for drawings over photos. BUT I firmly believe that the authors have taken absolutely the correct approach in this case given the cost of commissioned artwork relative to photos. Keeping the price per unit down for what is, let's be honest, a low-income country where demand is not going to be huge has, rightly, been the priority here. To put this in context, Roberts, Sasol and the Birds of East Africa App are all more expensive than the £19.99/$19.99 price tag on the Zambia App (though, to be fair, Newman's, bought from the Apple UK App store, is £1.00 cheaper). Probably an even better comparison is the artwork-based App for another developing country, i.e. India, which costs nearly twice as much.
Another plus, in my view, is the use of the latest IOC names. I guess many of us struggle with what sometimes seems to be a constant stream of name changes, albeit that these are (generally!) for good reasons. Nevertheless, we should, in my view, all welcome and take on board measures aimed at standardisation and taxonomic accuracy. By offering the IOC-approved name and the 'old' one, the Zambia App is very helpful in this respect.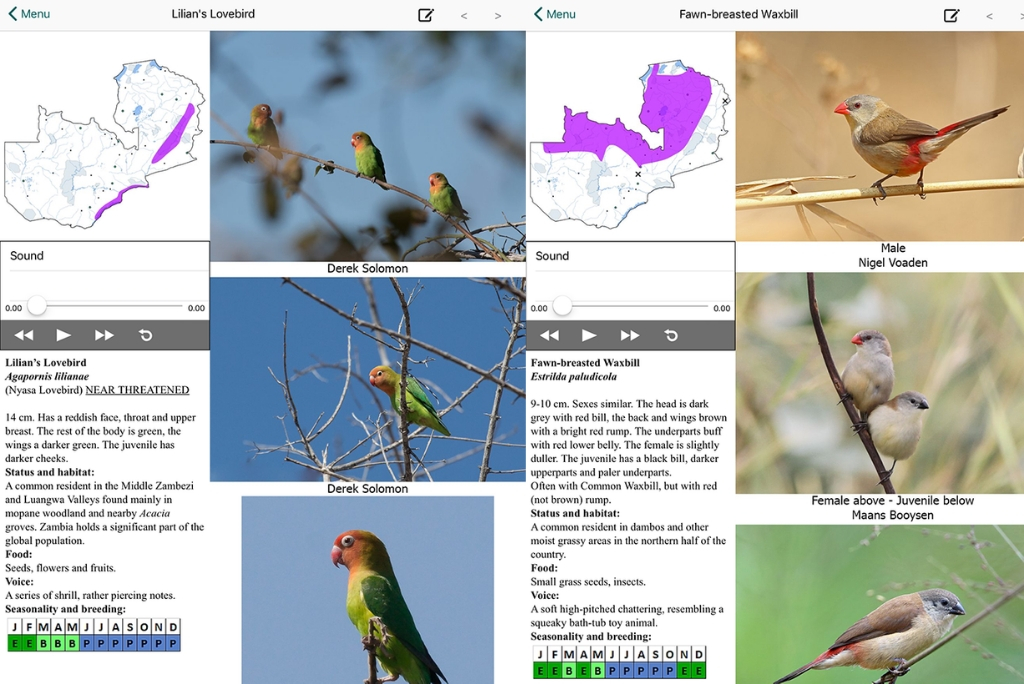 Birds of Zambia species screenshots (iPad)
I would also like to add a personal view which is, I think, supported by comments I have received from others. Put Roberts to one side for now as it is, strictly, more than a field guide given the amount of written information included in the App; taking Sasol and the Birds of East Africa Apps, — as well as ones I use fairly regularly in Australia, India and the UK — I have to say that; all round, I find the Zambia App to be a significantly superior product. Lessons learnt from other Apps, no doubt; but we should consider ourselves to be particularly well served.
Having discussed some of the detail of the App, I also want to step back for a moment to consider the wider context, which reinforces my belief about how well served we are with the Zambia App. Seen from our perspective here in Zambia, that we needed our own App appeared self-evident. Situated at what I regularly refer to as a 'crossroads' as far as African birdlife is concerned, short of Sinclair and Ryan one has needed three field guides to ensure comprehensive coverage of the country. However, it is also worth keeping in mind that, even before the launch of the Zambia App, we were already well served with Apps in relative terms, i.e. three comprehensive ones for Southern Africa and one for East Africa whereas most countries and regions worldwide, including prime birding ones, have no App at all as quick scrutiny of an App store will readily underline.