The start of 2014 brought us two great volunteers and this month I've handed over the newsletter to one of them.
My name is Julia . . .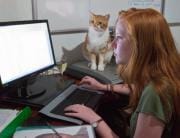 . . . and I recently volunteered to help Project Luangwa with their sponsorship program during a gap year between high school and college so I could explore the world on a first-hand basis. Ironically, I actually discovered Project Luangwa through a previous newsletter and, only a few weeks later, I was on a plane to Zambia. Now I've somehow ended up writing the very same newsletter which started this entire adventure. Whilst I originally came to help out in the office, I soon found myself involved in much, much more . . .
I had been in Mfuwe for a week when?…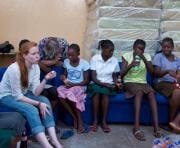 . . . I attended a Project Luangwa Girls' Club meeting and it was brought to my attention that I was the only one in the room wearing trousers. The girls around me sprawled on the library couches in various types of skirts, all of which would be considered very modest by western standards. They looked at me, in my khaki work pants, with mild curiosity. The girl who raised the topic appeared slightly embarrassed, though eager and undaunted by the giggles that fluttered in the sticky air. They weren't judging; they just simply wanted to know . . . Was it okay for girls to wear trousers?
Confident girls can fly like an eagle?
Every Thursday, the girls meet up to ask questions and to talk about . . . well, 'girl stuff.' Between puberty, school, and balancing cultural pressures from both the west and home, they've a lot to deal with. When Karen first asked me to come to the Girls' Club, I was a bit apprehensive. I was worried that the girls would be uncomfortable with a stranger sitting in on their, sometimes very private, discussions and I wasn't quite sure what I could add to the conversation. Yes, I am a girl, but how could I even think of understanding their lives when I had been in Zambia for less than a week?
My fears were put to rest after the first meeting. The club's motto rings true; these girls possess a graceful self-confidence that allowed them to soar over any of the barriers I had imagined. We established an openness that led to conversations about everything from abortions to tampons to being in love. Often, the girls differed in their opinions, and animated, and sometimes even passionate, debates ensued. These weren't lectures, they were simply outlets for the feelings and confusion that all girls face. I often came away wishing I had been part of a girls' club back at home.
Outside of the club?…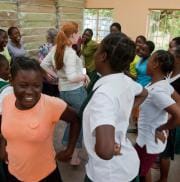 . . . friendships continued to blossom. The girls taught me how to clean windows with paper and braid hair (though I will never have the patience they do.) We swapped stories of past boyfriends and giggled over the strange cravings women get when they are pregnant. One Saturday, after working side by side in the new girls' dormitory at Mfuwe Day, a song we all knew came on the radio and a spontaneous dance party broke out among the rags and floor polish. I'm sure I've never had so much fun, or looked so ridiculous in my entire life.
The closer you get . .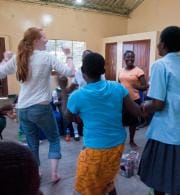 . . . the harder it is to say goodbye. Yesterday was my last Girls' Club meeting, and as I looked around at all the people I had come to call my friends, it was difficult not to feel nostalgic. Then, a few of the older girls stood up and declared they had written three songs for me and my fellow volunteer, Dawn. As their voices filled the library and the rest of the girls joined in, I was overcome with love – love for the girls and the love they radiated out, despite the hardships they face daily. I have never been so proud and humbled. Thankfully, just as I was about to cry, another massive dance party erupted, and I was pulled into a whirling, hopping, booty-shaking group hug.
Try to remember . . .
. . . it's not always the differences which make the experience. I came across plenty of crazy animals and strange traditions while I was in Zambia and each day and countless things reminded me I was miles away from home. However, my lasting impressions will not be of witch doctors or pangolins.
When I think of my time in the valley, I will think of the girls I met there. People tend to characterize vulnerable girls by their problems and there is no doubt that the adversities people face shape who they are. However these girls are not symbols of misfortune, they are girls. They like to feel pretty and share secrets and learn things, no matter where they grow up. I will always remember the Zambian girls who, despite things like trousers, are really not much different from me.
Article by: Julia Mercer, Project Luangwa
Thank you for a great . . .
. . . newsletter, Julia. And a huge 'thank you' to both you and Dawn for all your help over the last few months.
Now we are in need of volunteers to man the library at Mfuwe Day Secondary School. You'd be working with all the pupils in the school but everyone from the Girls' Club will there too. You can find out more by looking at the volunteer page on our website.