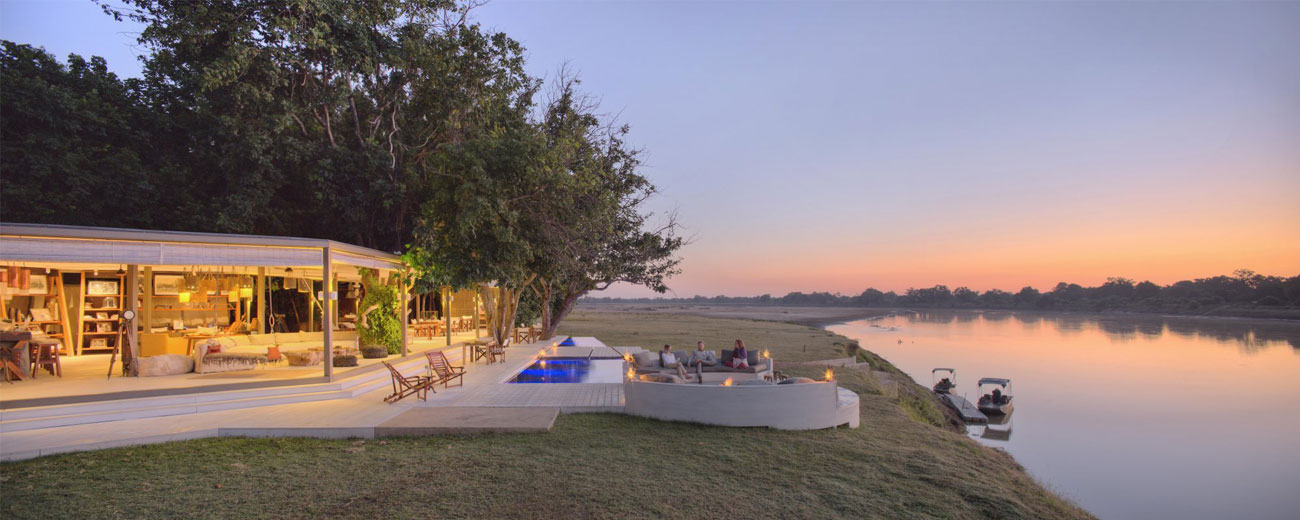 Situated on a sweeping curve of the Luangwa River, Time + Tide Chinzombo brings style and sophistication to the Luangwa Valley. Designed by award-winning architects Silvio Rech and Lesley Carstens, Chinzombo won Best New Property in Africa in 2014 and again in 2015.
This wildly luxurious camp retains its bush authenticity with grass and canvas walls and spacious living areas that melt into the exquisitely tranquil riverside setting. Each villa offers panoramic views of the Luangwa River and the abundant wildlife that frequents its banks. Sprawling, ancient shade trees and private plunge pools offer comfort and relaxation for guests staying in any one of the six stunning villas.
With direct access into the most game rich area of the National Park on the opposite bank, Chinzombo will be the perfect place from which to explore the majestic wilds of the Luangwa in style, luxury and exclusivity.
ABOUT THE COMPANY
Venturing to the remotest parts of the continent, Time + Tide's family of safari properties spans Zambia and Madagascar. We offer a modern-day explorer the luxury of time and space and the chance to feel fully alive.
Original founders, Norman Carr and the Liebenberg family, are credited as leaders in responsible tourism. We have over 80 years of combined experience in the space. With the opening of Time + Tide Miavana, we honour these legacies by bringing the same ethos to Madagascar.
Across land and sea, our people take extraordinary care in sharing our deep appreciation for the land, wildlife and culture. We've pioneered a more grounded tourism experience, rooted in conservation and synonymous with Africa's history of ecotourism and preservation. Stop. Look closer. Touch the Earth.