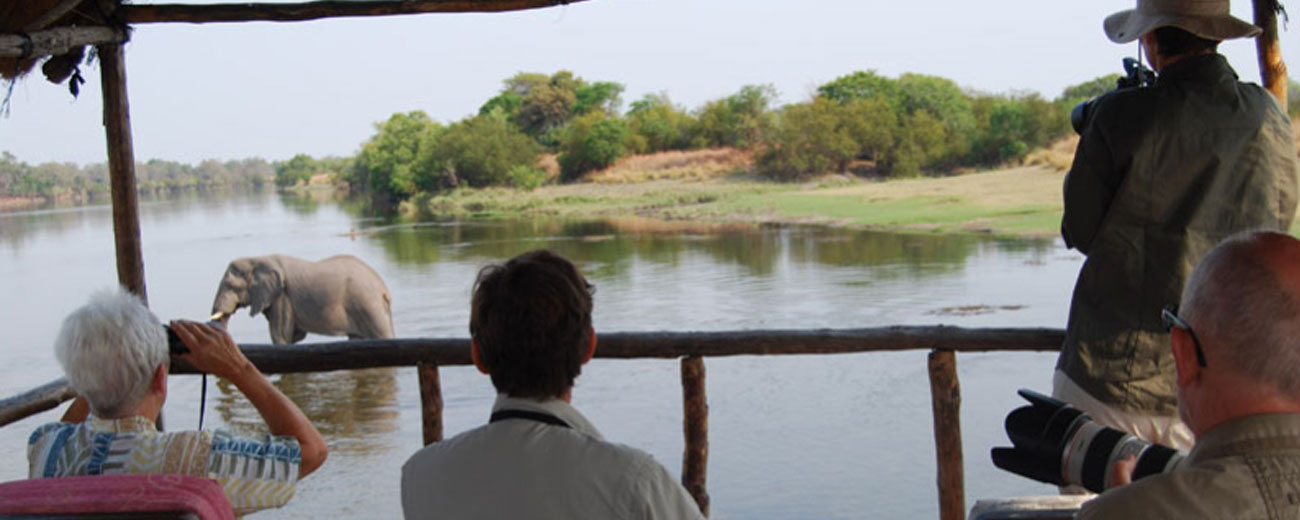 The accommodation is rustic comfortable, consisting of eight private thatched two person chalets with en suite bathrooms which have hot and cold showers, basins and flushing toilets. All beds have mosquito nets. The chalets blend in and can hardly be distinguished from the surrounding bush.
Each chalet has a unique view, either of the river or the bush. A comfortable verandah allows one to view the many species of birds and wildlife from the chalet.
Chalets are built in the traditional fashion and consist almost entirely of natural materials available in the area, thereby adding to the African Safari experience.
The camp is found in one of the last true wilderness areas in the Park, where there are no roads and virtually no signs of humans.
This intense wilderness quality, so hard to find nowadays, together with the full complement of various forms of life (mammals, birds, fish, reptiles) is what McBrides' Camp offers. The accent is on the bush and the animal life which is completely relaxed within the camp.
ABOUT
Chris McBride is an avid student of wildlife and has lived in Timbavati and other areas of the African bush since he was a child.
Charlotte has also spent much of her life in the bush , especially during her childhood, where she lived with her parents in the wilds of Zambia. She has many years of experience in running game lodges and will make you feel at home.
While doing his thesis for an Msc degree on lions from the University of California at Humboldt, two white lions were born into the lion pride the McBrides were already watching.
This resulted in a book The White Lions of Timbavati and a Msc. Thesis. The book was translated into eight languages including Dutch, Japanese (Shokagukan), French (Robert Lafont), German (Droemer Knaur), Italian (Rizzoli) and Finnish. A feature movie was also made.
Chris published another book – Liontide- on nocturnal lion research in Northern Botswana in the late 70?sand early 80?s. A journal article also came out of this.
Both books may be ordered via the Internet.