It is not every day that children from rural communities in Zambia have an opportunity to explore and experience their natural heritage. Facing one of the highest deforestation rates on the continent as well as a poaching crisis, there is a pronounced disconnect between rural people and the sustainable utilization of our natural resources. It was therefore with great pleasure that I assisted two Peace Corps Volunteers from the Mkushi District with developing their idea of hosting an environmental camp for young students from their respective communities. It is always a breath of fresh air to take children rather than adults out and I get my kicks out of first time visitors to the wild rather than experienced safari-goers.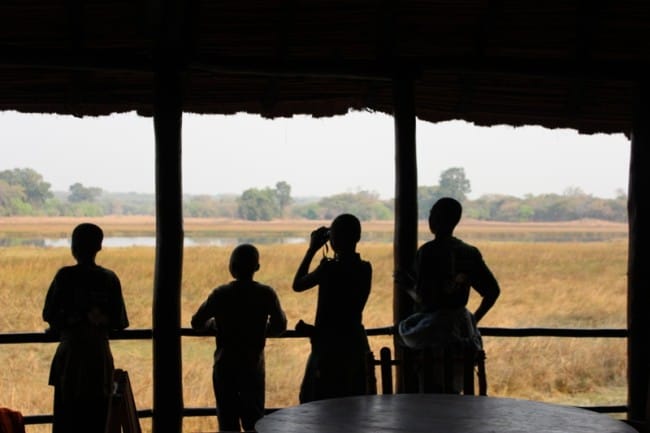 Through the hard work and dedication of a number of volunteers as well as KTL staff, Camp T.R.E.E. (Teachin Respect for Everyone's Environment) became a reality and took place for the very first time from the 12th until the 15th of August. Sixteen students between the ages of 11 and 17 (eight girls and eight boys) participated in the camp, as well as eight mentors and nine Peace Corps Volunteers, hosted at the Kasanka Conservation Centre on the National Park boundary.
Admittedly, initially I was not quite sure how to relate to a gaggle of unruly teenagers on a school-trip and had some reservations. I had planned to rule with an iron fist to keep all attendees from the jaws of hungry Crocodiles and the tusks of annoyed Elephants. Fortunately I found the group well-behaved and incredibly responsive to my sputtering of icibemba words and phrases, consisting for over 90% of tree and animal names. Although initially shy and reserved, the group quickly settled in and before long the programme got on the way.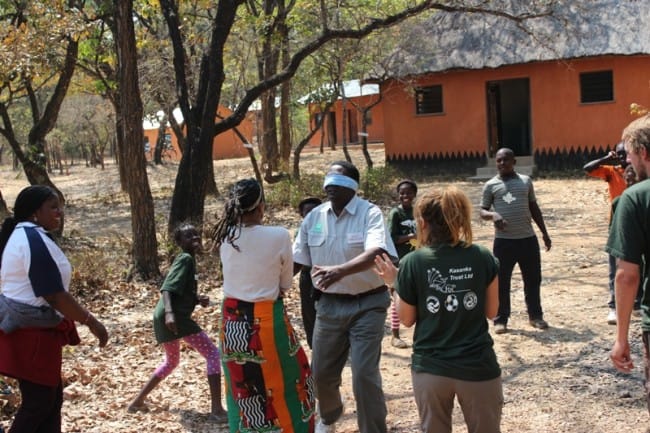 Pressing issues facing our environment include (but are not limited to) poaching, over-fishing, deforestation and late-burning policies – all very interesting topics which I and the majority of volunteers could talk passionately about. Poaching reduces wild animal populations (one of Zambia's most important natural resources) and may lead to the collapse of ecosystems. Over-fishing and non-compliance with the annual fish-ban compromises one the country's most important sources of protein. Deforestation reduces our environment's capacity to store carbon and contributes to climate change as well as (soil-)erosion and desertification whereas late-burning destroys reeks havoc on many of Zambia's habitats, pumps massive amounts of carbon into the atmosphere and vastly reduces the heterogeneity of the vegetation.
Through games, activities and presentations at a relatable level the team introduced the kids to these issues and challenged them to think critically about the impacts on their environment and livelihoods in rural communities. Scarily, one of the first questions posed by Zambian visitors to Kasanka is often " so, where can we get some bushmeat?". This indicates a gross misunderstanding of the conservation work which we as a Trust carry out, as well as the fundamental principles we base this on. However, I was pleasantly surprised with the level of knowledge possessed by the young'uns, confirming that the understanding is often there but the spark to act on it may be missing. This is easily fixed as long as one puts in the effort to find the key to relate to the issue.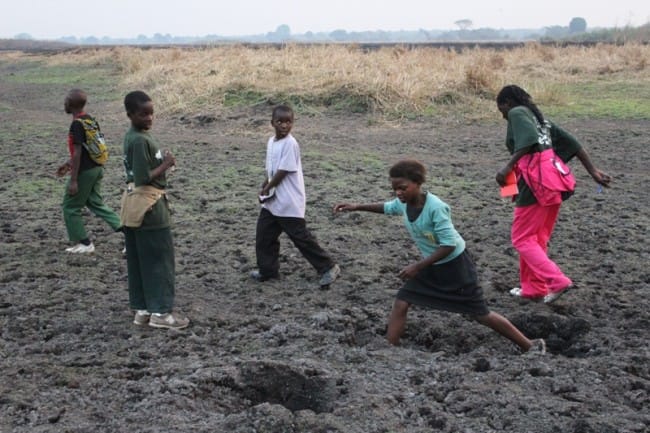 For most people living off the land, every day is a struggle for survival, and planning for the future is something one cannot afford. I tried, to no avail, to raise the issue of overpopulation, stating that I thought it rather selfish to have child after child if, to your own admittance, you believe the future to be grim and uncertain. The reply is almost without fail 'ah, but it is our culture' (I bring it up a lot!). I guess I will have to shelve this one for now, but I do maintain that overpopulation and rapidly expanding human populations are at the very core of each of the issues we face and this needs to be addressed and solved whilst maintaining respect for indigenous cultures and customs.
With roughly 40 participants and staff joining for game drives into the National Park, our fleet of vehicles could unfortunately not meet the demand. Despite the willingness and ability of our attendees to play a game of human-tetris and 'make it fit', we had hired a large 'Canter' (a type of truck) to take us into Kasanka. Although loud and hardly ideal for game-viewing purposes, we were lucky and saw a fair amount of game. Fortunately it does not take much to impress first-time visitors, but I still do owe them Elephants!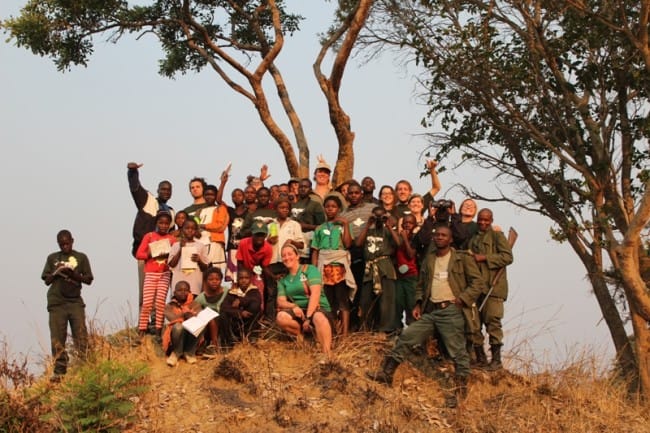 Hippo's, Puku, Sitatunga, Baboons and Monkeys were easily spotted, as were a number of other creatures. With two pairs of shoes muddied and drenched, I thought it a good idea to jump into the swamps of the Wasa complex with my last pair to drag out the carcass of a Puku I had recently found killed by a snare to show to the group. In the process I managed to surprise a large (3m+) Crocodile lying up in the swampy grass, and it managed to scare me off my feet as it made it presence known to us. The group gained a laugh and a sighting, and I lost my very last pair of dry footwear.
A short walk along the Kasanka River revealed tracks of Elephants in the thick mud as well as Puku horns to try on for size. The ubiquitous smog at this time of year makes for great photography and lent itself well to a few group shots along the river and atop termitaria. Not confident in my abilities to reel in a group of 16 teenagers I decided to keep it brief, did some spoor identification, showed off my (in)ability to do handstands in the mud and herded the children back to the relative safety of the vehicle before one disappeared in quicksand or the belly of a prowling Leopard. The nightdrive home revealed some interesting creatures such as Nightjars and White-tailed Mongoose as well as bats – about whose echo-location we had learnt previously that day!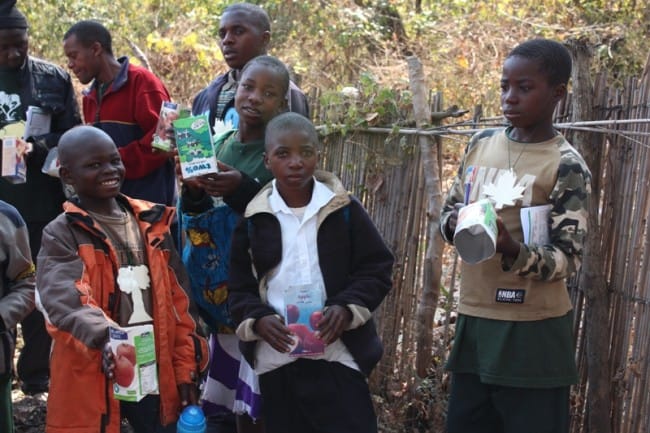 As a remembrance of the camp, each of the students got to plant their very own mululu (Red Mahogany) seeds in a container to take care of and grow into a forest giant at home. The generous soul that I am, I also sent them home with a muchenja (African Ebony) seedling, figuring they would serve a better purpose in the local community than growing out of their chibuku containers at the conservation centre. I was impressed by the interest of the mentors to obtain seeds and seedlings and above all their willingness to purchase them when I told them the freebies had unfortunately run out. I guess that is a positive sign, is it not?
In the evenings, showing movies such as the Dr Seuss classic 'The Lorax' helped bring the conservation message home and helped bring children down from the hot-chocolate and spinner-infused sugar-highs. I did some sneaky marketing for the upcoming Bat Season by showing the recent BBC documentary featuring Kasanka, and casually dropping our 'Bat Season Specials' into conversation with the volunteers. A quiz on the final night saw one boy and one girl crowned as 'most-knowledgeable' and rewarded with a Kasanka T-shirt to be reminded of their time at Camp T.R.E.E.. Despite the odd mention of 'Tiger' as answers to questions on African fauna, and the presumption that Elephants are carnivores, the children did very well and showed that our efforts to educate had largely paid off – a promising result!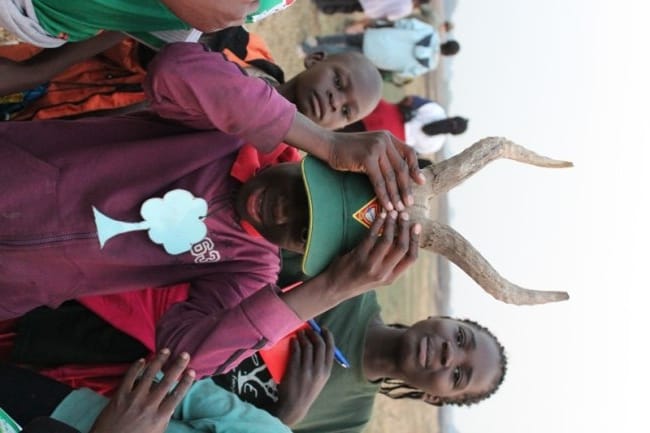 Before packing up and shipping off back home in the back of their trusty truck, the children, mentors and volunteers were treated to a career panel by some of Kasanka's staff. In the village, every other kid will either want to be a teacher or a doctor as these are some of the only jobs they know. Not only did the panel showcase the myriad opportunities to be employed in the field of conservation, it also allowed our staff to take some pride in their work and share their views on conservation and their employers. I believe that 'scout', 'tractor driver' and 'Auntie Betty' (the lady who prepared our meals) are now all very realistic employment opportunities for local children and I find this quite pleasing.
The camp was a great success, an essential part of the work we do and the message we hope to extend far beyond the limits of our Project Area, and something fun and different for me to work on. I look forward to hosting another Camp T.R.E.E. next year and hope that the initiative will take off and be duplicated in other Districts and Provinces nationwide – in fact, I am certain it will!