CLZ Village Scouts Graduate from Advanced Tactical Training
Thanks to funding by USFWS, our 15 village scouts graduated from their Advanced Tactical Training this month.The scouts undertook a gruelling 14 day programme of firearms training, survival skills, tactics, first aid and ZAWA legislation with Senior ZAWA Instructor Ryson Lungu, and Grant Burden and Jeremy Hancock from Conservation Outcomes visiting from Tanzania and South Africa.
Congratulations to William Chenda who was named 'best overall scout' and Daniel Lungu who won the 'best shot' accolade. William first visited CLZ some years ago as a part of our environmental education programme and has gone on to pursue a career in conservation! The Village Scouts were recruited in July 2013 to support ZAWA in wildlife protection, and continue to provide extra man-power to protect the wildlife of the Lower Zambezi National Park and surrounding areas.
Joint training for Environmental Education Programmes
Environmental Education Project Manager Besa Kaoma joined Biocarbon Partners and the North Luangwa Conservation Project for training and curriculum sharing in Ndubulula.
The workshop saw new teachers from Rufunsa GMA trained in a new environmental education curriculum, with input from NLCP and CLZ. We look forward to partnering with Biocarbon this year to increase the number of schools and teachers trained in environment and conservation!
Chilli fields are planted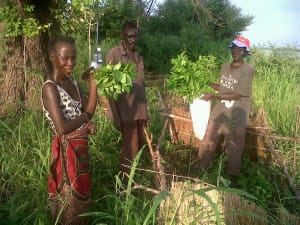 Many of the 30 farmers trained by CLZ in 2013 have moved their plants from their nurseries to their fields. The rains have been healthy in January so we are optimistic about this year's harvest!
A team of ZAWA and CLZ Village Scouts has been deployed and will maintain a permanent presence in the communities most affected by human – wildlife conflict. These scouts will be on hand to respond to any reported incidents and ensure that humans and their crops are safe, whilst ensuring wildlife protection. Thank you to the International Elephant Foundation for their support to these scouts.
Article written by: Conservation Lower Zambezi