Guests of Norman Carr Safaris were treated to a rare sight over the weekend, staying at Kakuli and Mchenja Camps in the heart of Zambia's South Luangwa National Park. These are their words below:
"We headed out early to see the sun rise over the Luangwa; it was worth the 5.15am wake up call. Later in the day whilst on a drive to the north of Mchenja, we come around a corner and saw the tip of a leopard's tail draping out of a sausage tree with the dangling legs of an impala, killed that morning.
"Another leopard sat patiently underneath the kill and we thought they were either a mating pair or related because of how relaxed the second leopard appeared. After determining they were in fact two females, the longer we watched them, the more apparent it became they were definitely not related.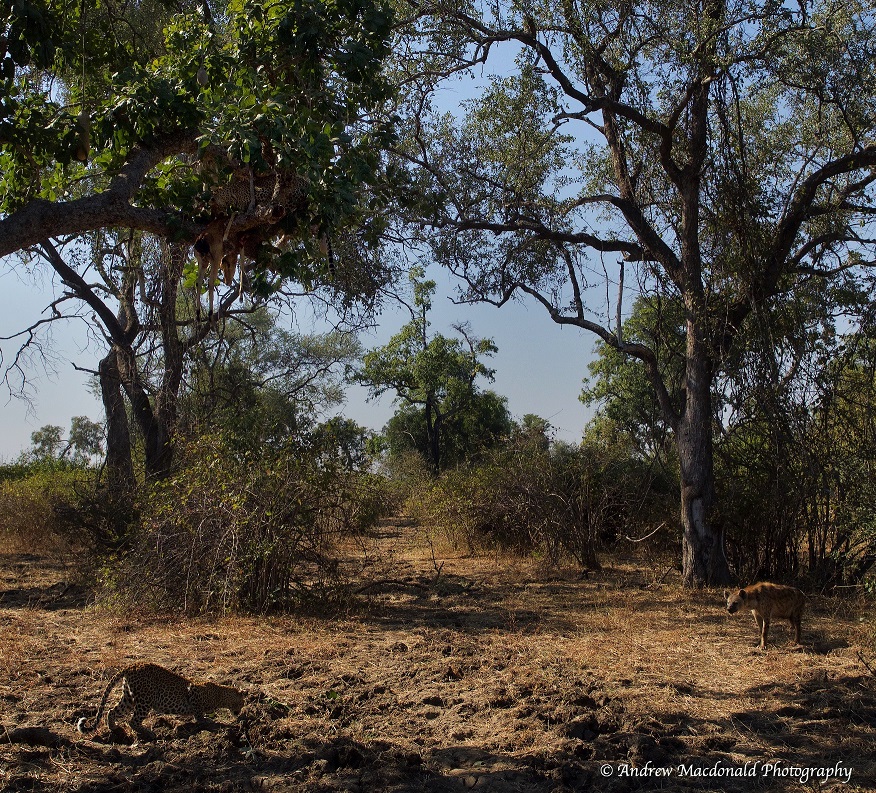 "The one in the tree was slightly younger and spent a lot of time hissing and growling while the impala carcass dropped further and further off the branch. Just as Phil, our guide, said she needs to be careful of hyenas, we heard a rustle and sure enough one was hiding in a nearby bush waiting for something to fall – disappointed with only small scraps.
"The first leopard was clearly getting ready to come down from the tree, possibly to find water, but the presence of the second leopard was a strong deterrent – she made the attempt down the tree a few times, before finally leaving the kill. Within seconds the waiting leopard leapt into the tree and with long practiced skill, secured the carcass and started to feed.
Actions definitely speak louder than words – the video captures the sighting better than my words, but still not as well as with your own eyes! Such a privilege to be on our own in the middle of the South Luangwa National Park, staying at Norman Carr Safaris' Kakuli and Mchenja camps."
Watch the video here: