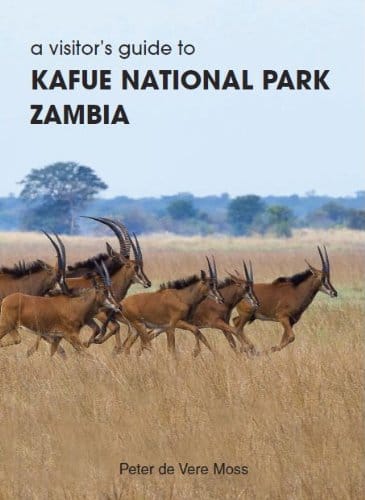 Small enough to put in your pocket, this new guide is your ideal safari companion to Kafue National Park!
Known as one of Zambia's best kept secrets, the huge Kafue National Park can be daunting for the first time visitor. But now the new 'Visitor's Guide to Kafue National Park' can help you unlock the secrets of the Park and enable you to get the best out of your safari adventure.
The guide is packed full of information on planning your holiday – detailing special attractions; when and where to visit; advice of choosing the best routes into the park; full descriptions and pictures of each lodge; and, handy travel and safety tips. There is also fascinating information on the Park's history, wildlife, geology, vegetation, local communities and Park management.
Take it with you on your safari and learn about the best areas to find your favourite animals and then use the handy wildlife, fish and tree checklists to record your sightings. It is illustrated with colour photographs and a range of informative maps, and also includes a large pull-out map to help direct you easily around the Park.
This first edition has been published by The Kafue Trust Zambia and generously funded by the Royal Danish Embassy, with all proceeds going directly into conservation projects for the Park.
So, whether you are planning your first safari adventure, or are deciding to revisit, this new comprehensive pocket sized guide will help you to discover the secrets of Kafue National Park.
You can buy your copy online here