Coming top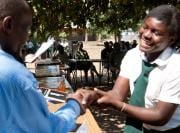 Our sponsored kids at Mfuwe Day Secondary School did very well at a recent school prize giving day. Eighteen of the prizes went to Project Luangwa sponsored kids for coming top of the class in a subject.
And, after finally receiving the last of the school reports, we were able to announce the winners of our Highest Annual Marks Awards. First prize of a bicycle went to Geofrey Phiri with 83%. To read about these successes go to our Facebook page.
Work is progressing . . .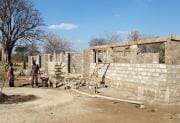 . . . on Mnkhanya Community School's new 1 x 3 classroom block kindly funded by the Estelle Trust. This is a school close to Mfuwe airport where over 400 pupils, spread over 7 grades, are taught in just 2 classrooms. The foundations have been dug and filled, the slab laid, the walls are growing in height and have now reached to ring beam (top of door level). By next term the school will have three brand new classrooms.
We've had some great volunteers recently.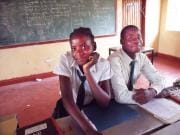 Jane Parkes, a teacher from the UK, stayed four weeks and taught literacy to the younger kids using books from our Amazon Wish List, helped our older sponsored kids with their English at Mfuwe Day Secondary School and her spare time making animal masks and flash cards to supplement the teaching resouces in the story sacks used in our literacy scheme. Find out more about about story sacks and the literacy scheme here.
However Alaina Dudhia . . .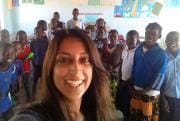 . . . from the UK offered the local kids something very different from the usual reading and writing help. Being musical she brought out percussion instruments and recorders and, along with an earlier donation of recorders, used these to increase the musical talent of the Katapila kids. In the early recorder sessions enthusiasm far outweighed talent but slowly a couple of kids with some flair emerged and were able to play the Zambian National anthem by the time Alaina left.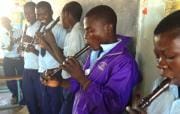 Lessons were often about self-expression and improvisation and all the kids played whatever instrument they could get their hands on with gusto. Lessons were also noisy – perhaps deafening is a better word – but there is no doubt that the kids loved Alaina and had a huge amount of fun. You can read what she says about her experience and see photos and a great video clip here on our website.
And then the Willoughbys and the Schmelkes . . .
. . . from Canada arrived and taught some of the kids how to make tippy taps. Tippy taps are simple devices that enable hand-washing under 'running water' where there is no running water. Under instruction the grade 6 boys built a tap outside each toilet at Katapila and the idea is that if the kids do the work they will take that knowledge home. Click here for more photos and instructions on making a tippy-tap.
The reponse to our request . . .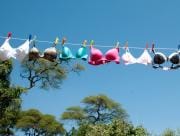 . . . to Bring-a-Bra has been overwhelming. We have received literally mountains of bras and a good few pairs of new knickers. Now we have a good selection we've started to get out and about fitting bras and giving away knickers.
Thank you everyone who has contributed to this project – please keep them coming as there is an on-going need, especially for the smaller sizes.