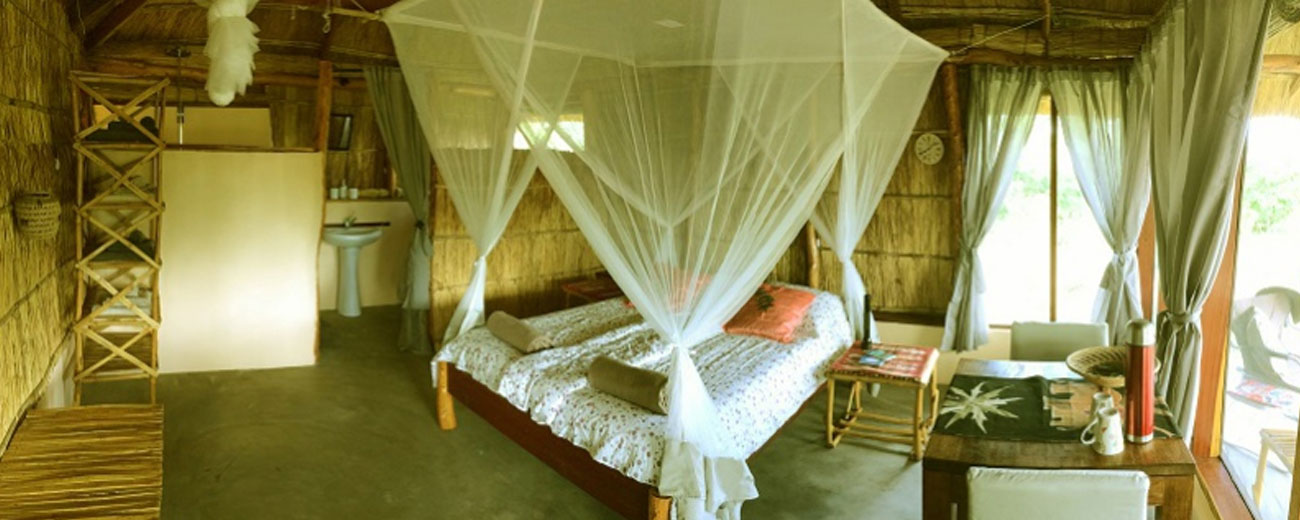 Malama Umoyo Cottages is situated in one of the most beautiful remote areas in the South Luangwa Valley. This is paradise for the adventurous 4×4 self-drive tourist, especially for those who appreciate an abundance of wildlife and adore fishing. From your cottage, you can enjoy stunning views of the rocky banks overlooking the Luangwa River and a lowland floodplain (Chikwawa), both full of wildlife.
This place is one of a kind for those who like to be more self-supporting. "Beauty is in the eye of the beholder" so at Malama Umoyo Cottages we avoid over exaggerated wording. Anyway: Wildlife just roams through our camp and our guests and friends typified our place "the garden of Eden". Appropriately we have named the secluded cottages and kitchen respectfully: Adam, Eve and Apple. There are not many places left like this in Africa: Exclusive, private, virgin.
You have to see and feel these extraordinary surroundings! We truly believe you will not be disappointed. Without exception, all our guests to this very day were delighted!
Malama Umoyo Cottages offer quality accommodation plus supporting facilities.
Cottage Adam: 2 to 5 people
Cottage Eve: 2 to 4 people
Kitchen: 2 (staff)people, fully equipped
Summer hut
BBQ/Braai
The two bush style cottages are built with high-quality local materials and offer accommodation for two to four people with comfortable beds and chairs, clean luxury bedding, mosquito nets, hammocks, western toilet, shower and good solar lights. You can describe the cottages as cosy, romantic, practical and luxurious. Adjacent to the cottages you find the thatched bush kitchen with freezer (optional) and 'braai-stand' (BBQ). Right at the edge of the raised river bank, there is a thatched summer hut with hammock and deck chairs overlooking the National Park and the nearby riverbed constantly inhabited by hippos and crocodiles.
Plan your trip and arrive with your own (or hired) transport, bring your own food, drinks and personal belongings. Enjoy your private secluded stay from the very first minute to the very last!
We discovered that many people cherish the experience of a secluded bush camp. Not only tourists but also local and expat Zambians and Malawians, love to spend their time in the bush in their own way not being restricted by any organised itinerary. Also, the adventurous 4×4 self-drivers appreciate a 'luxury' break to enjoy a good hot shower, a good bed and nature directly at the doorstep.
There is a surprising abundance of wildlife in and around Malama Umoyo. It could almost be called crowded. It is heaven for birdwatchers too. You will always have amazingly diverse private safaris here, not just seeing the usual species of which there are plenty. You could be lucky to encounter a honey badger or a porcupine. Incredibly rewarding is driving at night which opens a whole new world under the sensitive glare of your spotlight (do not forget!). Equally as wonderful is sitting on your cottage veranda, have your sundowner in the summer hut and enjoy the peaceful Luangwa River. Here waterbucks come to drink, baboons play around, magnificent birds fluttering in, and Luangwa's renowned hippo's and crocs right in front, doing even less than you.
Travelling to, and staying in Malama is an ongoing Adventure!
Please contact us (see also our website) if you need any help how to get there, where to hire a car, guide and cook, where to stay in Petauke, Chipata, Mfuwe, where to get specific services, food and beverages. We will (of course) advice and assist you.