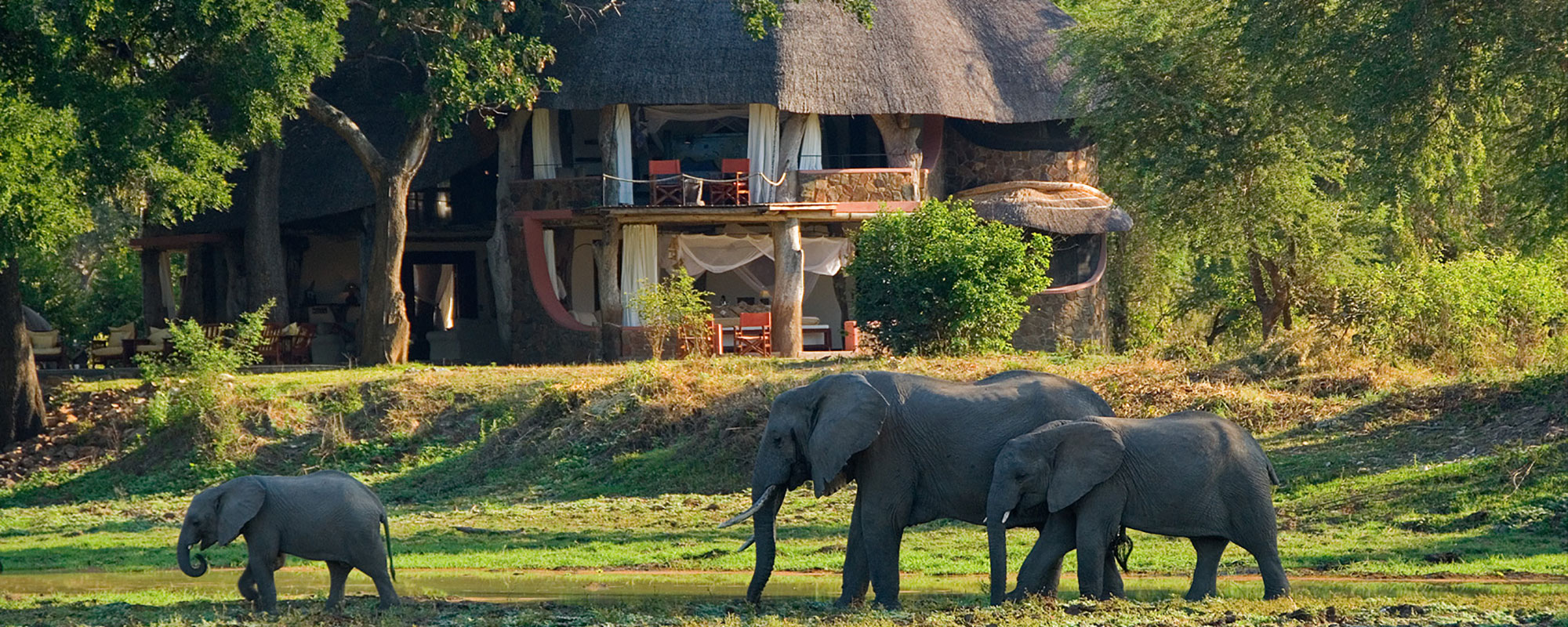 Robin Pope Safaris was established in 1986 is a family run business with several properties in South Luangwa National Park as well as across the borders in Malawi and Zimbabwe.
ABOUT THE ACCOMMODATION
A stunning private safari house located on the edge of the South Luangwa on a seasonal lagoon overlooking the Chindeni Hills. It offers guests a chance to enjoy exclusive safari experiences with a home away of home feel. Game, including herds of elephants and journeys of giraffe, often come through to the house to feed and drink throughout the day. The house is castlesque as you enter the vast pivot door into the main room. The view from here is stunning with one side of the room completely open to the bush. There are four bedrooms, two downstairs and two upstairs. They are large, stylish and individual – each with different metals, colours and marble used. The meals are served on a marble table in the house or out on the deck, accessed by a raised walkway, overlooking the waterhole. The plunge pool also looks out over the lagoon.
ABOUT THE COMPANY
Family-owned and run Robin Pope Safaris, established in 1986, offers highly personalised authentic African safari experiences in small and intimate properties across Zambia (South Luangwa National Park), Malawi (Majete Wildlife Reserve, Liwonde National Park and Lake Malawi), and Zimbabwe (Mana Pools). An incredible combination of safari and beach breaks, offering highly personalised experiences.
South Luangwa, Zambia is Robin Pope Safaris' home, offering a selection of four safari camps (Nkwali Camp, Luangwa River Camp, Nsefu Camp and Tena Tena Camp); two exclusive safari houses (Robin's House and Luangwa Safari House) plus two specialist walking trails (Luangwa Bush Camping & Mobile Walking Safaris). Known as home of the walking safaris, for those seeking to truly explore the Luangwa, it is an absolute must to experience the walking trails.
Across the border in Zimbabwe's UNESCO World Heritage site of Mana Pools National Park we have John's Camp. One of the last remaining wilderness experiences, excellent for walking and exploring the mighty Zambezi River.
These properties are complemented by our Malawi offering of Mkulumadzi Lodge, Majete Wildlife Reserve; Kuthengo Camp, Liwonde National Park and Pumulani Lodge, Lake Malawi and John's Camp in Mana Pools, Zimbabwe.