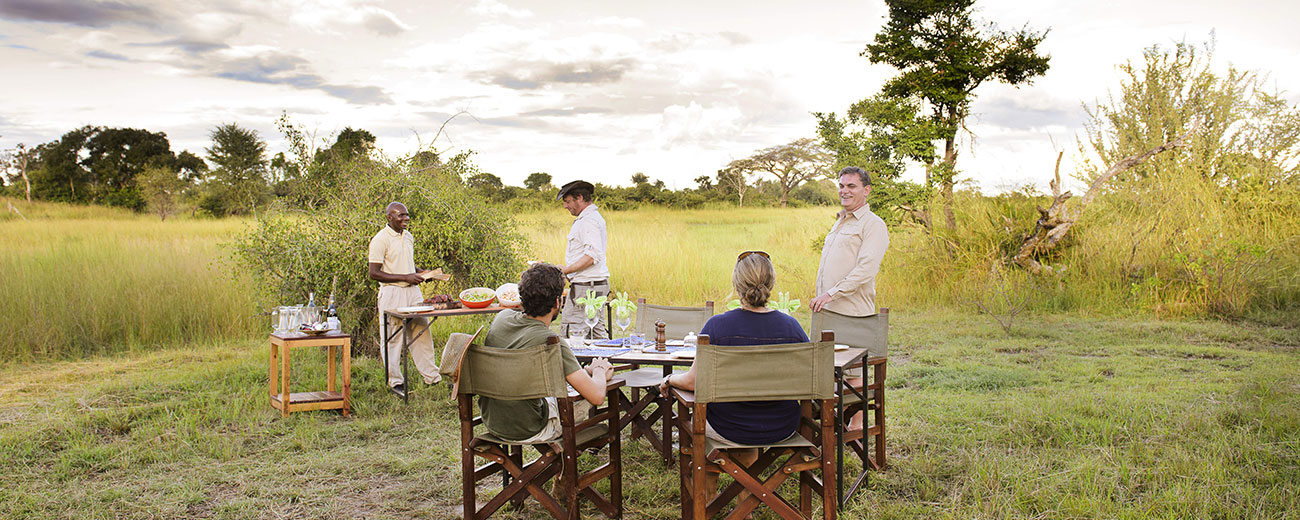 Blending into the luscious, tree-filled landscapes are 10 State of the Art Luxury tents and a u-Shaped boma designed to allow for sweeping 360 views over the river and onto one of Africa's largest National Parks.
Dotted along the river between the Ilala Palm trees and a grove of larger mopane and water-loving Musikili trees are our luxury tents. Each of individually designed to blend into the natural surroundings and raised on wooden walkways sourced from the area.
Each luxury tent offers dreamy panoramic views of the Kafue River and the National Park from the deck so you can watch the sunset or watch the buffalo on the opposite bank casually stroll down in the hundreds for an evening drink.
8 luxury couples tents have indoor showers with either king or twin beds. Each tent has an indoor shower, of which 6 have outdoor showers and two have stunning bathtubs so you can enjoy sunsets and bubble baths with the company of the resident hippo pod below your deck.
Two of the ten private luxury tents are perfect for families and feature an indoor bath, a shower, and two bedrooms separated by curtains.
Spend days at the U-shape boma relaxing by the twin Ilala palms and soaking in the Zambian sun by the infinity pool, enjoy reading a book, or watch the sunset by the fireside and reminisce on a day filled with wild adventures.
Our passion to preserve runs silently into our activities. During your adventure with us enjoy spending time in the park on Electric Game Drives (silently powered by the sun), walking safaris, Electric Boat Cruises (on the eBoat), visiting the local community or farm and fishing.
FACILITIES
Spa
Laundry
Fan
Wifi in Main Building
Infinity Pool
Safe
Hairdryer On Request
ACTIVITIES
Electric Game Drives
Walking Safaris
eBoat Cruises
Fishing
Visits to Ila Community Farm
Visit to local Chunga Community
Bush Breakfast
Green Safaris is driven by its passion to preserve the most pristine wilderness areas. Green Safaris' sustainability ethos began with Ila Safari Lodge, the very first of the family.
With the greatest love, we handpicked the location of Ila Safari Lodge, the first property born into the Green Safaris family as the pioneer of all things sustainable.
Green Safaris and Ila Safari Lodge were born out of 4 key pillars:
Outdoing your imagination: If we know what your highest expectations are, we can outdo them in our own distinctive way. The memories you make with us will last a lifetime… or at least until the gentle call of Africa brings you back to us once more.
Empowering our People: Supporting our communities creates a space for wildlife conservation and sustainable development that might otherwise seem out of reach.
Conserving our Environment: Being 'Green' is our vocation, and we will take every opportunity to openly and transparently record our steps towards sustainability.
Protecting our Wildlife: Our Green Team are custodians of areas of incredible natural beauty and the inhabitants therein. Green Safaris will continue to pour our collective energy, skill, and financial capacity into initiatives that protect and sustain our wildlife.
From environmentally friendly, locally sourced building materials and solar-powered electricity to development of Zambia's first electric game drive vehicle, Ila is a truly environmentally conscious safari experience. Yet it still manages to effortlessly infuse modern African style, elegance and comfort to make this your unique bush retreat in the heart of Kafue.
Ila Safari Lodge was inspired and pays tribute to, the Ila tribe. The Ila people were a cattle-herding tribe residing in the valley of the Kafue River. Their distinctive hairstyle called 'Isusu' was designed to allow fellow members of hunting or war parties to see each other over the tall grass of the Kafue floodplains. The style was formed with plaited hair stiffened with a sliver of antelope horn. Another distinctive trait of the Ila were the white circles they painted on their chests, which you will recognise in our logo.