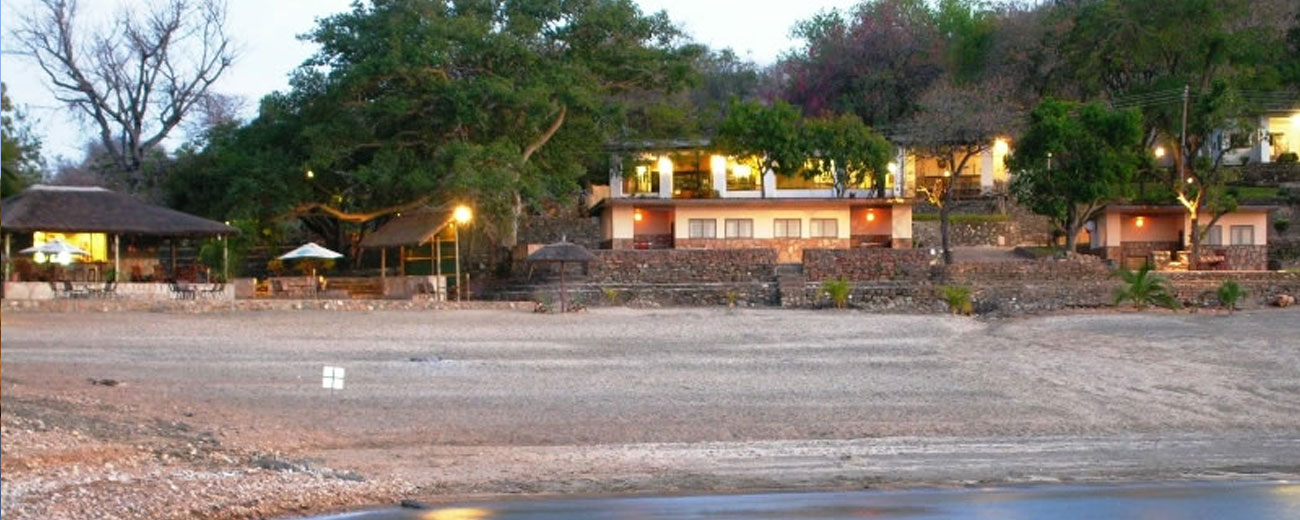 Eagles Rest is set in 4 hectares of some of Africa's most beautiful countryside; the resort is nestled in a secluded wooded area on the shores of the Lake with beach frontage and magnificent views across the Lake to the Matusadona Mountains.
Our Chalets are comfortable, fully mosquito proofed and air-conditioned.
We offer bed and breakfast accommodation.
Self-catering is allowed but all our rates include breakfast.
All Chalets are equipped with a 2 plate cooker and charcoal braai, basic cooking utensils, crockery and cutlery.
Bar lunches and pre-prepared meals are available at the bar during lunchtime and evenings.
We can provide "Full Board" catering packages for larger groups, and functions.
We have a swimming pool with shady patio to relax and enjoy a cool drink by the pool.
We also have a "beach bar" where you can relax with a beer or two, supervise the kids and enjoy spectacular views across the Lake.
We also have a campsite situated amongst the trees complete with hot and cold showers and toilets.
For activities, we offer sunset cruises and day cruises on the Lake, fishing, boating, and one-day canoe safaris on the Lake, visits to the Dam Wall, Croc
Farm visits, and much more.
ABOUT THE COMPANY
Eagles Rest began as a holiday resort in the 1960's and for many years it was what you would term today as a "time share" accommodation resort with chalets owned by the shareholders of the Company Eagle Boat Hire Company Limited.
Significant improvements to the resort have been made over the past few years and further improvements continue to be made. Upgrading of the resort is a continuous process and a number of additional improvements have already been made namely:
The building of the "Beach Bar" which has become the focal point of the resort
Improvements to the Restaurant, Kitchen and Restaurant Services.
Refurbishment of the swimming pool area.
Chalet upgrading, including installation of air-conditioning, wall fans and walk-in type mosquito nets.
General improvements to the maintenance of the infrastructure.
We are committed to making Eagles Rest one of the best holiday venues in Southern Province and indeed Zambia.
Our maintenance and upgrading programme will continue with of course the minimum of inconvenience to our customers – you!
Come and enjoy a few days or more at Eagles Rest and let our team take care of your needs