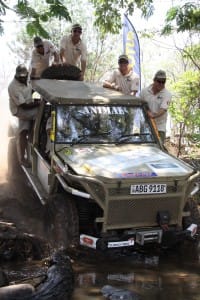 Raising funds for vital conservation work in Zambia, the sixth Elephant Charge will be held on 26 October 2013.
Enter now, for a fun-filled, adrenalin-fuelled weekend of family fun camping in the Zambian wilderness. All you need is a motorbike or 4×4 vehicle and a bit of dust, sweat and gears! At a secret location announced on the eve of the Charge (not far from Lusaka), on 26 October teams of drivers, navigators and runners will race the clock, GPS and each other to win the ultimate Elephant Charge trophy.  It's also a great spectator sport!
With one of the highest deforestation rates in the world and poaching a constant threat, environmental education in Zambia is vital.  Many conservation organisations such as Chipembele Wildlife Trust, Game Rangers International and Conservation Lower Zambezi are funded by the Elephant Charge to plant the seed of sustainability for the future generation of Zambia.
Come and see for yourself on 26 October 2013.
Join the facebook group here
or contact us at: [email protected]