WHAT TO DO IN KASANKA NATIONAL PARK
GAME WATCHING FROM FIBWE HIDE
The tree hide at 'Fibwe' is generally rated as Africa's best vantage point for observing Sitatunga antelopes. Perched 18 meters high in a 'Mululu' African Mahogany tree, it gives a panoramic view over the Kapabi swamp. Visitors often see more than 20 sitatunga in a single visit and the record is 94! Occasionally Crocodile, Bushbuck, Waterbuck Buffalo and Elephant can also be seen from the platform. Many species of birds, including Coucals, Mousebirds, Bohm's bee-eaters, Ross's and Schalow's Louries are seen here.
CANOEING ON THE LUWOMBWA RIVER
Canoes and motorboats can be hired with guides for some spectacular bird watching, fishing and wildlife viewing. Regular sightings include Monitor Lizards, Crocodiles, Otters, Vervet Monkeys and the rare Blue Monkey. Varied species of raptors, Kingfishers, Bee-eaters, Herons and Sunbirds abound along the river to name but a few.
FISHING
The river offers some excellent angling (under special permits). The fierce Tigerfish, several Tilapia species and 'Barbal' catfish are likely catches. The lodge staff will willingly cook the catch!
FRUIT BATS KASANKA
They hosts a unique wildlife spectacle every November and December when Millions of Straw-coloured Fruitbats assemble from around Central Africa to roost in an area of 'Mushitu' swamp forest near the confluence of the Musola and Kasanka Rivers.
At twilight bats fill the sky in all directions for twenty solid minutes as they leave their roost site to feed though the night on abundant seasonal fruit of the "miombo" woodlands.This event is one of Africa's most amazing and unusual wildlife spectacles – never forgotten by those lucky enough to witness it.
Visitors can also take guided walks through the forest in the day time to view the bats as they chatter, fly and crawl about their roost. This bat migration has been the subject of intense interest from scientists who are trying to find the reason why so many colonies all assemble in this one corner of Zambia. They report that it is the largest aggregation of mammals in Africa, and probably the most concentrated in the world. Preliminary research has also found many other interesting species of bat in Kasanka, and we plan to run some specialist bat tours during November and December for enthusiasts.
GAME DRIVES
Game drives are always a popular way to see the park and usually reveal a variety of wildlife. Although you miss some of the smaller things when driving, you can get closer to animals this way than you would on foot.
A typical drive in Kasanka will involve stops along the way at interesting spots where you can get out of the car and walk around. Drives are conducted by guides and are arranged according to the requirements of each group rather than at set times and programs.
Drives can also be arranged at night to look for nocturnal animals by spotlight.
Visitors arriving in their own 4×4 vehicles can drive themselves around but there are some restrictions for safety reasons.
WALKING SAFARIS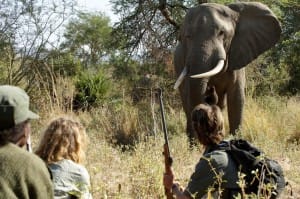 Getting out on foot is perhaps the best way to appreciate all aspects of a wilderness like Kasanka. It gives you a chance to see the small things as well the more obvious! Follow a Honey Guide to a Bee's nest or track an Elephant along its spore. Walks can be arranged from 1 hour to 5 days!
Walking trails of several days are a specialty of Kasanka as the terrain and vegetation make for easy walking. The park has many different habitats in its relatively small area so walks are always passing through changing scenery. Walkers are accompanied by an armed scout for safety and also to glean local knowledge. You just carry what they need for the day with other luggage taken ahead separately. A temporary camp is set up ahead so that food and shelter are reached at the end of each day.
One day of the trail is usually spent drifting down the Luwombwa river by canoe. One or 2 nights may be spent at the lodges, but otherwise simple tented camps will be set up each night in remote corners of the park. The scouts always carry a radio for contact with HQ in case of any urgency.
BICYCLING
Due to the relative scarcity of dangerous animals it is possible for visitors to explore the park by bicycle using the network of roads and paths that cover most of the park. We plan to obtain some mountain bikes in the near future to be available for visitors to hire or for organised bicycle safaris around Kasanka and beyond. However visitors must be escorted by a guide or scout when walking or bicycling.