WHAT TO DO IN NYIKA NATIONAL PARK
Nyika offers a variety of activities, specific routes and trails as well as transport options that help visitors experience and enjoy the park's variety of game, stunning vistas and beautiful, lush landscape in all their glory.
WALKING ROUTES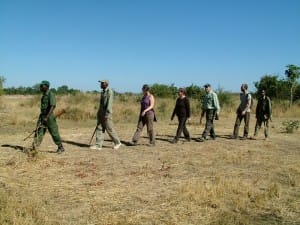 There are a number of relatively short, easy and scenic walking routes around Chilinda Camp that combined take in the two nearby dams (which are also good spots for trout fishing in season) and Lake Kaulime, the plateau's only natural lake, where a variety of birdlife and mammals come to drink. Another short walk takes you into a pine plantation behind the camp where there is a good chance of seeing leopard at around dusk.
If you have a car, there are plenty of great viewpoints further afield where you can park your car and then set off on a short climb. Among the best are Jalawe Rock, which offers spectacular views right across Lake Malawi to the mountainous shore on the Tanzanian side; Nganda Peak, which at over 2,000 metres is the highest on the plateau; and Kasaramba Viewpoint, from where eagles crown eagles and buzzards are often seen soaring above the rainforest below.
There are also great forest walks in different parts of the park where a variety of mammals including leopard and elephant shrew can be seen, whilst if archaeology is more your cup of tea then you can drive to Fingora Rock and then take a short walk to a cave on the eastern side which was used as a human shelter over 3,000 years ago. Stone tools, a full human skeleton and a number of rock paintings were found in this cave.
WILDRENESS TRAILS
Aside from the myriad walking and driving routes in and around the park, there are also six designa1ted wilderness trails, which range from one to five nights in duration.  While a guide will take you along the trails and a porter can also be arranged, you will have to provide your own food and camping equipment for the trail. The most popular trails run from Chilinda Camp all the way to Livingstonia on the Rift Valley escarpment (which can take between one and four days depending on the route and your fitness) or, for the wildlife enthusiasts, the four day Jalawe and Chipome River Trail. This trail passes through the Northern part of the park's miombo woodland areas where elephant, buffalo and a number of other animals usually absent from other parts of the park can be found.
HORSEBACK TRAILS
The park is also a great place to go on a horseback trail, with a stable of 26 horses offering a variety of different trail options from Chilinda. These range from cheap half day rides to luxury ten night trails with mobile tented camps. There are horses to suit all riders, from absolute beginners to seasoned veterans, and whatever your standard being on horseback will get you a lot closer to the park's game (including eland and roan) than you would be able to get either on foot or in a vehicle.
MOUNTAIN BIKING
Hiring a mountain bike is another way to see the park and its game, with bikes available to hire from Nyika Safari Company either by the hour or for the whole day.