Words by Hassan Khan
Have you had enough of snow and White Mountains for your white holidays? If you have had it with winter vacations, snowboarding, and extreme heli-skiing, it is about time you plan a visit to the exotic land of Zambia, in the heart of Africa.
Beautiful yet secluded, Zambia is Africa in all its purity and serenity. With jetting waterfalls; crystal clear rivers; greenery, wilderness, and adorable animals you can visit – that's Zambia for you.
The country hosts the breathtaking Victoria Falls and revolutionized the concept of the walking safari. Zambia is simply diverse yet culturally intact.
The visually enthralling landscape of the country makes it an ideal safari destination. The country's official parks give the visitors a glimpse of the region as it used to be years ago.
Zambia is surely a country that's keeping up with modern times. Adventure junkies can enjoy bungee jumping over the ever famous Victoria Falls. However, the real deal is in exploring the wilderness and natural beauty of Zambia.
Zambia lets its visitors get more close to nature and explore it on foot while enjoying the soundscape of the wilderness.
Zambia is one such country which also supports its locals through its tourism industry.
If you want to witness how Africa used to be centuries ago, then simply head for North Luangwa.
Read more: Where to stay in Zambia
Due to the limited amount of public access, one won't find too many travelers here. One gets to witness a more unique mix of animals in South Luangwa, including blue monkeys and sable antelope. Walking wildlife safari is undoubtedly the most anticipated highlight of vacations here.
Local Culture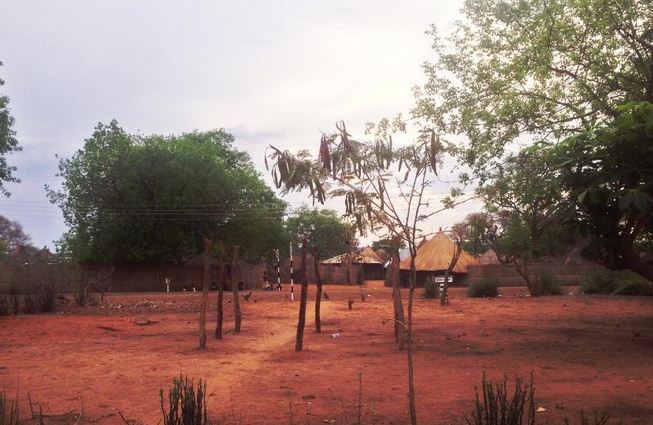 Similar to Maasai in Kenya, Zambia promises unforgettable cultural experiences. Many communities welcome tourists and travelers, including the famous Mukuni and Kawaza Village. Zambia also houses some of the best lodges as well as camps for travelers. These lodges back the funding of many local towns and projects. Tourists can also contribute to these initiatives.
Track and Trail River Camp
Located near South Luangwa National Park, Track and Trail River Camp offers tourists with a quick enthralling safari experience. The camp is situated on the Luangwa River and provides a variety of different accommodation options for travelers scattered along the river bank.
Wildlife Camp
If you want to witness the scenic beauty of the Luangwa River then Zambia's Wildlife Camp is hands down the best place to be in. Strategically located in the South Luangwa National Park, across the river banks of Luangwa, this camp offers travelers with an unforgettable wildlife experience of their lives.
Walking Safaris
The concept of a walking wildlife safari to make tourists physically experience the wildlife instead of viewing it from a bus was initiated by Zambia's National Park during the 1950s. Today, the country is known for its tourism and tourist guides. The knowledge of Zambian guides will impress you as much as the experience of getting more closer to the wildlife itself.
Read more: Things to do in Zambia 
Canoeing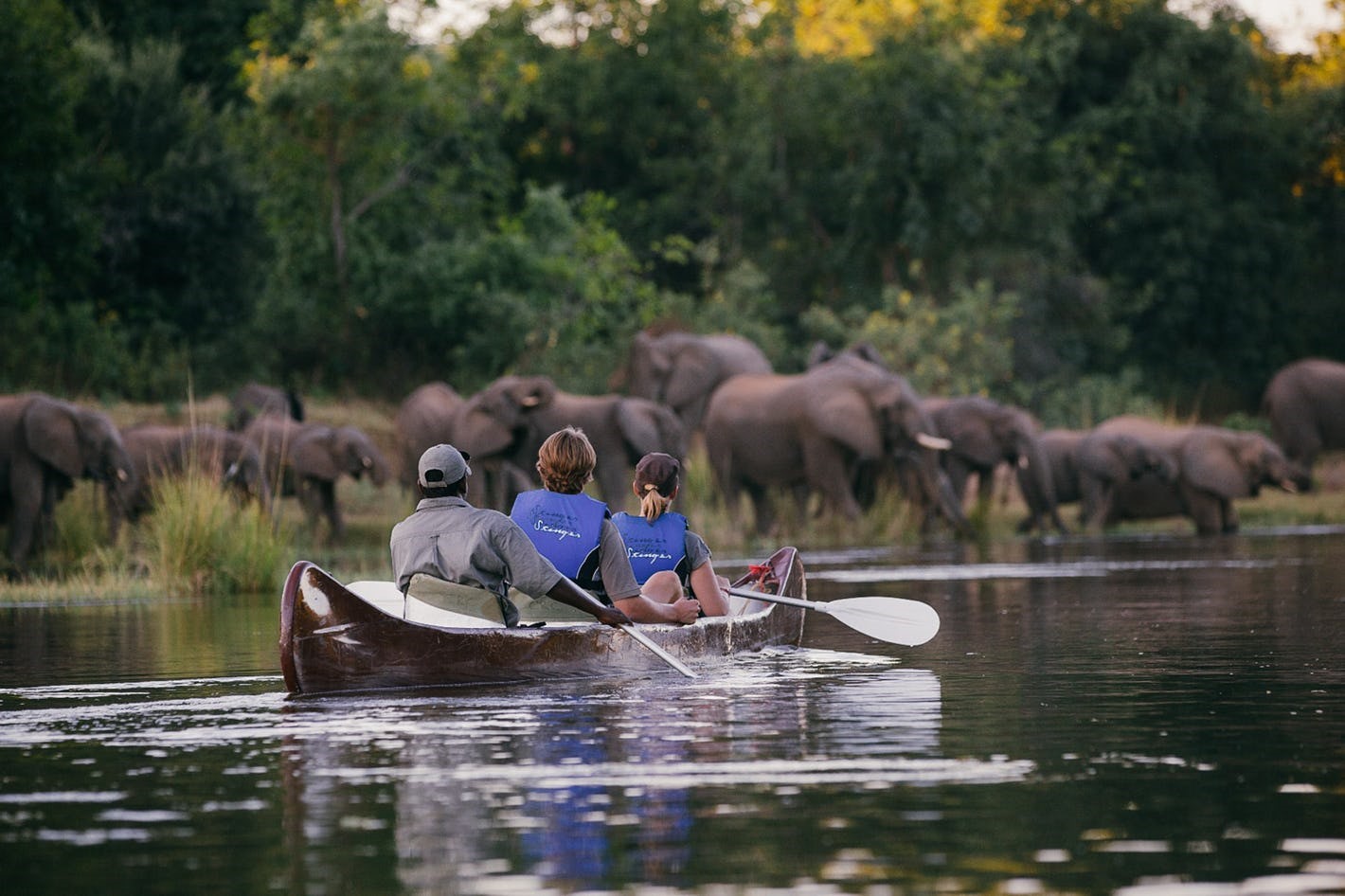 Some might think that canoeing is only a good option for more sporty people in Zambia. However, on the contrary, no matter whether you have ridden a canoe or not – canoeing on the Zambezi river is suitable for all types of people and is a great way to explore wildlife. The Upper area of Zambezi consists of islands and bird life, whereas the lower area of Zambezi has a great mix of animals including zebras, elephants, buffaloes and many more!
Local Languages
Earlier, Zambia used to be a British colony and therefore, the English language is spoken and understood in many parts of Zambia. It is in fact, the national language of Zambia. Still, learning some new words of the seven local languages spoken in Zambia is not a bad idea. This will help you a lot if you plan to go to a village or a local community project.
Read More: Zambia Travel Advisory 
Sunset Cruises
Zambia is a great place to relax and enjoy sunset cruising in the Zambezi river. There are many cruises available for travelers to choose from. Many cruises have small boats, for a more personalized, wildlife experience,  with a group of helpful and knowledgeable people who know pretty much everything about the Zambezi River.
Food and More
Nshima is a Zambian staple food which is a white cornmeal porridge. Savor it in a traditional way by making small bite-sized balls to easily scoop up some savory relish, beans and meat served alongside the porridge. Ifinkubala is yet another Zambian delicacy. Caterpillars are found on Mopane trees in the north of Zambia.
Another Zambian specialty is Kapenta which is tiny fish that is preserved through traditional drying techniques.
Souvenirs and Shopping
A 'chitenge' is a vibrant printed wrap-around cotton fabric which is typically worn by women in rural areas to wrap around their body.
Colorful Zambian Tonga baskets are handwoven baskets that are dyed with organic vegetable colors. The baskets come in a variety of styles and designs and unique patterns that have names indicative of their place of origin.
All these Zambian handicrafts can be easily bought from the Kabwata Cultural Village in Lusaka.
Famous Landmarks of Zambia
Zambia is known for some of the most stunning natural as well as man-made landmarks.
Some of the major attractions for tourists visiting Zambia from all over the world are:
Water Falls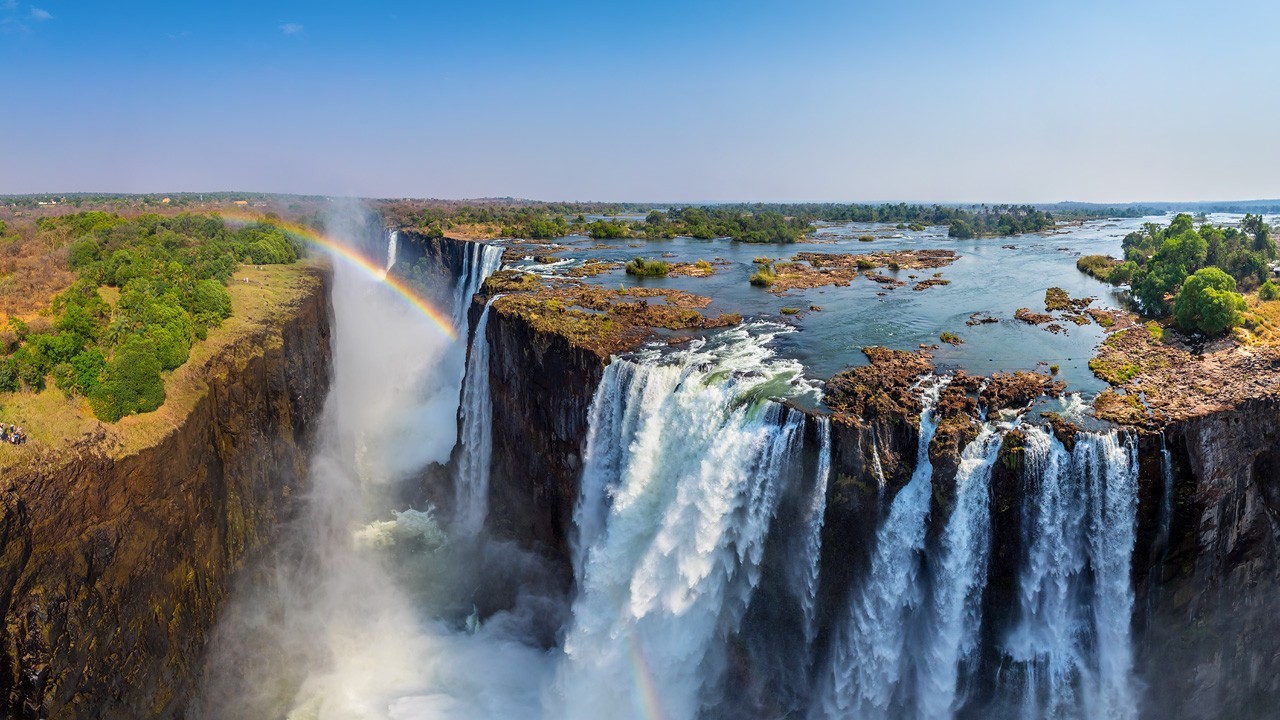 One of the most majestic and mesmerizing waterfalls that also connects Zambia with neighbour Zimbabwe is the Mosi-oa-Tunya, commonly known as the Victoria Falls. Zambia is blessed with other equally enchanting waterfalls such as Lumangwe Falls and the Kalambo Falls to name a few. These waterfalls, with their fresh sprays of crystal clear water gushing into layers of white foam present visitors with a sight to behold and cherish for life.
Prehistoric Engravings
Archaeologists have found in the land of Zambia, prehistoric artwork in the form of engravings on rock walls. The paintings mostly include several motifs, geometric patterns, and images of humans as well as animals.
Words by Hassan Khan at Breathing.com