Four years ago, in July 2010, my husband, Dave and I moved from a hot Saudi Arabia to a 'not quite so hot' Zambia and Project Luangwa was born.
Since then we've . . .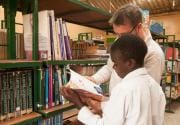 . . . laughed and cried, experienced joy and frustration, shared some wonderful successes that have made huge differences to the local communities and schools and privately rejoiced in the little moments where we have helped an individual who needed confidentiality.
Over the last four years we have completed 16 classrooms for local schools; built 3 pupils' dormitories, 2 large ablution blocks, special female toilets, a science block and the largest library in the Eastern Province . . . and filled it with books.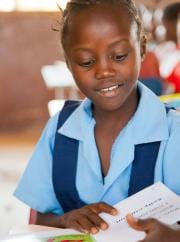 We've sunk boreholes; started pre-schools; distributed over $50,000 worth of text books; put $30,000 worth of ZeduPad tablet computers into 2 schools; converted offices and stores into well stocked school libraries; started reading and literacy schemes; provided wheelchairs to disabled kids allowing them to go to school, often for the first time; and started a Girls' club to help address issues of gender inequality. Each year we sponsor over 130 school pupils who would not otherwise be able to attend school and are now seeing the results as they go off to colleges and universities. We sponsor students studying to be doctors, pharmacists and teachers and fund teachers to teach in community schools where there is an acute shortage of teachers.
In the next year we'll be building more classrooms and teachers' houses and completely relocating a school that has been condemned due to subsidence. In a new project we are developing washable, re-useable sanitary pads; a project that will employ local ladies and enable the girls who stay at home for a week each month to attend school during their menses.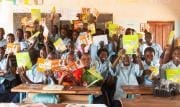 But we could not have achieved anything without YOU. And it is time that everyone who has raised funds, volunteered their time or donated their hard earned cash received some applause.
Last year we were awarded Highly Commended in the 2014 SAFARI AWARDS 'BEST CHARITABLE ORGANISATION IN AFRICA' and this year we have been nominated again. We think this award is much more than recognition of what we do; it's recognition of all our supporters too. Can we do better this year? With your help, perhaps we can.
Please take a few minutes . . .
. . . to vote for us. All you need to do is go towww.safariawards.com/africa/projectluangwa/ and click to register as a voter. Once you have registered just click on the VOTE NOW button. When you vote you'll be automatically entered for a prize draw and you could win a luxury safari at the top African safari lodges. Spread the word and get your friends to vote too. But you don't have long; voting closes midnight 8th September.
Thank you
Let's get PL recognised on behalf of all its hardworking and generous supporters. We couldn't do anything without you. Thank you everyone.
Article by: Project Luangwa