At EleFest 2015 we are celebrating the beauty of Zambia's wildlife and reminding ourselves why we need to preserve it. We invite you to a nature-themed musical journey with some amazing local and international bands.
The incredible line-up includes jazz and soul divas Pink Blues, soul secret Chitalu Musonda, blues-infused reggae masters Diamond White-Band (South Africa), foot stomping Kapiri Mposhi 4.0, Top Rank Suit and he who needs no introduction Cactus Agony Zambia. We are also bringing back Zamrock Revival and are happy to have a couple of wonderful DJs; Afternoon Delight (UK) and DJ Shotz
The Waterfalls Gourmet Market will be providing a fantastic range of local cuisine, crafts and fashion, and there will be a photo both, fireworks and bonfire. Yoga Lusaka, Go-Go Fitness Boot Camp and Shimmy Glisten will be participating too, and the whole event will be MC'd by the amazing Jason Kruger of 96.5 Rock FM.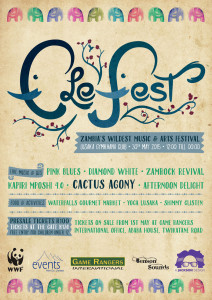 The younger ones can roam around in 'Where the Wild Things are', with plenty of fun activities; face paintings, games, a bouncy castle and a lot more.
All proceeds will go to conservation In Zambia through GRI – Game Rangers International
WHERE & WHEN: May 30, Gymkhana Club, the Showgrounds, Lusaka, 12.00 to midnight.
TICKETS: are available NOW from the GRI Town Office, Zebra Crossing Café, Ababa House for K 100. They can also can be purchased at the gate for K 120. Free entry for children under 12.
For more information contact [email protected] or join the herd at www.facebook.com/elefestzambia
Big thanks to our sponsors Events Hire, A Jackson Design, Benson Sound, World Wildlife Fund and Ad-dicts.
Press release courtesy of Game Rangers International